After a surprisingly dry and sunny first day on Mulberry Mountain, Wakarusa is off to a great start. The impending doom of rain made some people prepare a little bit more for this weekend. And maybe they'll have prepared for a reason, because there's rain on the horizon today (Friday).
I arrived at the festival grounds about 11 am on Thursday and was shocked by the amount of people who had already set up camp. There's no question the festival is much larger this year. Which I hope is a good thing. Last year the amount of trash left behind was astronomical; they even offered free tickets to YMSB Harvest Music Festival for those who helped clean up. I hope we do much better this year.
As far as the people here are concerned, everybody seems incredibly content and settled in. There is so much happiness floating through with the cool breeze. Friendly faces are popping up all over the place with smiles, high-fives, hugs and bright eyes. We are all so glad to be here, because if it's such a hassle to set up, walk ten miles (or more) a day and stand in the blistering sun all in the name of music and human connection...your weekend will be terrible.
I love it here. And I love it that so many people love it here. Now, onward to the music!

The first band I saw was Mountain Standard Time. Their set was mostly instrumental jams and some lyrics mixed in. This was my first time seeing MST and I found their songs felt familiar to me. Their onstage collaborations were stellar and moved through the songs easily. They played to the crowd and listened to the energy they were giving off, which was mostly unbounded excitement. Though the vocals were few and far between in some songs, I felt the narration of the songs as the band played. Since I'm not familiar with their music I can't give a set list. MST ended their set with a cover of a Split Lip Rayfield song, a tribute to one of their most influential bands, they said.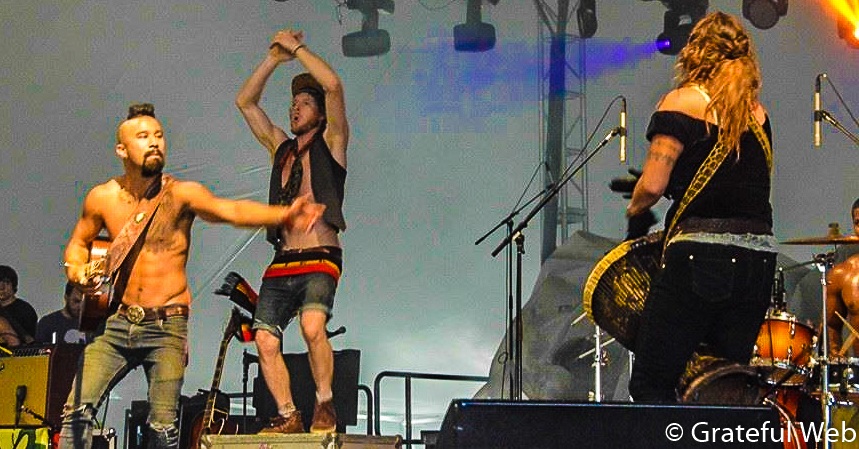 Next, I wandered around taking photos of people and enjoying the beautiful clouds on my way to Nahko and Medicine for the People. When I got to their show in the Revival Tent I was impressed, and so was the band, by the amount of people there. Considering their smaller crowds and sets at last year's festival the difference was probably 10-fold. Since I saw them last year the band's sound has changed, while their message has stayed the same. They added a drummer, so there is twice as much percussion onstage now. It's fantastic, large, whole and full. The music tugs at your motivation and their lyrics drive you to consider your life. Or at least, they do for me and I believe for most of their fanbase. Before I traveled to another Nahko Bear announced how thrilled he was to see Wookiefoot on the lineup - he was raised by their music. The band also played Michael Franti's "Stand Up" (he is also on the lineup), as well as a favorite of the audience: No Scrubs by TLC.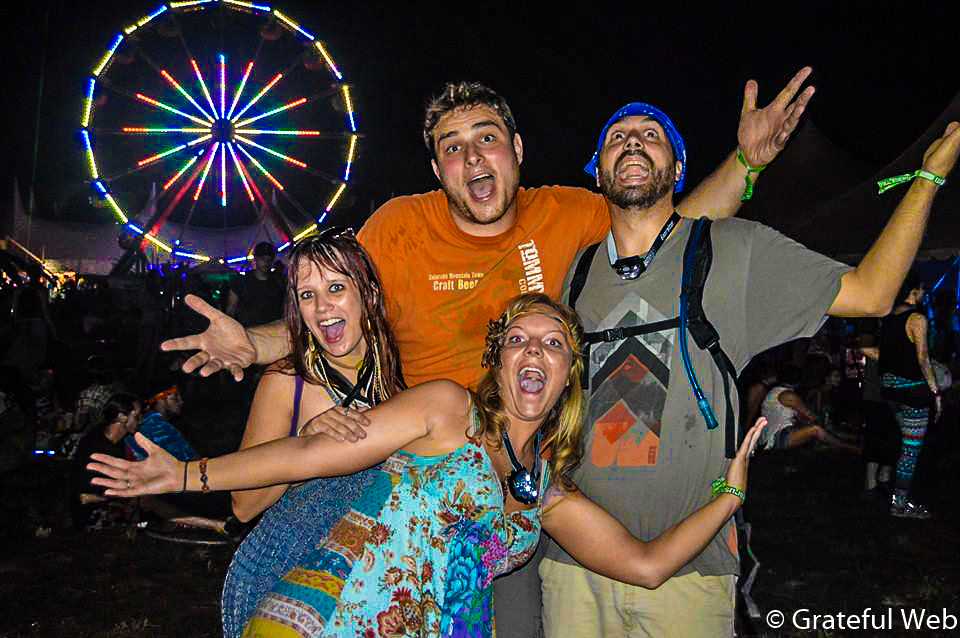 Next I visited the Vintage Trouble set. on Main Stage. I've watched a few videos of the band's live sets and I love not only their bluesy, soulful rock, but the band performs onstage. The dress fly in vintage-looking suits and move, shake, rattle and roll all over the stage. Unfortunately, the audience was meager and the lead singer had a difficult time getting the audience's energy to match his. In his red, long-sleeve suit, lead vocalist Ty Taylor was dancing across the stage and tossing around the microphone like a champ. I feel like a lot of people missed out on a great show, but unfortunately it just wasn't as amazing as some of their other live sets I've seen. I hope they gained some new fans, though!
I quickly made my way to the Convention Center to interview Mountain Standard Time, which was wonderful and I'll post that after the festival is over. After the interview I walked with a friend I randomly ran into whom I grew up with. The Backwoods Stage was calling my name and Caroline Rose was onstage with her 3-piece band of upright bass, drums and herself (vocals, guitar). I didnt get to see the whole set but what I did see was wonderful! I'm a big fan of her voice and her style, it's Americana but there's something special about her guitar style and sound.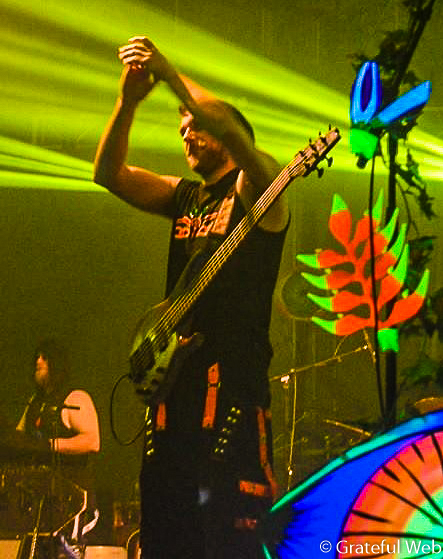 The last show I caught in person was Wookiefoot. I'm a huge fan of this band because they have a purpose. They fight for people's rights and for good things to come back into this world. Their message resonates with me so thoroughly. Their stage setup was also awesome. I haven't seen them live before, so I was super impressed with their black-light stage decorations and clothing. The show was fun, positive and refreshing. And to add a bost of greatness to their set, Wookiefoot brought Nahko Bear onstagre for a few songs. It seems like these medium-sized festivals are bringing in a lot of activism and causes. I'm all for that because many of the people who come to these festivals are motivated to make this world a better place. I was exhausted from walking so much in the humid, blazing sun. So I kicked back in my hammock during the Wookiefoot show and went to bed afterward, falling asleep to the medicore sounds of Adventure Club.
Today I'm looking forward to seeing Rusty Shackle (if my interview doesn't go over during that time), I might go see Treetop Flyers and Robert DeLong. But I'll definitely see Murder By Death and Dr. Dog, as well as String Cheese (!!!) and Infected Mushroom.
It's starting to sprinkle right now, and they're predicting heavy winds. So we'll see where the day takes us. Hopefully I won't need my rain boots for long, and the mud will be minimal. If you could, send a few sunshine thoughts our way!