Florida is a place unto itself, by my estimation. Like the other 'big states' of Texas and California, it takes on its own unique identity and presence. These states are so large, they are their own 'region;' and again by my estimation, include elements of all that is around them. Florida is neither just southern, nor merely coastal. Florida has elements of east coast culture, due in no small measure to the strong concentration of New York retirees, the so-called 'snow birds.' Florida also has significant aspects of Cuban and Mexican culture elements, as well. Florida, like her big state cousins to the west is..... just different -- somehow.
I spent five years in Florida, attending college in St Petersburg, and seeing a lot of live music. And I came to know and love The Spirit of the Suwannee Music Park in North Central Florida, attending a number of shows there between 2002 – 2007. It has a certain 'special-ness,' that is for most, immediately apparent . The park is named for the famous American Musical Standard, "Old Folks at Home," or more commonly, 'Way down Upon the Swanee River.' This standard and current state song of the Sunshine State was written by Stephen Foster, who never saw the Suwannee, or even visited Florida. And he really missed out.
Situated on the banks of the historic Suwannee River, the park consists of over 600 acres of camping areas, concert venues, recreational facilities, and unspoiled forests. Horseback riding, paddleboat rentals, and permanent stage structures are available to the typical camper, as well as the typical camping festival attendee.
And then there are the trees. Everywhere one looks, glorious live oaks pepper the hillsides and campsites. In a state where the intensity of the sun can be brutal, there is always sweet spanish moss-soaked shade. This is a 'very Florida' kinda place, despite being very close to the Georgia border.
For a nation, and I was soon to learn that it was truly for a continent that endured a particularly intense winter weather season, the arrival of the 2010 Wanee Music Festival couldn't have been more welcome. And the location of The Spirit of the Suwannee Music Park couldn't have been more picturesque. The weather was warm and sunny, with low humidity, some of the last of those kinds of days in Florida, till the looming summer draws to a close, sometime around Halloween.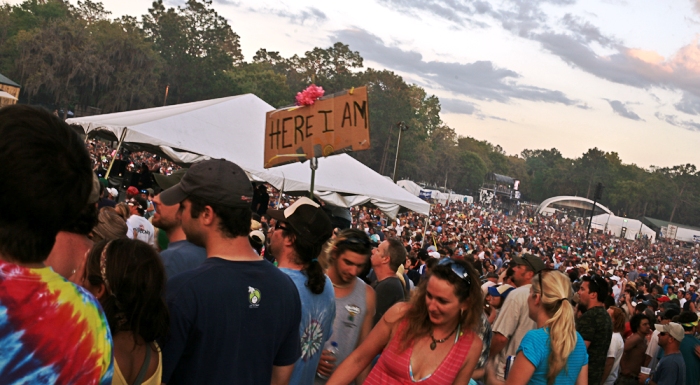 Deb Anderson, of Wasilla, Alaska told me she 'watched Priceline for a long time, trying to make this [trip to Wanee] happen.' Sitting in a lawn chair in RV camping on Saturday morning, she was the picture of pre-show clarity and post-hearty breakfast bliss -- as she added with a smile, 'I haven't seen the sun or been outside much for five months, so I have no complaints today.'
Anderson was not the only one to travel long distances to attend Wanee. Claudia and Javier Perez from Toluca de Lerdo, Mexico have attended two Wanee Festivals, including this year. The 23 year old twin college students are also waiters and they said, 'crazy Allman Brothers fans.' The siblings considered the expensive airfare from Mexico to be 'worth it,' to see the band in 'a completely wonderful setting,' Claudia added in broken English.
Our new friends had a great deal more than Florida sunshine to be happy about.. The fifth annual Wanee Music Festival brought some of the best and brightest to the stage, in a wide range of genres. Headliners The Allman Brothers and Widespread Panic anchored the main stages for the weekend. But stellar performances were also heard at the smaller stage from everyone, really.. But highlights would include Ivan Neville's Dumpstaphunk – performing the music of Sly and the Family Stone, The Black Keys, The Wailers, and, and Govt. Mule's along with Derek Trucks and Susan Tedeschi's late night sets on Friday and Saturday night, respectively. Musically, the weekend's only disappointment was the cancellation of the performance by Sharon Jones and The Dap Kings, who along with millions of other travelers, was stranded in airports all over Europe, due to the volcanic ash in the air.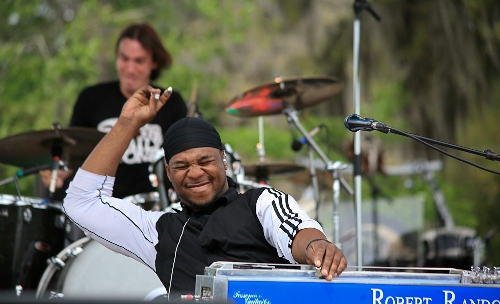 There is an air of 'bigness' at this festival, that wasn't there at earlier Wanee's, or other live music events at the park in the past. The festival has, in fact, blossomed into an event of epic proportions. The quality of music has always been high. But with the arrival of a permanent concrete pour main stage and the space to bring in a large audience, logistically, Wanee is now a seriously big festival, with a lot to offer over and above the concert experience. It was easy to see why, with such a lineup and location, that the event would be crowded. But some festival attendees told me that they felt the main concert area may have been too crowded. Several conversations overheard in the tapers section as well as other areas on the field included speculation about whether the event was 'oversold.' Everyone seemed to be having a fabulous time. But we were visibly bursting at the seams on the field at the main stage.
Todd Howell, of Bradenton, Florida was amongst those wondering if perhaps a few too many people were in attendance, and expressed some concerns about how this event was managed. "I read online that they sold something like 31 thousand tickets, including day passes. To me, if felt about 5-7 k too many people, especially at the main stage area," the licensed massage therapist said. Official crowd estimates were not available at the time of this writing. But Howell still enjoyed the show. But it was pushed to the limit to be comfortable," he said. 'If the elevator says two thousand pounds – two thousand and fifty pounds is not advisable."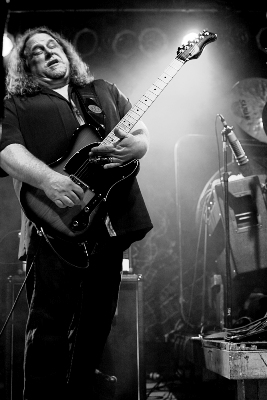 As he told me this, I thought about how challenging attending this festival would have been with such a crowd, had the weather turned wet as it did, in 2009. I also recalled walking thru RV camping on Saturday night and seeing numerous camp fires not only smoldering, but outright burning, with no one on watch.. Aren't supervised campfires 'the norm?' I thought. And I thought of those amazing Live Oaks.
The event, while an unqualified success, did show signs of growing pains. But they truly pulled it off, and I'd easily come again. I think I do represent the impressions of a great many attendees when I suggest that attendance numbers should be managed differently for subsequent years. Anyone who's visited Suwannee knows it's a special place. And just about anyone would agree that protecting the integrity of such a place tailor-made for a musical experience was important.
As for the 2010 festival: it was a Fabulously Florida good time, with great weather, in a beautiful location, with world-class music, lights, and sound. As our friend from Alaska said so well – 'I have no complaints, today.'
Check out more photos from the Wanee Music Festival.