The final day of the last Warped Tour was a sobering experience. The mood was heavy with anticipation among those in attendance. However, most fans did not show up as early as they did the morning before as lines were manageable, to say the least, that Sunday. The unofficial punk rock summer camp went out with a bang, not a fizzle, as the day's lineup more than lived up to the hype throughout the day.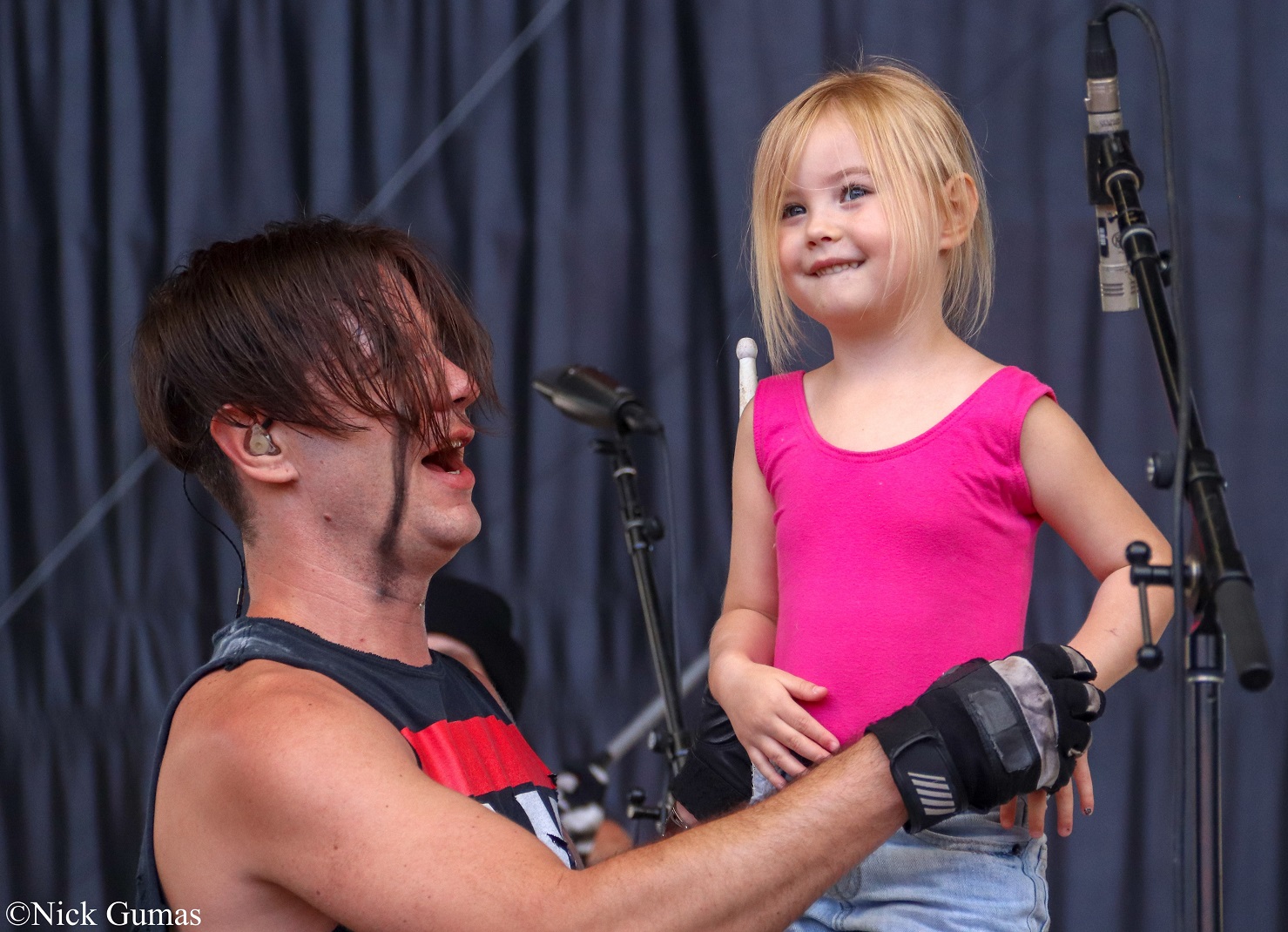 The Street Drum Corps began day two by waking up the amphitheater and then some. The group's Blue Man Group-esque percussion innovation quite literally rattled the audience as they showed that anything and everything could be used as a musical instrument. Their performance-centered mainly around audience participation as they invited young members of the audience on stage with them to perform throughout their set, and frequently passed their instruments to those in the front row.
Throughout the day, there were two themes that virtually every band touched on during their set. Their deep gratitude and admiration for festival organizer and founder Kevin Lyman, and their belief that this just might not be the end for the Warped Tour legacy. Many voiced their high esteem for Lyman halfway through the day when musicians and other festival organizers brought him onstage to present him a check for $10,000 intended to be put toward the fishing trip of a lifetime to celebrate his new retirement.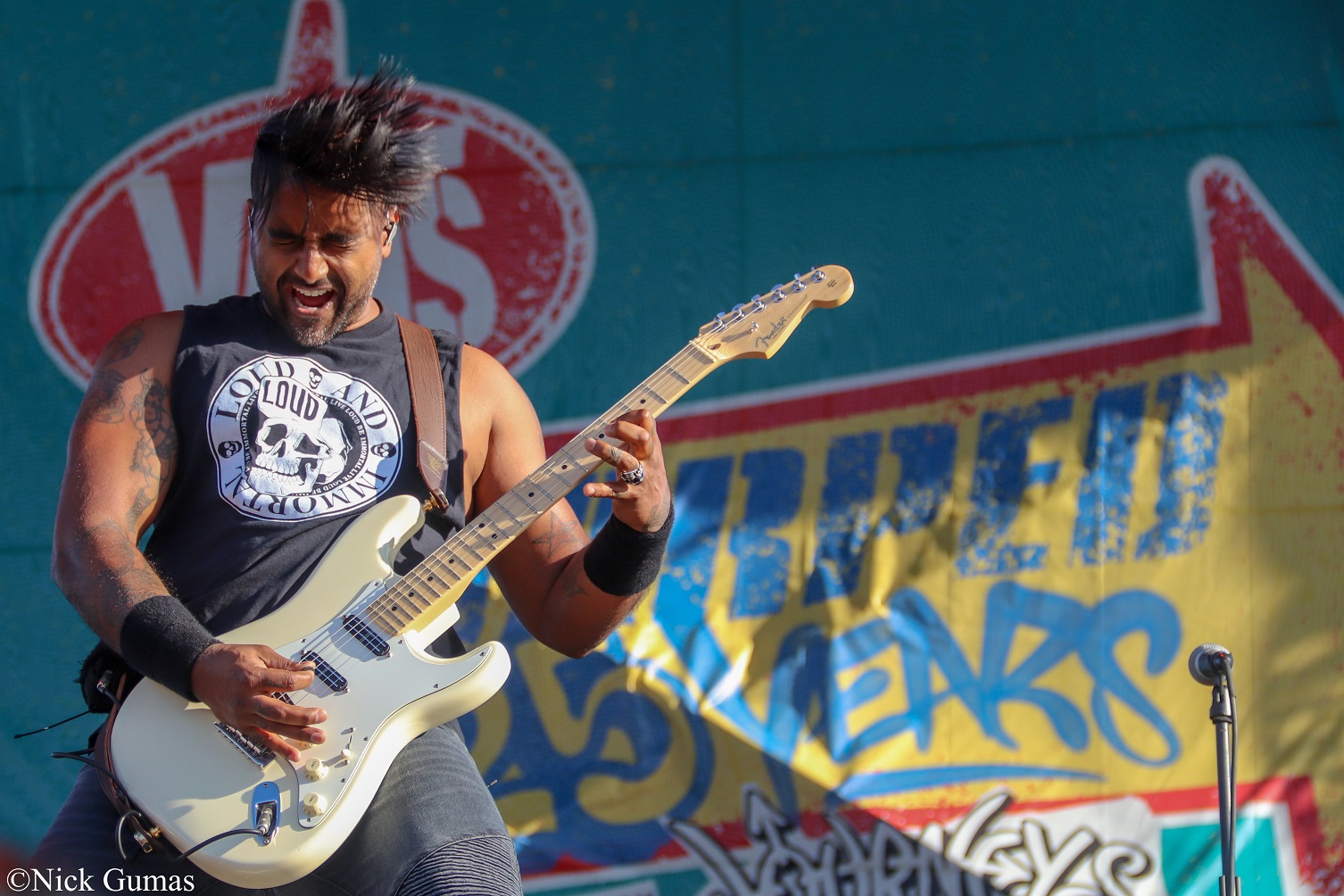 Sum 41's performance encapsulated the spirit of the festival in so many ways no other band did. Despite having released their 8th studio album just two days before and being about two decades separated from their commercial debut, their show was every bit as fresh in 2019 as it was in their MTV heyday. The band opened with "The Hell Song" as every seasoned Sum 41 fan has come to expect of them and filled the crowd with a mix of nostalgia and exuberance. Toward the end of their set, they differed from their typical setlist to play their newly released single "Out for Blood."
One of the last musical acts Warped Tour helped to make famous, YUNGBLUD sent audiences screaming. Ever the eccentric, he showed up onstage dawning a black dress and a whole lot of spunk, screaming his song "21st Century Liability" for the world to enjoy. The young musician from the UK's set stood firm on its own, but it wouldn't have been a Warped Tour set without a few surprises. In the last surprise guest appearance in Warped Tour history, YUNGBUD had an incredible gift for the audience. Midwest rapper and industry veteran Machine Gun Kelly appeared seemingly out of thin air to perform their song "I Think I'm OKAY" which had previously been released earlier in the summer. The pair proceeded to jump on top of the audience, performing the song while crowd surfing to the back of the audience and running through the crowd.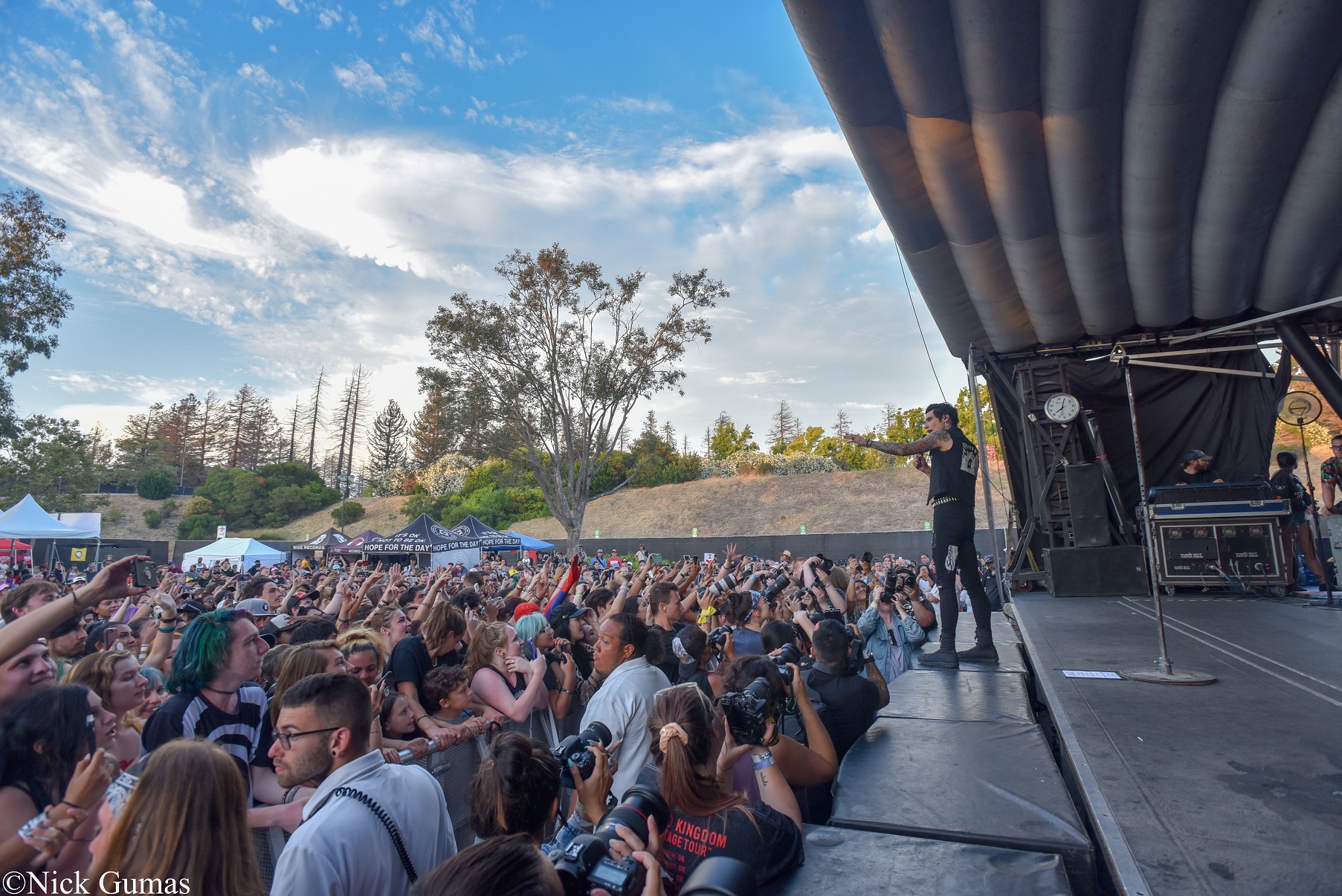 Once frontman of Black Veil Brides turned solo artist, Andy Black closed out the Monster Energy stage with an enthusiastic performance fueled by an ecstatic crowd. Virtually the last performer of the day with a career that began after 1986, the inherently young audience he drew brought a level of enthusiasm and excitement that was indicative of the spirit of Warped Tour. From his first song "Ribcage" his feet hardly touched the ground as he ran across the stage enticing the masses all the while, getting through his time performing only his solo work, never once covering a song originally performed by Black Veil Brides. After his set, the majority of the audience exited the venue rather than stayed for the final two acts. The crowd was small but mighty for the end final chapter of Warped Tour, but one thing was undeniable; every person in that audience wanted to be there more than anywhere else in the world that night.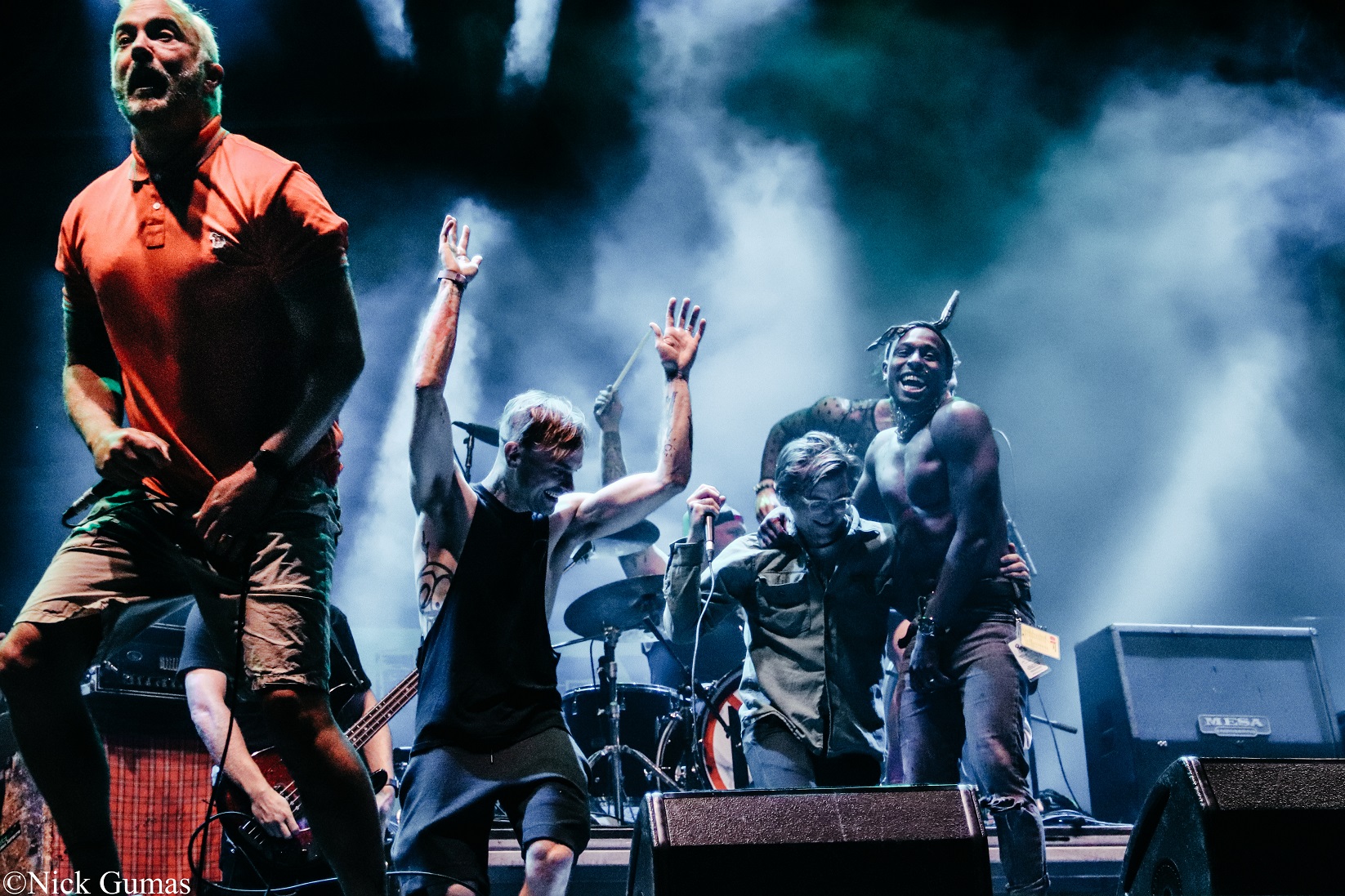 To end one of the most storied and historic festivals in music history, we all expected a grand finale, but what came next gave a whole new meaning to what "grand" could be. At the time the headliner NOFX was scheduled to go on, the day's hero Kevin Lyman took the stage to address the audience. He started by thanking everyone for 25 successful years, then some of his favorite anecdotes from his time on the tour. Very quickly into his speech, one thing became abundantly clear; he was stalling for time. Lyman then leveled with the audience in a manner of transparency that was becoming of his organization, and what they stood for. He informed the audience that NOFX had not yet arrived due to a scheduling mishap, but that they would soon be there via a police escort. In the meantime, they had one last trick up their sleeve. Members of many bands who had performed throughout the day came on stage to fill the void with their own personal covers of the band's music. Musicians who had never performed on stage together made for a historic curtain call to the immortal festival, and of course, as no NOFX show would be complete without a man in a dress, YUNGBLUD came to hype the crowd. Lyman then turned to the masses and announced: "you're about to witness fucking history."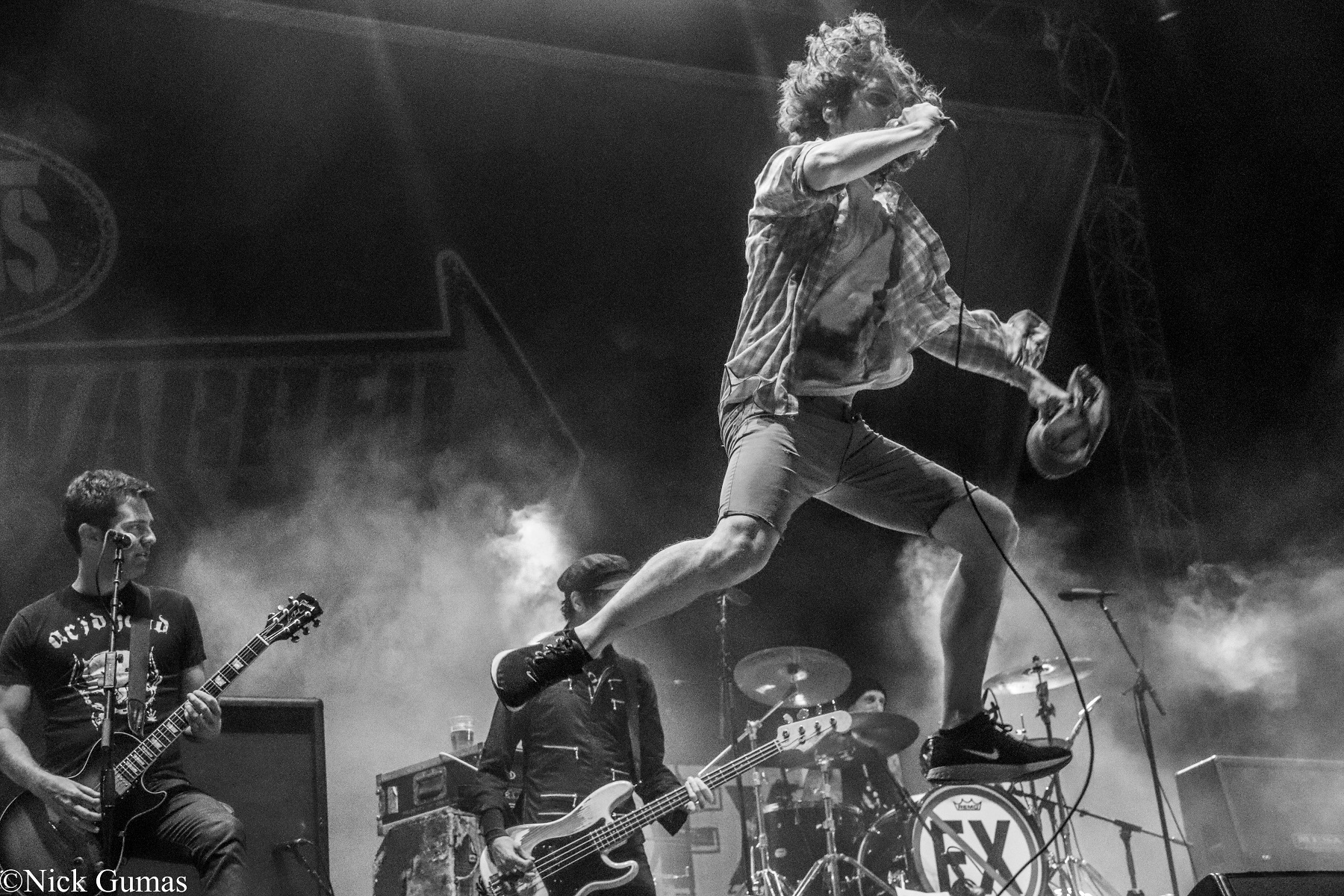 Many years ago, tenured band Sum 41 started their career as a NOFX cover band. This background prompted many members of the band to play alongside members of The Starting Line for the first cover of the night, "Stickin' in My Eye." This was followed by members of the band Thrice, then covering the song "Linoleum." All and all, this display embodied what Warped Tour has always stood for. Uninhibited punk music delivered in a fun and accessible medium. Also, the funfair of bands and artists contributing to this sendoff also included Anthony Green, The Used, Hyro the Hero, Quicksand, and The All American Rejects.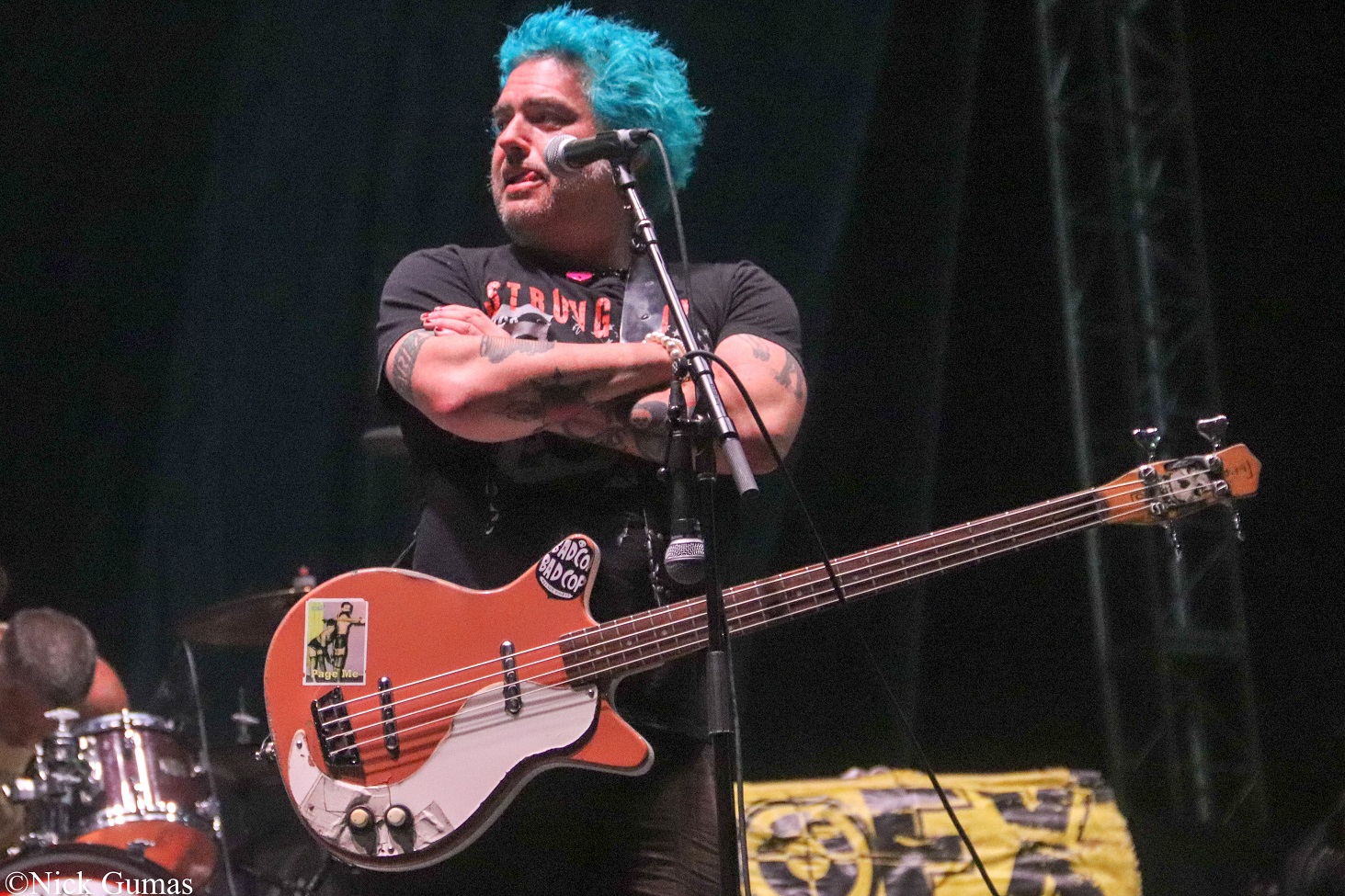 Kevin Lyman then returned to the stage with his good friend and Goldfinger frontman John Feldman, gave a status update, told another Warped Tour anecdote, then as he trailed off turned behind him and said: "John, play some Goldfinger." Feldman obliged, acoustically playing his singles "Superman" and "99 Red Balloons" before Lyman jumped onstage again to announce NOFX had finally arrived. Fat Mike and company ran onstage to join the impromptu NOFX cover band and proceeded to soundcheck on stage as they rushed to get through as many songs as possible. Opening with "Fuck the Kids (Part I)" the band played through parts of as many of their songs as they could to cram as much of their show as possible before the venue's curfew.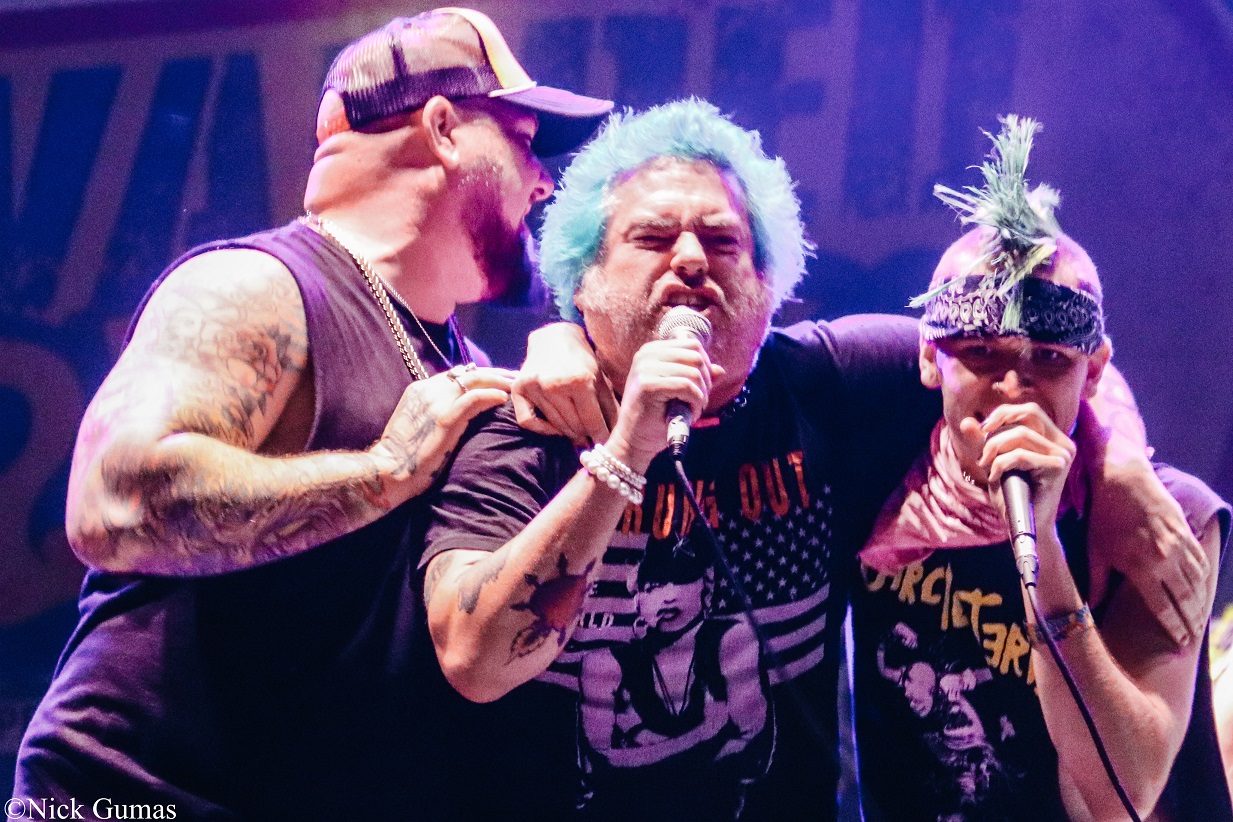 Last year, Pennywise made headlines as a video of them playing their hit "Bro Hymn" went viral as the allegedly last song to ever be played at the Vans Warped Tour. This year at the honor went to NOFX as they ended the festival on a humble note. Instead of their typical music with their upbeat style, the band decided to end this era with their relatively new hit "I'm So Sorry Tony." And with that, an era of music history had ended. Thank you for a quarter-century of music, culture, and opening all of our eyes at some point or another to something that we would have all not otherwise known about.