"Music, along with many other creative art forms, has always been ahead of the curve when it comes to dealing with racism and racial inequality. We've always depended on music to be not just a sign of the times, but a representation, in some ways, of what's important at the moment. Throughout history, during times of hardship, an abundance of great music seems to emerge that is somehow timely and timeless. 
Musicians throughout history, consequently, have looked to the best in every genre for inspiration. No true musician can claim to embrace the music of someone without accepting the human being from which it came as equal. It is impossible to regard the influence of someone else's creativity as great while judging the person who created it as somehow inferior. As students of music, we have all learned of countless situations where this rang true, even in earlier, more challenging times. For example, the Father of Bluegrass, Bill Monroe, was mentored in the 1920s by the Black musician Arnold Shultz who gave Monroe his first paid gig. Hank Williams, country music's greatest poet, was inspired at an early age by Rufus Payne, a Black guitarist who would give him lessons in the 1930s, in exchange for food or money. This seemed to be a pattern with most white seminal musical artists throughout our history. Going back to times when racism in America was much more prevalent, many great white artists spoke out on the subject although it was extremely controversial. Sinatra loved Billie Holiday and Ray Charles. Bing Crosby bowed to Nat "King" Cole and Louis Armstrong. Everybody loved Sam Cooke.
On a more obvious note, rock and roll, though brought to a white audience by Buddy Holly, Elvis Presley, Carl Perkins, and Jerry Lee Lewis, had been hovering around the American South for years under the guise of rhythm and blues. Artists like Little Richard, Fats Domino, and Chuck Berry who were on the forefront of rock and roll had been influenced by lesser known artists from all over the South and were combining Delta blues, which was a secular extension of Black gospel music, with some of the more syncopated rhythms coming out of New Orleans. Eventually rock and roll would come to be known as white man's music but like jazz, blues, rhythm and blues, and soul music, it was born in the South from African American culture. In fact, it's a bit ironic that all true forms of American music throughout our history (up until the birth of hip-hop) came out of the South - the place, ironically, that's struggled more with racism than any other part of our country. In spite of that controversy, Carl Perkins would credit learning to play guitar from Black blues musician "Uncle" John Westbrook, Elvis would cite obscure R&B singer Roy Hamilton as his favorite singer, and Jerry Lee would talk about the sounds that came from Haney's Big House - a Black juke joint across the tracks. 
Oddly enough, outside of America, musicians (and fans alike) seemed to have an easier time getting past this barrier. British musicians, in particular, were proving to be among the most devout fans of the music being created by African Americans that was making its way overseas. The British Invasion, which was inspired by American blues and early rock and roll, helped create a movement that turned America on to what was already in its own backyard. Many of these white British bands were covering songs by their favorite American Black artists before they started writing their own songs. Bands like the Rolling Stones would come to the U.S. for the first time, looking to encounter their heroes like Howlin' Wolf and Muddy Waters, only to find that most white Americans had not yet discovered this music.
My friend and bandmate, the late Gregg Allman, spoke extensively of his lifelong friendship with Black singer Floyd Miles which began in the early 60s. Floyd would take Gregg and his brother Duane to the local "Black" record shops in Daytona and turn them on to artists like B.B. King, Bobby "Blue" Bland, Little Milton, Jimmy Smith, and John Lee Hooker, who would become their heroes. As founding member of the Allman Brothers Band, Gregg would often tell stories of how much harassment they suffered as the first Southern rock band - an integrated band emerging from Georgia in 1969 - that forged their own sound as a combination of blues, rock, jazz, country, and soul music.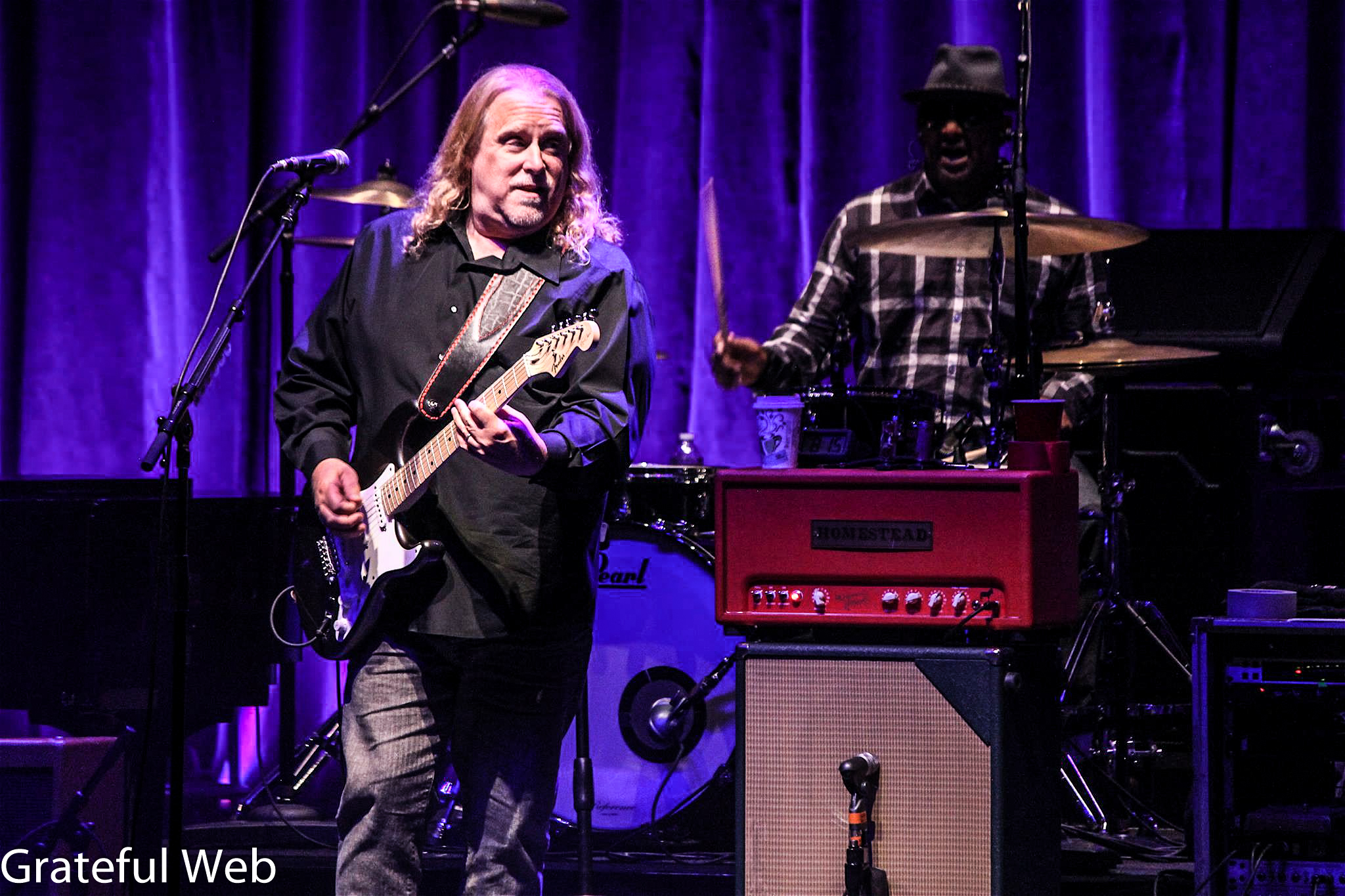 Growing up in the South myself, a child of the sixties, things were progressing rapidly on the racial front, but it was a painful progress. Being 13 years younger than Gregg, I missed the worst of it and was too young to understand a lot of what I did see, but still I was exposed to the hurtful side of what America and the world can be like. Music, thankfully, was always playing in our house, and from a very early age soul music was king. James Brown was my first hero and I spent countless hours in my room, before I ever picked up a guitar, trying to sing like Dennis Edwards of the Temptations, Levi Stubbs of the Four Tops, and Sam Moore of Sam and Dave. Eventually I would be equally impacted by the guitar-driven power of rock music only to discover that all my favorite white singers and guitar players were emulating their Black heroes. It didn't take long to make that connection and I began to look backwards, studying the "family tree," to see where it all came from and discovering new heroes along the way. Each era had its pivotal artists who were creating music with a timeless quality that would inspire and influence the next era - artists who found their own voices that resonated with us beyond the "musical wallpaper" quality of trendy music...that penetrated much deeper.
But the timelessness of music has as much or more to do with the songs themselves. Aside from the "folk era" and the "swing era," mainstream music throughout history was never much for challenging the listener or stoking controversy. There were unspoken boundaries that, as a songwriter, you didn't go beyond. That would all change with Bob Dylan, who would combine the blues of Lead Belly and "Blind" Lemon Jefferson with the serious subject matters of folk music. In return, Black and white artists alike began to cover his music and songwriters, Black and white, started to look at their own songs a little differently. All over America there came a musical uprising of underground movements soon followed by the earth-shattering advent of FM radio, and suddenly music was a way of spreading a message, of revolting against the establishment, and of exercising free speech to bring people together. In some cases, the music itself drew us in and we didn't realize the depth of the lyric until later. But songwriters were beginning to use their voices to speak up about political situations and to institute change. It was a brave new world and it was loud, it was angry, it was funky, it was sweet, it was gentle, it was rocking, and it was here to stay - or so we thought. Oh sure, occasionally someone still comes busting through the door and puts the truth in our faces, but in recent times it seems less about making a change and more about "notice me." Today is a new day, however, and it feels like something is bubbling on the horizon and has been for far too long. It feels like young people are no longer scared or complacent. It's been a long time coming - but, thanks to a whole new generation of Freedom Fighters, a change is gonna come. 
Below is a playlist I put together, presented chronologically, of many of my favorite songs by some of my favorite artists. It purposefully stops at 2002 as, although there are numerous releases since then that would fit well into this list, I am less familiar with those - maybe more playlists to follow. Although it just scratches the surface, this list represents a group of people that helped pave the way for those who, in turn, paved the way for the next ones, risking their livelihoods, and in some cases their lives, to make a difference. They should be an inspiration to us all."
PRESS HERE To Listen To The Accompanying Spotify Playlist
"Strange Fruit" - Billie Holliday (1939)
"A Change Is Gonna Come" - Sam Cooke (1964)
"Mississippi Goddam" - Nina Simone (1964)
"Freedom Highway" - The Staple Singers (1965)
"Strange Fruit" - Nina Simone (1965)
"A Change Is Gonna Come" - Otis Redding (1965)
"Blowin' In The Wind" - Stevie Wonder (1966)
"Respect" - Aretha Franklin (1967)
"A Change Is Gonna Come" - Aretha Franklin (1967)
"Keep On Pushing" - The Impressions (1968)
"Long Walk To D.C." - The Staple Singers (1968)
"Why? (The King of Love Is Dead)" - Nina Simone (1968)
"Think" - Aretha Franklin (1968)
"Stand!" - Sly & The Family Stone (1969)
"The Ghetto" - Donny Hathaway (1969)
"Everyday People" - Sly & The Family Stone (1969)
"Star Spangled Banner" - Jimi Hendrix (1969)
"Cloud Nine" - The Temptations (1969)
"Ball Of Confusion (That's What The World Is Today)" - The Temptations (1970)
"Abraham, Martin, & John" - Marvin Gaye (1970)
"I Don't Want Nobody To Give Me Nothing" - James Brown (1970)
"(Don't Worry) If There's A Hell Below, We're All Gonna Go" - Curtis Mayfield (1970)
"Move On Up" - Curtis Mayfield (1970)
"Power To Love" - Jimi Hendrix (1970)
"Machine Gun" - Jimi Hendrix (1970)
"Freedom" - Jimi Hendrix (1971)
"Hard Times" - Baby Huey & The Baby Sitters (1971)
"The Revolution Will Not Be Televised" - Gil Scott-Heron (1971)
"Inner City Blues (Make Me Wanna Holler)" - Marvin Gaye (1971)
"What's Going On" - Marvin Gaye (1971)
"Mercy, Mercy, Me (The Ecology)" - Marvin Gaye (1971)
"Young, Gifted, & Black" - Aretha Franklin (1972)
"Lean On Me" - Bill Withers (1972)
"I'll Take You There" - The Staple Singers (1972)
"Across 110th Street" - Bobby Womack (1973)
"Living For The City" - Stevie Wonder (1973)
"Get Up, Stand Up" - Bob Marley & The Wailers (1973)
"Soon We'll All Be Free" - Donny Hathaway (1973)
"Harlem/Cold Baloney" - Bill Withers (1973)
"Funky President (People It's Bad)" - James Brown (1974)
"Revolution" - Bob Marley & The Wailers (1974)
"Hard Times" - Curtis Mayfield (1975)
"Black Man" - Stevie Wonder (1976)
"A Change Is Gonna Come" - Bobby Womack, The Brotherhood (1976)
"Redemption Song" - Bob Marley & The Wailers (1976)
"A Change Is Gonna Come" - B.E.F., Tina Turner (1988)
"Talkin' Bout A Revolution" - Tracy Chapman (1988)
"With God On Our Side" - The Neville Brothers (1989)
"A Change Is Gonna Come" - The Neville Brothers (1989)
"Sons And Daughters" - The Neville Brothers (1990)
"Sons And Daughters (Reprise)" - The Neville Brothers (1990)
"My Brother's Keeper" - The Neville Brothers (1990)
"Break The Chain" - The Memphis Horns (1995)
"None Of Us Are Free" - Solomon Burke (2002)