Last Friday night in Sunset Park, Brooklyn, We Thee Funk elevated Industry City by a factor of funk. The eleven piece band was dressed in sparkles and ready to start the party. Hometown Barbecue, which is known to have some of the best BBQ in NYC, was on hand providing drinks and food, as well as two artists who painted while the band played.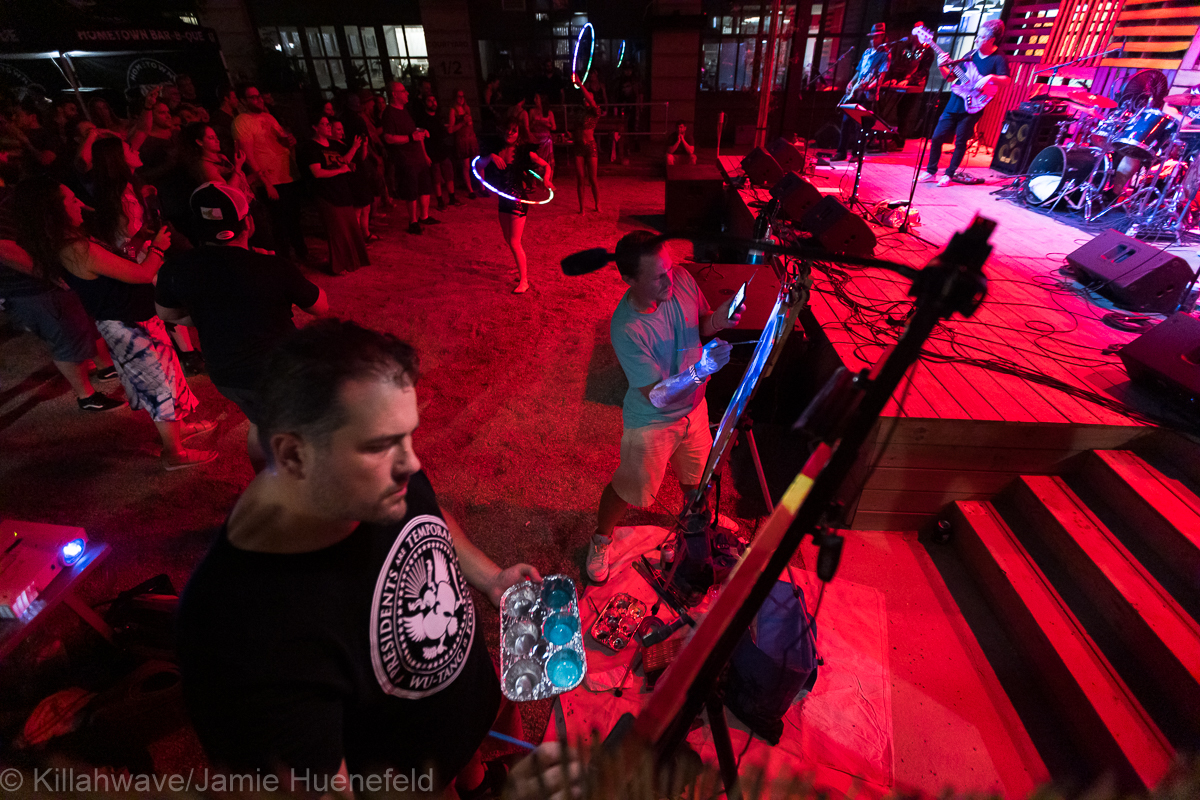 We Thee Funk is a group of NYC musicians who have been delivering exploratory and improvisational funk for just over two years. They play a catalog of well known covers from legendary funk musicians like Funkadelic, Sly and the Family Stone, and Kool and the Gang. Late night sets are their typical domain, and members are usually wearing 70's themed or festive clothing. Tonight's lineup included Eddie Arjun (guitar), Lenny Stein (guitar), Dan Purdom (keys), Oliver Burkat (drums), Pablo Rodriguez (trombone), Brittany Beckett (vocals, percussion), Bryan Walters (trumpet), Anna O (vocals), Jae Miles (vocals), Chris DiNardo (bass), and Seth Eisenstein (tenor saxophone).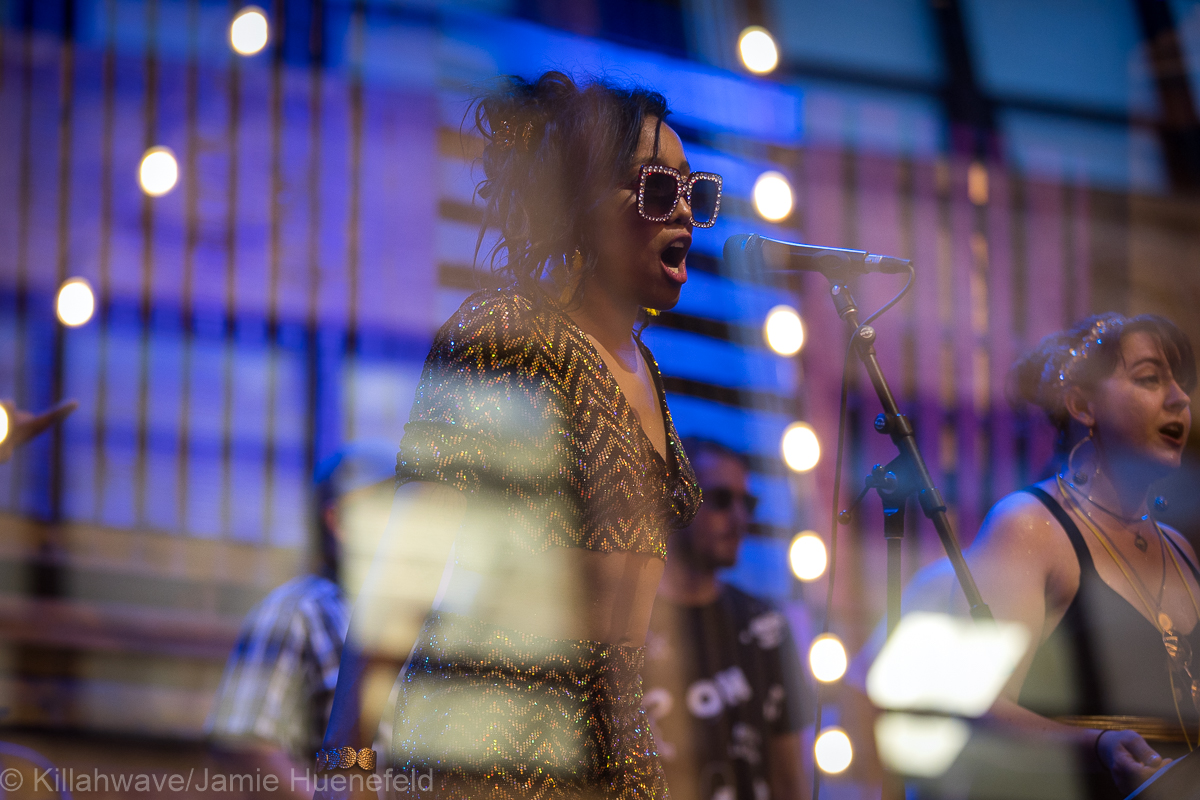 Starting with "Maggot Brain," this show began and ended with classic Funkadelic covers, as it should for a funk cover band. Incidentally, "Maggot Brain" was released fifty years ago this week, making the song a very timely cover and commemoration. The trio of singers joined the party for the next tune, "Thank You," and provided lively 70's style dancing on the stage in this song and throughout the show. "It's Your Thing" followed, and included a dedication to former band member, Chris Zegers. During the instrumental "Cissy Strut," vocalists Brittany Beckett and Anna O both danced with illuminated hula hoops on the sides of the stage. Another first set highlight was James Brown's "I Feel Good" with "Fire" by Jimi Hendrix teases. "I Feel Good" was sung by Beckett, who showed her incredible vocal range and skills during this song and for the duration of the night. At this point, the crowd was working up a serious dancing sweat, and not because it was 90 degrees out. The horns were a perfect marriage with the guitar, bass, keys, and drums, along with the inspired vocals, prompting anyone who could dance to be grooving on their feet. The set closed out with another Funkadelic gem, "Standing On The Verge of Getting It On."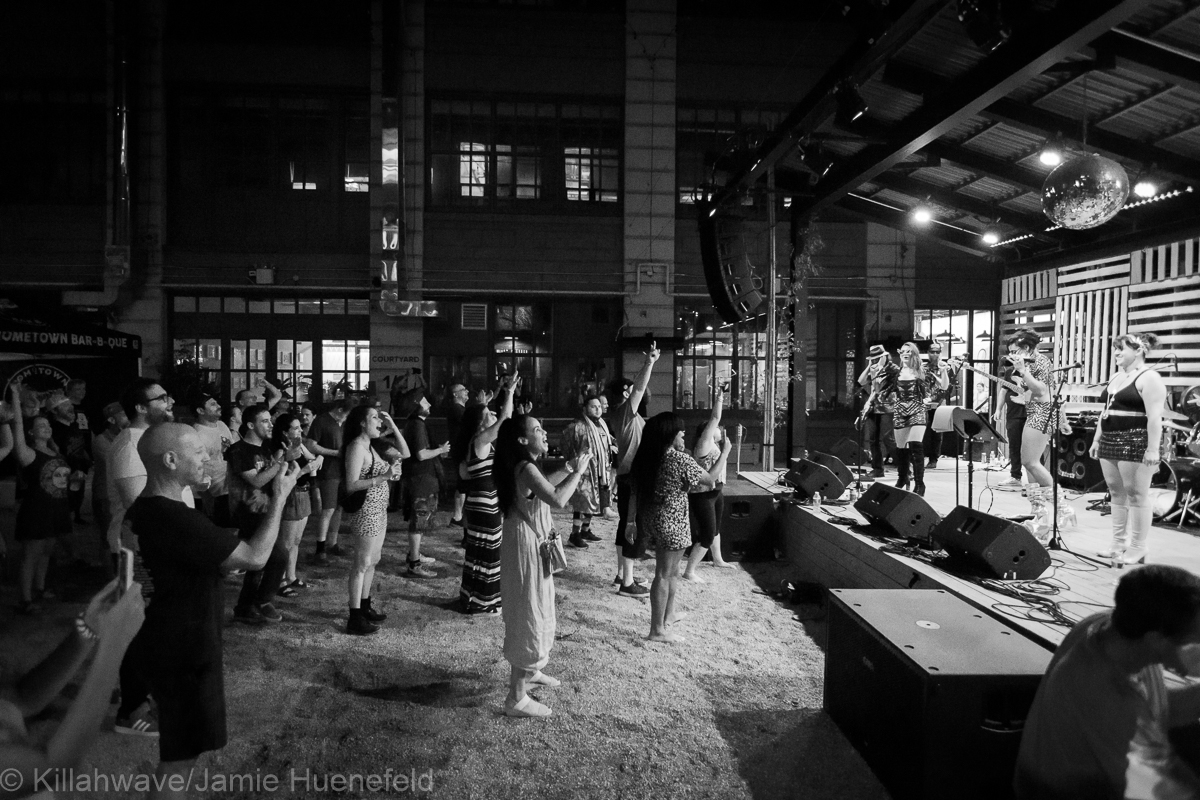 After a quick break, the band delivered more exploratory funk, starting with "House Party" by Fred Wesley into "Jungle Boogie" by Kool and the Gang, and back into "House Party." The second set highlight was the deliciously funky "Hollywood Swinging" by Kool in the Gang which segued into "Feels So Good" by Mase. Drummer Oliver Burkat contributed his stellar rapping vocals for the latter. The crowd was highly engaged and taking videos from all angles of the venue during this elevated sequence. The set also included another round of illuminated hula hooping, though this time in the audience. Another dedication was made prior to the last song for Lee Herman, and then the show wrapped up with a medley from the iconic "Give Up the Funk," book-ending the show in Funkadelic heat.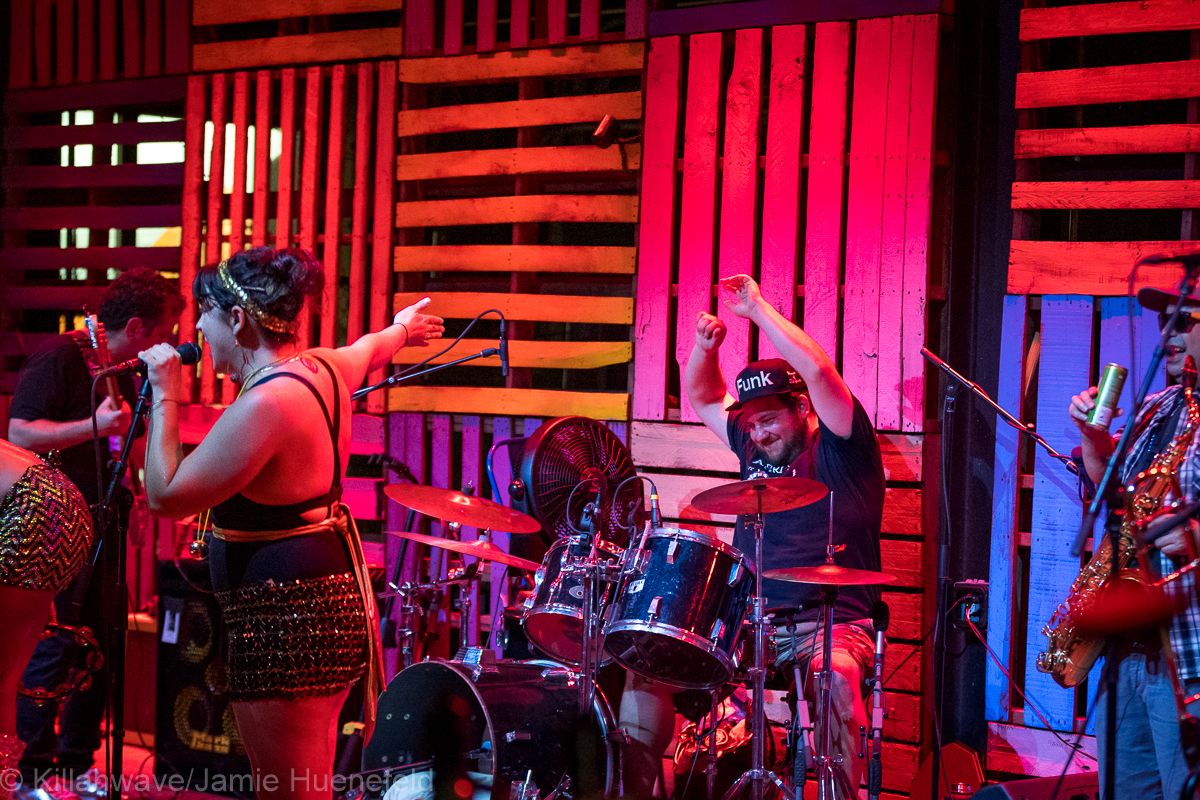 New York City's go to late night funk ensemble brought creative covers, feel good jams and energized vocals to Industry City last Friday night. They currently do not have any future events scheduled, but hinted that they will be playing a Rocks Off boat cruise this fall. Stay tuned to their website for more details as they are released.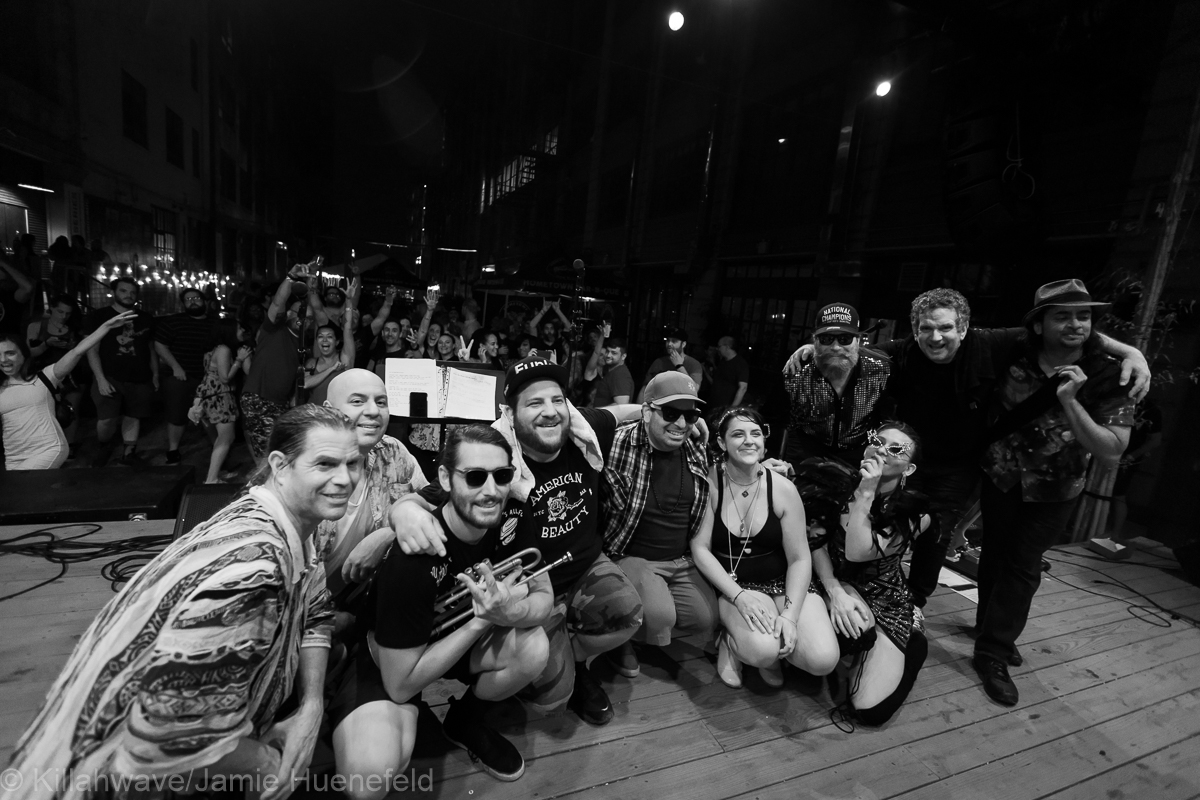 Check out more photos from the show.
Set One
Maggot Brain1, Thank you2, It's Your Thing3, Pick Up the Pieces4, Jungle Love5, Yes We Can6, Soul Power7, Cissy Strut8, I Feel Good9 > Fire10 Medley, Standing On The Verge Of Getting It On1
Set Two
House Party11 > Jungle Boogie12 > House Party11, Good to your Earhole1, Rock Steady13, Sing a Simple Song2, Use Me14, Slipping' into Darkness15, Hollywood Swinging12 > Feels So Good16, Dance Music Sex Romance17, Give Up the Funk Medley1
Notes
1 - Funkadelic
2 - Sly and the Family Stone
3 - Isley Brothers
4 - Average White Band
5 - Morris Day and the Time
6 - Pointer Sisters
7 - James Brown
8 - The Meters
9 - James Brown
10 - Jimi Hendrix
11 - Fred Wesley
12 - Kool and the Gang
13 - Aretha Franklin
14 - Bill Withers
15 - War
16 - Mase
17 - Prince