The Well Known Strangers are thrilled to announce a string of Bay Area shows and play to live audiences once again – outdoors and socially distanced, of course. Fresh off of the release of their new EP King Tide, The Well Known Strangers will be bringing their brand of California Country Soul to fans thirsty for live music, to a variety of local shows in Marin and San Francisco this spring. Friends and followers will be able to catch the band playing COVID-compliant shows outside at Glazed & Confused in downtown San Rafael on Friday, May 14, 6 – 9pm; Amado's in San Francisco on Saturday, May 22, 6 – 8pm; Peri's Saloon, in Fairfax on June 5, 6 – 8pm; Jason's in Greenbrae on Saturday, Jun 12, 6 – 9pm; The Bistro in Hayward on Saturday, June 19, 2 – 5:30pm and more.
The Well Known Strangers is a collective of seasoned Bay Area session musicians and friends, featuring powerhouse vocalist Amber Morris (Narada Michael Walden, Mark Karan Band); David Noble (Poor Man's Whiskey, Pardon The Interruption) on lead guitar and vocals; Joshua Zucker (Rowan Brothers, The Jones Gang) on bass and vocals; Austin de Lone (Nick Lowe, Elvis Costello, The Fabulous Thunderbirds) on keys; Mick Hellman (The Go To Hell Man Band) on drums and vocals; Rob Anderson (emerging talent and repeat world champion cyclist) on guitar.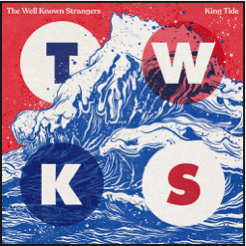 Their new album King Tide is available to stream and download on a variety of music platforms here: https://ffm.to/kingtide.
For further information on The Well Known Strangers and updates to their live shows and music, please visit thewellknownstrangers.com. Follow The Well Known Strangers on YouTube, Facebook, and Instagram.
The list of upcoming shows includes:
Glazed & Confused
WHEN:           Friday, May 14, 6 – 9 pm                  
WHERE:         Glazed & Confused (outside the shop on 4th Street, which will be closed to cars)
846 Fourth Street, San Rafael, CA
TICKETS:      Free admission, tips appreciated
Amado's
WHEN:           Saturday, May 22, 6 – 8 pm;                 
WHERE:         Amado's, 998 Valencia Street, San Francisco
TICKETS:      Free admission, Tips appreciated
Peri's Saloon
WHEN:           Saturday, June 5, 5 – 8 pm;                
WHERE:         Peri's Saloon, 29 Broadway, Fairfax, CA
TICKETS:      Free admission, but donations to 'Help Save Peri's Bar' Go Fund Me appreciated
Jason's Restaurant
WHEN:           Saturday, Jun 12, 6 – 9 pm
WHERE:         Jason's, 300 Drake's Landing Rd, Greenbrae, CA (Marin County)
TICKETS:      Free admission, Tips appreciated
The Bistro in Hayward
WHEN:           Saturday, June 19, 2 – 5:30pm
WHERE:         The Bistro, 1001 B street, Hayward CA
TICKETS:      Free admission, Tips appreciated
KC Turner Presents Cookout Concert Series at HopMonk Tavern Novato
The Well Known Strangers Opening for Bill Kirchen
WHEN:           Sunday, October 17, 6pm
WHERE:         HopMonk Tavern Novato Beer Garden, 224 Vintage Way, Novato, CA
TICKETS:       $30 (show only) to $46 (includes BBQ) available at KCTurnerpresents.com
For further information on The Well Known Strangers, their upcoming shows and music, please visit thewellknownstrangers.com