Landing a coveted slot between Phil Lesh and Friends and Bob Weir at one of the top musical festivals in the east does not guarantee a band success when it comes to their commercial ventures, but Ohio jamtronica supergroup The Werks have parlayed their April 20th release of their first major self-titled release and their much talked about June performance at All Good Music Festival into an extremely productive 2012, and have laid the groundwork for headlining spots on major 2013 festivals by putting on explosive, groove-heavy, dance-happy shows throughout the country on their nationwide tour, which kicked off days after their own successful festival, Werk Out Music and Arts Festival.  So on this, the first day of the last month of the year, the WERKS pulled into Pittsburgh, PA for the last official stop on the tour for a show at The Rex Theatre, a former vaudeville theater built in 1905 that has been a long time fixture on Pittsburgh's southside, a bustling neighborhood that comes alive at night with 20 somethings flowing into the numerous bars that line the street, and proceeded to put on a show that would not soon be forgotten, and were so on fire that they ended up setting off fire alarms in the process.
Pittsburgh jamband theCAUSE opened the show with a set of originals and proper Grateful Dead covers to get everyone warmed up, and these veterans of Pittsburgh's music scene didn't disappoint.  Some of the highlights of their set included Sittin' on Top of the World, with bassist David Tauberg and keyboardist Mike "Tour Pro" Tony shining and a Friend of the Devil that had the whole crowd signing along with vocalist Jill Paone Simmons.  Guitarist Eric "Pappy" Weingrad rose to the challenge on Black Throated Wind, delivering a powerful performance on vocals and guitar, while drummer Mike South laid down a solid foundation on drums.  They finished up with Werks guitarist Chris Houser and keyboardist Norman Dimitroleas joining them for a romping version of Turn on Your Lovelight - watching dual keyboardists Tony and Dimitroleas tear up this Pigpen favorite was one for the memory bank, and the guitar tandem of Tauberg - Houser also traded blues-fringed licks throughout.  TheCAUSE performs in the Pittsburgh area on a regular basis, and has a good repertoire of originals and covers of bands like Phish, the Dead, Dylan, JGB, The Beatles and more.   So I encourage you to look them up and "take a pause for theCAUSE" if you're in the Pittsburgh area – They have a tight-knit community of good folks surrounding them, phenomenal harmonies, and I can guarantee that you'll be up on your feet shaking your bones with them all night long.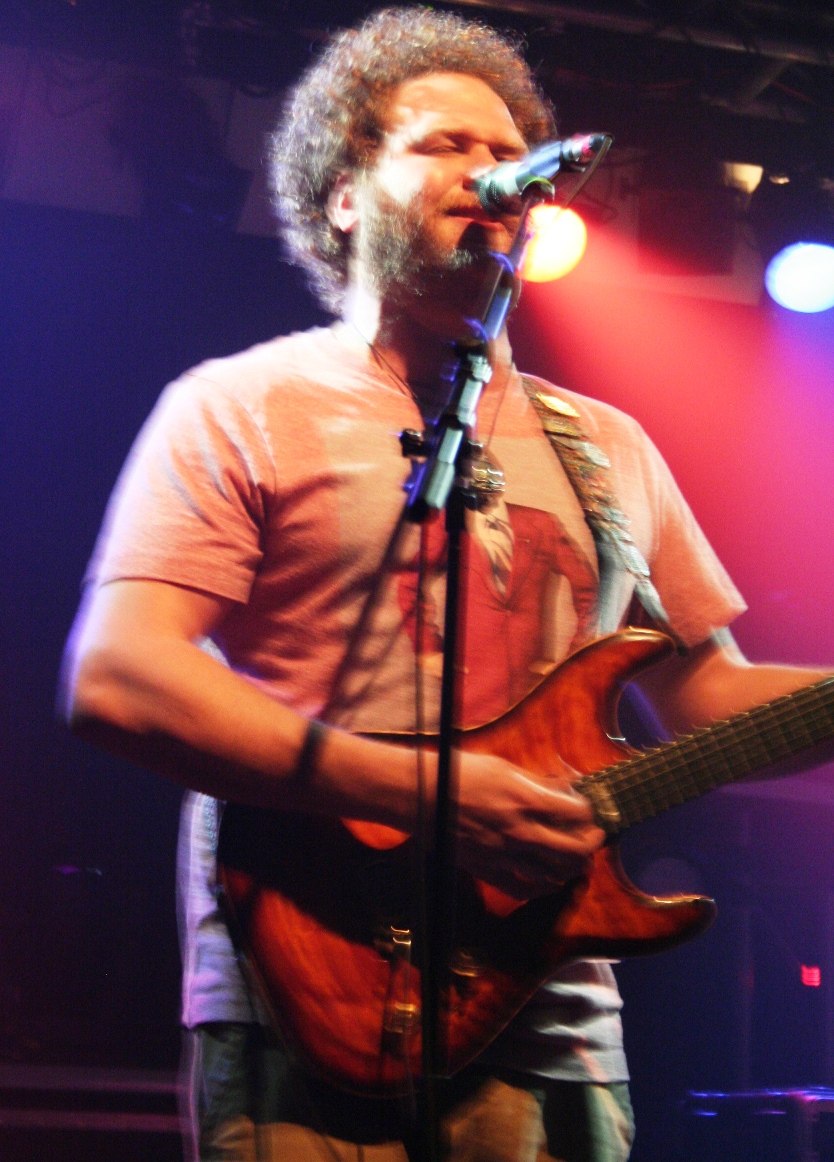 Shortly after 10:30, Ohio psychedelic dance rock darlings The WERKS took the stage, and by this time, the crowd had filled in nicely at the Rex, more so on the "over 21" side.  The Werks are a different type of band – They merge traditional instruments with a touch of electronica such as drum pads and synthesizers to create a newer genre of music many refer to as jamtronica or livetronica.  Largely made popular by bands like the Werks, Ohio brethren Papadosio, Sound Tribe Sector 9, livetronica is in the early stages of mainstream success, and the Werks have blazed a trail for others to follow, merging the two in a way that still relies heavily on musical ability of the artists on traditional instruments instead of a computer, something many in the "mainstream" jam community have complained about. 
The group, in standard WERKS formation, facing the stage left to right, keyboardist Norman Dimitroleas guitarist Chris Houser, bassist Dino Dimitroleas, and drummer Rob Chafin, came out to a raucous roar from the crowd, many of whom had not seen the group since their now legendary performances at the WERKOUT Music and Arts Festival at Legend Valley in Thornville, Ohio.  They came out to a building crescendo and launched the audience into Cloudhopper.  Already warmed up from the opener, the crowd immediately exploded into a dance frenzy, with everyone in sight moving to the building beats the Werks deliver.  The followed with Burnin' Groove, and likened to stream flowing into a raging waterfall, the group builds up the song, growing more and more as you move closer to the edge, and when the tipping point is hit, they take you over the fall into psychedelic, swirling bliss with notes flying around you, and just when you think it's over, there's another cliff to tumble joyfully over and brooks to meander playfully through.  It's a journey like no other, and there are times you have to look twice to see if Houser is the only one playing guitar, with full, rich tones backing his soaring solos.
One of the highlights of the evening was a cover of The Doors popular B-side hit Roadhouse Blues, sandwiched in between Werks fan favorite Rollin', with drummer/vocalist Rob Chafin displaying amazing dexterity singing a difficult arrangement while playing Bonham-esque drums, and bassist Dino Dimitroleas adding his slap and pop filled funk style to the blues favorite.  Soundman Andy Loy kept the sound loud but clear throughout the evening whether you were up front or in the back,, a difficult job in a theatre of this size.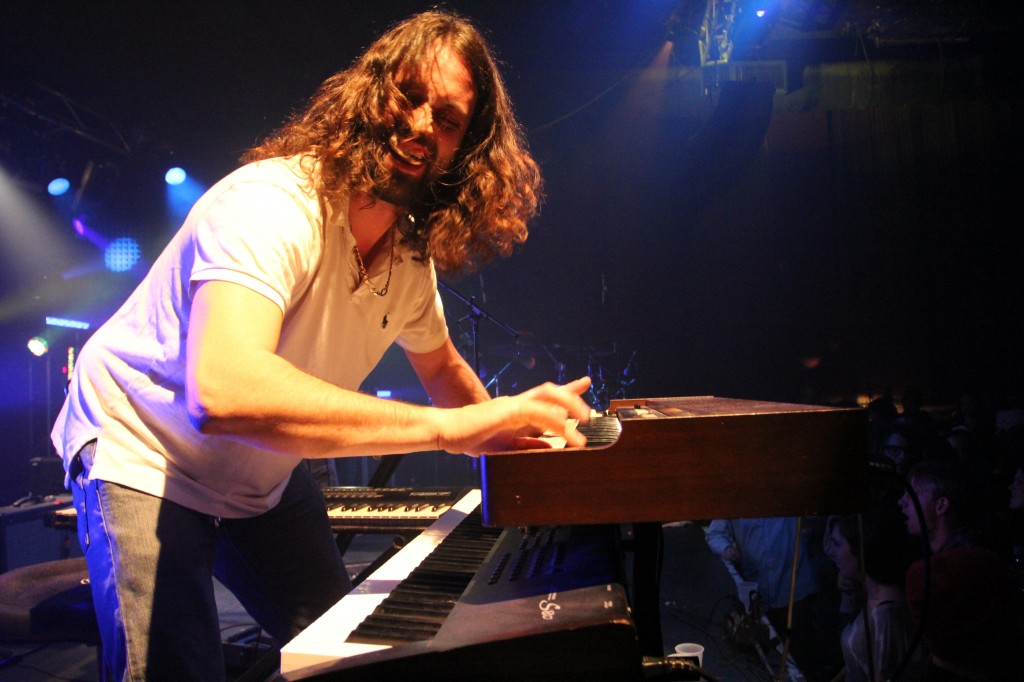 Going Round was another shining star this evening, going well over the 20-minute mark, and neither the crowd nor the band looked ready to close the song out.  Each member of the group took turns showing their stuff, playfully interacting with each other and the crowd at times, all the while being illuminated by the work of lighting designer/director Jim Dewey, as always dressed as the mad scientist, complete with lab coat and goggles.  Keyboardist Norman Dimitroleas and Houser really came through on Round, though, taking improvisational jamming to a new level.  The band followed with another fan favorite, Plain White Toast, which seemed especially funky on this evening, then closed with an extended Heading South that went over 10 minutes, and the group was so on fire that the fire alarms went off.  After discovering that it was simply from the fog machine, and due to the fact that nobody really noticed or cared anyway, as not a soul left the building as the bands tour manager, Donald Roof thanked the crowd and venue and led the call for an encore. The boys came out and delivered Onslaught, a proper selection considering what they had just delivered to the packed crowd on hand.
And so on this, the first night of December and last night of the WERKS tour prior to their New Years run in Columbus, again displayed that while exposure at a major festival and having a label behind you definitely help, a group's live performances are what get fans talking and have people coming back for more. And being that Friday night's performance was a typical one for the Werks but an epic one for the audience, it's easy to predict that 2013 will be a banner year for this Dayton, Ohio bred jamtronica powerhouse.
SETLIST – 12/1/12 – The Werks – The Rex Theater – Pittsburgh, PA ---  Cloudhopper; Burnin' Groove; Rollin' > Roadhouse Blues > Rollin' > Drums > Rollin'; Carry Me Back Home; Going Round; Plain White Toast;  Heading South    E: Onslaught