Southern Rockers Widespread Panic have come a long way since their humble beginnings in Athens, George in 1986. Well, actually, the sextet is still humble. Steering clear of mainstream record labels, never overselling themselves to anyone but their loyal fans, playing discrete destination festivals, while keeping a cool and accessible demeanor; by basically being themselves. Their super impressive record sell-out of 42 consecutive Red Rocks Amphitheatre shows is testament to their favored status by Colorado music lovers. The road for Panic has not been without struggle or sacrifice. Panic lost their founding lead guitarist with Michael Houser in 2002. He was in essence Panic. Not only did the band don their name through his childhood nickname, but additionally his souring leads defined Panic's loose and soulful sound. A supple yet powerful guitarist, Houser's spirit allowed the band to expand and evolve further than the typical Southern Rock framework. Following his loss was a bumpy road for the band, going through challenges with transition. How do you replace Mikey? You can't.
Not to say that Widespread's current guitarist (for several years actually,) Jimmy Herring isn't overly qualified. An old friend who has settled well into Panic's sound, Herring never parroted Houser's style but has helped foster a legitimate contemporary status for the band to continue. Still, for many fans, it all goes back to the days with Mikey. Thank goodness that Panic loves to release quality shows from the archive featuring the original Widespread Panic lineup. This time they dug up a solid show from a home away from home. Oak Mountain was and still is Panic's preferred turf in Alabama. Their newest archival release documents a strong show from July 27th, 2001 from Oak Mountain. The recording captures Panic at their mature peak. Houser's fine lead work has never been better represented than here. This was a peak moment for the band, sadly only one year before his retirement and untimely death. Completely unrelated to his future illness, Houser had played while seated for years at this point. Once he sat down, Houser was able focus, pain-free, and played some of his most quality shows. His signature volume control distortion became more noticeable and a more prominent element in Panic's guitar sound.
The release is full of high points. A "Conrad" opener sees John Bell in fine vocal form and features some fittingly syncopated percussion from Domingo Ortiz. "Barstools and Dreamers" displays zippy piano work from JoJo Herman. The real highlight of the first set comes with a bar-burning "Greta"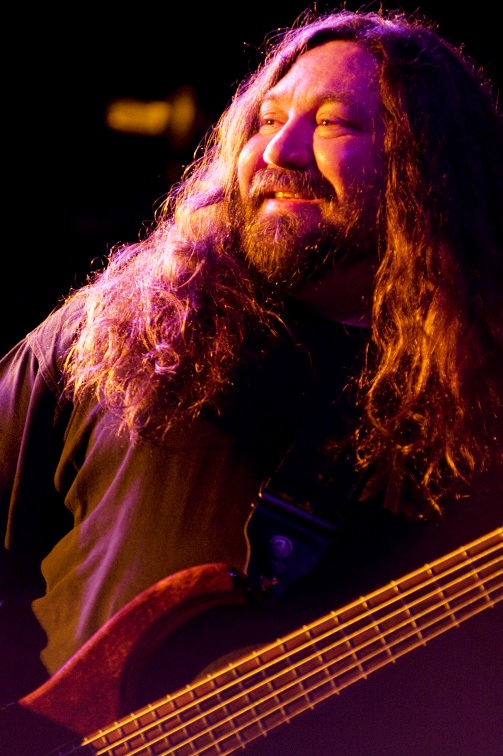 that culminates with some quality Dave [Schools] bombs. Another key powerhouse element of Panic's sound, Schools is perhaps the most distinct bass player to emerge in the rock/jam scene from the 80s and 90s. His loose approach to rhythm, lead and melody evolved Panic beyond Southern Rock and into fusion styling. Bell's vocals and creative lead guitar work complete the sextet. If his vocals ever wore a tad redundantly for skeptics, they need to listen to this recording. A Chuck Berry cover, "Let it Rock", displays versatile lead vocals from Bell, as well as a that evenings trippy rendition of "Blight".
For this show at Oak Mountain, the second set was truly where the magic was unleashed. A tightly shuffled "Disco" lands in an extended jam on "Bear's Gone Fishing." Covers of Jimmy Cliff's "The Harder They Come" into Col. Bruce Hampton's "Fixin' To Die" are supplemented by a nearly 26 minute Todd Nance/Domingo Ortiz percussion duet. Rhythm Devils of their own domain, the drum duo explores different sonic soundscapes with agility unmatched by any other. Ortiz's virtuosity in particular stands out. Panic closes with a show-stopping "Dream Song". Absolutely stunning, this sentimental rumination was a fine way to close an outstanding night of music.
Fans are as thrilled as can be to have Widespread Panic still in their lives, but their newest release displays a different time. A simpler time when fans weren't so divided in the jam-world. Well worth the bang-for-your-buck, this is Panic at their finest.