The demographics of a show that contains any member of The Grateful Dead is not as easily predicted as you may think. Wednesday night's show at Innsbrook Pavilion, near Richmond was peppered with the usual suspects, to be sure.
But amidst all those vintage tye-dies, and tour shirts one also found mom's grooving away with kids who had their heads down – engrossed in Nintendo. There were cougars, and their older sisters even, decked out in original bohemian glory, inspiring Becky Stevens of Richmond to proclaim, "You can always tell which women came to see BOBBY. They DRESS for him." One can never predict whom they will meet at a show like this. Tonight was no exception.
Dr. Geoffrey Cooper is a wine maker, and a Deadhead. "I made wine as an amateur for many years," said the jovial Cooper, shortly before RatDog took the stage. "Then I bought land in 1998 – and started selling commercially, the next year," added Dr. Cooper, who also has a day job as an eye surgeon in the Richmond metro area.
The long-time tape trader boasts of a collection of about 'a thousand' live Dead shows, including an F.O.B. [front of board,] recording of The Grateful Dead's final show, at Soldier Field. "The last show I ever taped," said Cooper.
He sees many similarities between wine and music. Both manifest as part of "creativity within a given form, for one," said Cooper. "Music has variations within a theme, so does wine," he added. "The pleasures of wine and music have brought people together since the dawn of man," he said.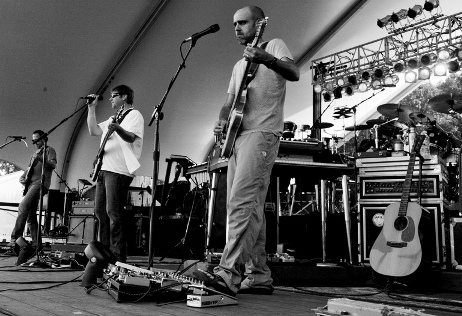 The musical pleasures of RatDog seemed abundantly obvious to the fans in attendance, as well. While a shorter set, since the stage was co-headlined with moe. – Weir and his band delivered the time-honed goods that were wanted, including crowd-favorites Odessa, and Playin' in the Band. Al Schnier joined the band at the end of the set, for an energetic version of Going Down the Road Feelin Bad. moe.'s opening set was equally-chocked full of fan-musts. Akimbo, Waiting for the Punchline, and a particularly surprising version of Recreational Chemistry.
A personal fan of Dr. Cooper's wine – here in Virginia, I couldn't resist asking what he'd serve Bobby, should he ever cross his winery's threshold. "That's easy," said the winemaker, with a smile in his voice. "A viognier. We make a a viognier that's elegant, powerful, with a subtlety that's very unique," Dr. Cooper said, finally. "That's the perfect wine for someone like Bob Weir."