"Dear Nola: A Concert for New Orleans"
Submitted by mike on Wed, 02/09/2011 - 01:55
New Orleans brass-fueled sensations Bonerama team up with Cody ChesnuTT, DJ Spooky/That Subliminal Kid, Grammy Nominated Helen Bruner + Terry Jones, Jenny Toomey & Kristin Thomson of Tsunami, M1 of Dead Prez, Mirah, Sage Francis, Shawn King of Devotchka, Sunpie Barnes and Zach Rogue to celebrate New Orleans, her community and its musical ambassadors for "Dear NOLA: a Concert for New Orleans," at Blue Nile (532 Frenchmen Street) on Thursday, February 17th.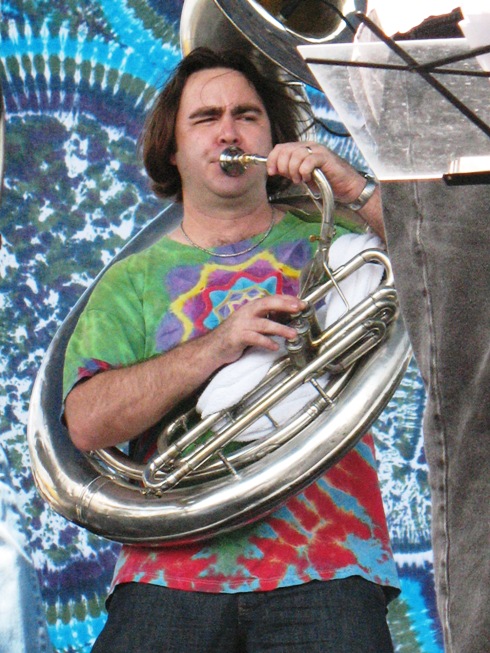 Doors are at 9:00 pm and admission is $10 in advance and can be purchased online at the Blue Nile website; $15 at the door.
Proceeds from the concert — the seventh since Hurricane Katrina — benefit Sweet Home New Orleans and Gulf Restoration Network, two New Orleans-based nonprofits working to support and sustain the region's unique musical and cultural traditions and to protect and restore vital environment and community resources for future generations. The show serves as the celebratory finale of the seventh three-day activist retreat hosted by Air Traffic Control and Future of Music Coalition.
Over the years, these shows have become a tradition and bring visiting musicians together with local musicians to present these talented artists both on their own and in unique combinations. Past shows have included performances with J. Tillman and Nicole Atkins backing Will Oldham, R.E.M.'s Mike Mills and Bonerama joining Corin Tucker on a Depeche Mode cover, and Wayne Kramer and Saul Williams partnering to perform "Kick Out The Jams." The camaraderie established continues well after participants have left the city, as evidenced by the critically-acclaimed compilation, Dear New Orleans. The album was produced by Air Traffic Control to mark the 5-year anniversary of the floods and features 31 New Orleans-inspired tracks from retreat alumni. The compilation can be purchased at http://www.dearno.la.
Air Traffic Control and Future of Music Coalition have been co-hosting a series of artist activism retreats in New Orleans since 2006. Artists are given the rare opportunity to connect directly with the people of New Orleans, the tradition bearers and community leaders who are on the frontlines of rebuilding and sustaining this vital city. After the three-day retreat, artists leave feeling that their lives have been changed by what they have experienced in New Orleans and with a sense of empowerment for what they can accomplish through their music and activism.
"New Orleans is one of the most unique cities on the planet and a place where I have had the good fortune to spend time both as a musician and an activist. The artist-activist retreat provided valuable perspective and insight into a post-Katrina New Orleans. My experiences with local musicians and the people working for the recovery and betterment of the city have been some of the most important experiences of my career." -- Tom Morello.
Past retreat and concert participants include Steve Earle, Tom Morello, Mike Mills (R.E.M.), Boots Riley (The Coup) Nicole Atkins, Damian Kulash (OK Go), Erin McKeown, Nick Harmer (Death Cab for Cutie), Wayne Kramer (MC5), Martín Perna (Antibalas, Ocote Soul Sounds), Jim James and Patrick Hallahan (My Morning Jacket), Jon Langford (Mekons, Waco Brothers), Vijay Iyer, and many, many more.
The efforts of many groups and individuals — including Sweet Home New Orleans, Future of Music Coalition and Air Traffic Control — have had a major impact on Big Easy musicians like Mardis Gras legend Al "Carnival Time" Johnson. Funds raised by retreat participants helped Al buy a new Habitat for Humanity home after having lost his property and belongings in Hurricane Katrina. The concerts and the retreats are part of an ongoing commitment to helping musicians like Al get back to their communities where they will help sustain New Orleans music and culture for generations to come.
--
Sweet Home New Orleans is a nonprofit agency that offers social services and financial assistance to the city's musicians, Mardi Gras Indians, and Social Aid and Pleasure Club members.
About Gulf Restoration Network

Gulf Restoration Network is a 16 year-old environmental group committed to uniting and empowering people to protect and restore the natural resources of the Gulf of Mexico. Since the storms of 2005, they have worked for a national commitment to the restoration of the coastal wetlands of Louisiana, the region's natural storm protection, which are disappearing at the rate of an acre an hour. The BP drilling disaster has greatly increased threats to this ecosystem, and GRN has provided independent monitoring and advocacy since the first days of the disaster.
About Future of Music Coalition

Future of Music Coalition is a national non-profit education, research and advocacy organization that seeks a bright future for creators and listeners. FMC works towards this goal through continuous interaction with its primary constituency — musicians — and in collaboration with other creator/public interest groups.
Air Traffic Control (ATC) exists to help musicians play an effective, unique and vital role in the promotion of social justice. Musicians and managers established ATC five years ago to assemble an experienced and trusted team of leaders, resources and tools that would help them to create more effective social change collaborations with each other and with social justice organizations. As a result, ATC became an artists' air traffic control—one that develops capacity, efficiency, and coordination to produce stronger and more creative social change partnerships.