A little while back, I posted a simple note underneath a photo I had posted on my Flickr page, a photo of the two-man electro-fusion band BoomBox, stating that I predicted people would be hearing more about this band in the future. Little did I know at the time that not only would my prophecy come true in fairly rapid order, but that it would be me who did the telling.
On Friday July 25th, BoomBox played the Fox Theatre in Boulder, CO, and I had my second opportunity to see this unique band in person, and even had the pleasure of meeting Russell Randolph and Zion Godchaux backstage for an interview before the show (read it here!). The twosome plays an innovative and perhaps even groundbreaking brand of music that, for lack of a better term, I would call rocklectrofunk. Half dance club House, and half guitar-driven funkadelics, BoomBox is gaining popularity around the country, attracting a mix of fans from both techno and rock fan circles. As visually oriented as they are sonically oriented, BoomBox is an exciting act to behold, and all the better now that I was seeing them in a proper theater.
When I saw them last, it was as the opening act for Steve Kimock and a host of his friends, down at Owsley's Golden Road in Denver. Not that I have anything against Owsley's, in fact I was quite taken with the establishment, but the ancillary stage that BoomBox played on was little more than a back room, and the sound was so deafening that I could barely make out the words that Zion sang. It didn't really matter, the show was fun even without the vocals, but the Fox Theatre has incredible sound, and Zion's voice rang loud and clear, adding back the missing piece that I only vaguely knew existed, and filling out the sound beyond my hopes and expectations.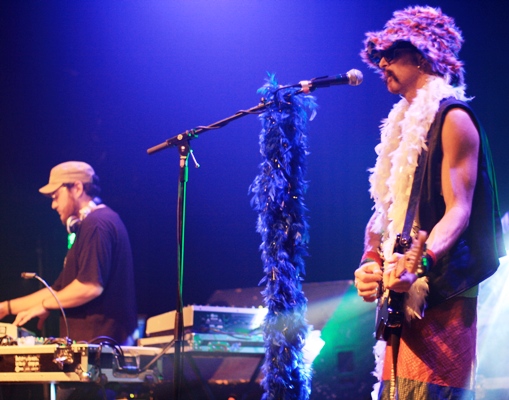 DJ and producer Russ Randolph's elaborate soundscape was amplified too, and as the heavy beats rippled through the crowd, the bass and sound effects that back Zion's 70's style funk guitar had fists pumping and feet moving is a frenetic frenzy of musical intoxication. The light show, controlled in part by Randolph from stage, had all the visual impact of a rave, but with actual people in the spotlight the performance also had all the personality of a rock show. And that is exactly what Zion and Russ have set out to create: a powerful blend of genres that completely removes the audience from their own world and places them squarely in the middle of BoomBox's.
The band played for three straight hours without a break, and dropped their last note at the latest possible moment they would have been allowed to play. Damn curfew laws…
To see more photos from this show, please visit the Gallery.