Cannabis Expo "C.K. Expo" Debuts in New Orleans
Submitted by

Anonymous (not verified)

on Wed, 10/17/2012 - 13:58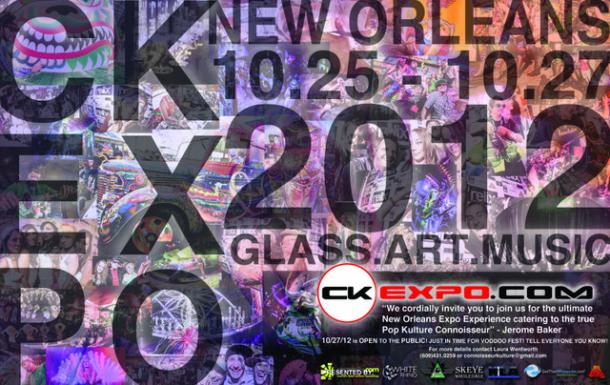 Connoisseur Kulture "C.K. Expo" welcomes the artwork of world-renown painter Alex Grey to participate in this year's expo at the Hyatt Regency in New Orleans, LA October 25 – October 27.  C.K. Expo also just announced their pre-party celebration presented by ERB Magazine at the famous Howlin' Wolf in the French Quarter on Thursday, October 25 at 10PM; with performances by electronic/reggae artist DJ Gaudi (from London, UK) and psychedelic rock group MOTH XP (from Maui, Hawaii). Howlin' Wolf is located at 907 South Peters Street, New Orleans, LA 70130. Tickets are $15 and can be purchased by visiting here.
C.K. Expo is proud to welcome the artwork of Alex Grey, a live painter and performer influenced by the evolution of the consciousness through art history. Alex's team will be at the event demonstrating the artwork and technique of his life size prints from his The Sacred Mirrors Collection. Grey's entire line of merchandise including T-shirts, dresses, stickers and prints will be available for purchase, both signed and unsigned.  His art has been exhibited worldwide, and he is commonly known for his album cover designs for The Beastie Boys, The Visionaries and Nirvana.
This multi-platform, alternative culture event, taking place October 26-27 at the Hyatt Regency in New Orleans, will feature over 180 exhibitors showcasing the hottest and unreleased tobacco products across the country. The C.K. Expo provides a one-of-a-kind experience that promotes culture and underground pop culture education in a high profile and professional environment. Along with the product showcase, C.K. Expo will also host a variety of live art and music performances, educational seminars and networking opportunities with thousands of like-minded heads throughout the weekend.
October 25-26 will be a strict B2B and wholesale expo, all attendees will be required to show valid business I.D. to attend.  Saturday, October 27, the expo will open its doors to the public for the first time on a cash/carry basis, offering up to 20% discounts on all products. Admission is free. Businesses can register by going here.
C.K. Expo will showcase contemporary tobacco products and accessories, art -inspired fashion, incredible street art, specialty glass art, body products, jewelry, culinary treats, novelty drinks, big boy toys, posters, incense, buttons, pins and more.
High-profile companies confirmed to attend include Medicali, Seedless, White Rhino, Skeye Wholesale, Never Light Again, Got Vape, Spark Bottle, HBI International, Vape World and C & G Wholesale. Companies expected to debut new products for the very first time include Divinely Guided Jewelry, Hart Family Glass, Lady With A Fan, PT Bag, Releaf Magazine, Synche Enterprises, Shine On LLC, Sugarleaf Body, Curious Goods, That 70's Store, Spark Bottle, SRH Clothing and Snoop Dogg's Executive Branch.
The expo will also feature live art installations by Josh Cohen and the Bern Gallery from Burlington, VT who will be showcasing their six previous winners of "The Pipe Classic," a national glass artist pipe-making competition which they host yearly.
The Hyatt Regency is located at 601 Loyola Avenue, New Orleans, Louisiana, 70113. C.K. Expo phone number is 609.431.0259. The event begins each day at 11 a.m. and ends at 6 p.m.
ABOUT C.K. EXPO:
Founded by controversial celebrity pipe-maker Jason Harris (a.k.a. Jerome Baker) in 2010, C.K. Expo is a traveling multi-platform event, with its first stops in Atlantic City, NJ then Los Angeles, CA and now debuting in New Orleans, LA. The expo was created to engage in a forum that provides the opportunity for vendors and store owners to build partnerships, while creating awareness of the latest, most popular and unreleased products available in the entire US. Attendees and exhibitors are comprised of eclectic, talented individuals dedicated to pushing boundaries in the underground pop culture industry with individualism. Their mission is to unite entrepreneurs, business owners, artists, musicians, professors, philosophers, lawyers, doctors, mainstream and underground media, all under one unique setting for an entire weekend.
For more information, visit www.ckexpo.com.