Northern Nights Music Festival Returns for 2nd Year
Submitted by

Anonymous (not verified)

on Tue, 06/10/2014 - 12:48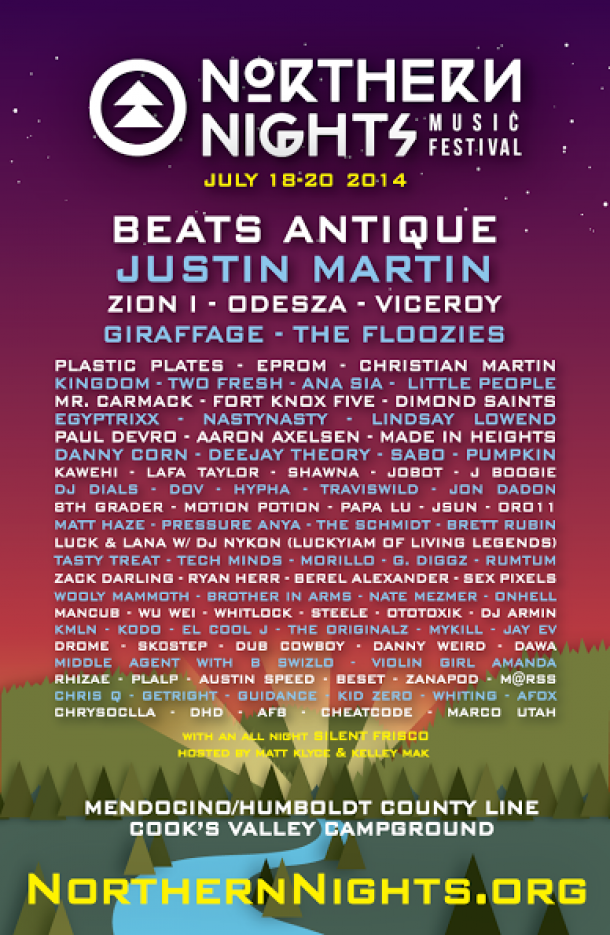 Northern California's most forward-thinking festival is back for a second year, returning to the banks of the Eel River on July 18-19-20 2014.  Located in Piercy, California, the magnificent Cooks Valley Campground straddles the border of Mendocino and Humboldt Counties, Northern Nights Music Festival will showcase an eclectic, trendsetting mix of music on four well-rounded stages.
Headlining 2014 talent will include world-acclaimed "livetronica" performance art band Beats Antique, San Francisco-based Dirty Bird Records house general Justin Martin, the Bay Area's homegrown hip-hop heroes, Zion I and Redlight Management's new red-hot producer duo, Odesza. Additional talent will feature river-disco champions Viceroy and Plastic Plates, complimentary trap artists Giraffage, Mr. Carmack, Eprom and Two Fresh, tastemakers Aaron Axelsen of Live 105.3 and Paul Devro of Mad Decent, as well as some of the world's most scouted contemporary live acts including The Floozies, Kawehi, and 8th Grader.
As large festivals become more crowded and corporatized, and festival goers tire of recycled EDM lineups, the boutique vibe of NNMF offers an intimate setting, comfortable ambiance, and grounded approach to curating the festival experience. Easily accessible from US-101, the spacious festival site features deep swimming holes, shaded glamping, phenomenal acoustics, and immediate access to one of the region's most famous swimmable water body, the South Fork Eel River.
Ticket holders will be treated to the newly added River Stage, as well as two of the west coast's premiere Void Audio assemblies, wholesome hand-picked, Northern Californian food options, and a newly designed VIP lounge to feature the region's best sponsored craft beer & local wine tastings. Attendees will be tucked into camp each night by the Northern Nights Unplugged Sessions and eased into each day with wellness options including yoga, organic food, outdoor workshops and serene morning river swims. Daytime programming will include, high caliber stand-up comedy, dance performances, physical activities (such as the NNMF Mendocino –Humboldt County Line Tug-o-War), live art installations, and a silent disco will once again be produced into each northern night by Silent Frisco.
The 2014 installment of Northern Nights event will also feature "Grove Glamping" in addition to VIP & Group Packages, Car Camping and a variety of local hotel & transportation options for easy accessibility to and from Mendocino County.
FOR TICKETS AND INFORMATION: www.northernnights.org