Celebrating 10 years of The Aiken Bluegrass Festival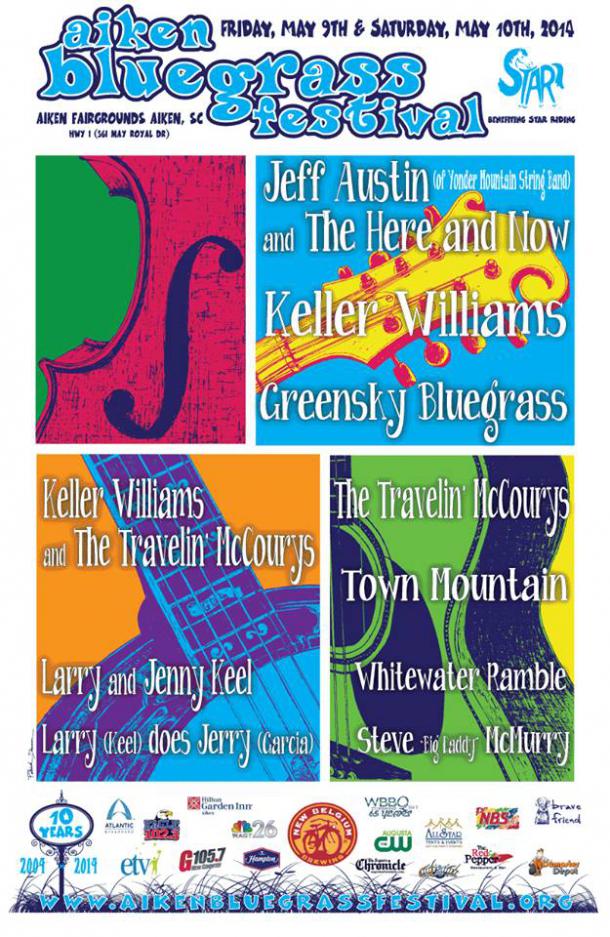 On the heels of the success of the Aiken Bluegrass Festival's 2013 spring event the festival will return to Aiken this spring on May 9th and 10th, 2014. With an eclectic mix of traditional and progressive bluegrass, the 10th annual Aiken Bluegrass Festival promises to be the most exciting year to date. "What defines us as an event is our knack for booking bands that enjoy sharing the stage; friends who happily sit in on each other's sets" says event director, Christian Schaumann. "The result of these collaborations is a once in a lifetime event and the music that is made is unique to our stage." The entire event will culminate with the Aiken Bluegrass Ball, an epic jam of many of the event's musicians. One can only imagine the magic that will be made on the stage throughout the weekend!
Building on the success of the festival over the years, most notably the sold out 2013 event, the bittersweet decision has been made to move the festival from Highfields Event Center to the Western Carolina State Fairgrounds. While leaving the venue ABF has called home for the past few years is sad, the fairgrounds will better suit the needs of the festival and allow the event to accommodate its growing audience and will increase its camping capacity. "We have moved our event before so we know firsthand how challenging change of this magnitude can be" says Christian Schamann. "That being said, we are dedicated to making sure that we stay true to our identity as a unique, relaxed family friendly event with something to offer festival goers across the board. We promise to maintain the vibe we have had from the 1st event in 2004, that will never change".
The Aiken Bluegrass Festival is very family friendly and a kids area will have inflatables and games for kids of all ages. There will also be vendors on site geared towards kids as well as food, beverage and craft vendors. At 4pm on Saturday there will be a bike parade on the festival site. Costumes and bike decorations are encouraged for both children and adults alike! There will also be a family camping area, and an area in the crowd where pop up tents will be allowed for shade. There is a large covered area onsite that can be used in case of foul weather or just used as an escape from the sun. 
Tickets for the event are currently on sale online at www.aikenbluegrassfestival.org  and this  year a  revamped VIP ticket is offered on both Friday and Saturday this year.  More information for the festival is available at www.aikenbluegrassfestival.org and on the Aiken Bluegrass Festival's facebook page.