The Chris Bramble Band
With swirling thunder and wisps of sunlight, Chris Bramble Band's music revels in contradiction, weaving disparate strands into an improbable and yet surprisingly natural musical tapestry. One moment the delicate strains of an Appalachian ballad emanate from the stage, the next a soaring electronic wail. The inspiration remains the same, though: a heart rooted in ancient traditions of spiritual yearning and yet embracing this edgy modern world we find ourselves in, dancing all the while. Mixing the sweetness of the West Coast with the bluntness of the East, the deep pain of observing a world losing its way and the bright joy of finding candles in the darkness, Chris Bramble Band somehow resolve it all into their own unique harmony.
Bradley Leach - drums
Bradley Leach brings a lifetime of musical experience, starting at age 9 on the saxophone. Playing drums by age 11, he has performed with many musical luminaries over the years, including members of Zero and the JGB. He also has a disturbing, if charming, proclivity towards strange hats.
Paul Lamb - bass
Paul Lamb holds down the lower end of the sonic spectrum quite capably. Both steady and adventurous, he's a welcome newest addition to the family. A capable engineer, producer, and soundman as well as bassist and guitarist, he's perhaps best known as part of Germany's cult favorite psychedelic band Burnt Noodle. As a self-described "unabashed goober" Paul keeps the mood lively and fun.
Terry Ann Gillette - violin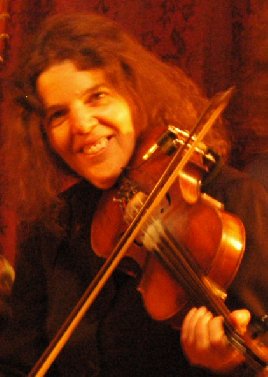 Terry Ann Gillette's playing defies definition. Her playing is sometimes sweeter than honey, other times howling like an electric guitar in feedback fury and she brings an other-worldliness to the band that carries the musical conversation to outer realms. From the San Francisco area, Terry Ann has performed with numerous North Coast bands, including the Ruminators and Spiral Bound. A talented artist in many ways, she has offered to create tie-dyed tuxedos for the band's stage attire. We'll see....
Chris Bramble - guitar, vocals
Chris Bramble is the benign despot of the band, offering the seeds of songs and musical direction that the band as a whole then collaborates to mutate and joyfully reassemble into something altogether new and different. He discovered the joys of singing at age 7 and picked up the guitar at age 12, and has known since those early years that this is what he was meant to do in life. Utilizing his unisonix pedalboard to wrest an array of sounds from his acoustic guitar, he revels in improvising and singing of the full range of experiences of a conscious life. He aspires to someday figure out what time signatures his songs are in.
Paul Best - percussion
Paul Best adds a distinct musical flavor to the band as percussionist. Paul started out musically in his teens as a keyboardist and bassist in New York City and Los Angeles dance bands I AM and Day 15. His personal journey led him to take up hand drums and Native American flute. An actor in Hollywood for a time, we don't hold it against him that he's appeared in movies alongside the likes of Jennifer Love-Hewitt.