On August 19th at the Fox Theater in Boulder, CO, Dave Simonett, Erik Kokinen, and some of their friends from Trampled by Turtles gave us an early taste of their new project, Dead Man Winter. Having been a huge Trampled by Turtles fan for the last couple years, I was quite anxious to finally catch a peak at this new indie/folk/rock project with such bluegrass prodigies. Turns out I got two delightful surprises out of the night. Erik Koskinen opened up with an act that essentially built up to the whole cast of Dead Man Winter playing with him. It was intriguing to hear Erik's flavor of folk/country/rock songwriting at the opening of the concert, only to be juxtaposed and blended with Dave Simonett's (singer/guitarist/songwriter for Trampled by Turtles) style throughout the Dead Man Winter set.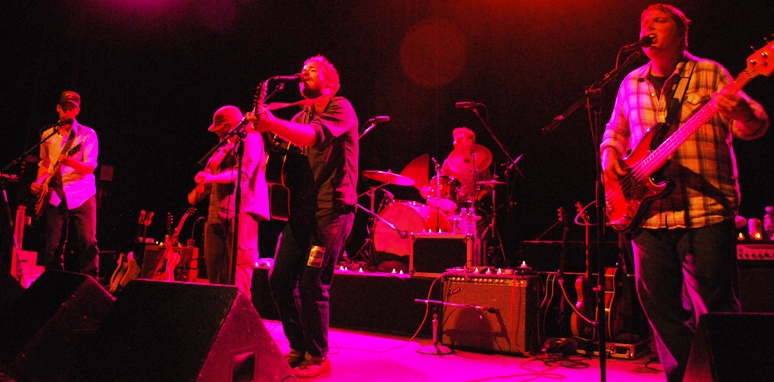 For those fans expecting the speed-grass style of
TBT
to be a prominent feature of
Dead Man Winter
, you might be a little disappointed. In
DMW
, one may clearly hear
Dave Simonett's
unique and beautiful songwriting in a much more folk/rock/indie genre, sans the bluegrass. The ensemble still includes
Ryan Young's
(of TBT) energetic fiddle work, using it less prominently, and even featuring him on electric guitar at times. This left the group a much more electrified and guitar heavy group than I expected, but not in a bad way at all; I still found myself rocking out all night.
While the show was mostly original material from their debut album
Bright Lights
, they still found time to slip in some
Trampled by Turtles
favorites from their recent album
Palamino
like "Victory", "New Orleans", and "Bloodshot Eyes". Overall, this project really lets the songwriting of
Dave Simonett
and
Erik Koskinen
shine through, focusing a little less on instrumental speed and virtuosity than
TBT
, allowing
Dead Man Winter
to really stand on its own as a unique musical ensemble and project.