Dead Winter Carpenters 2011 Fall Tour Underway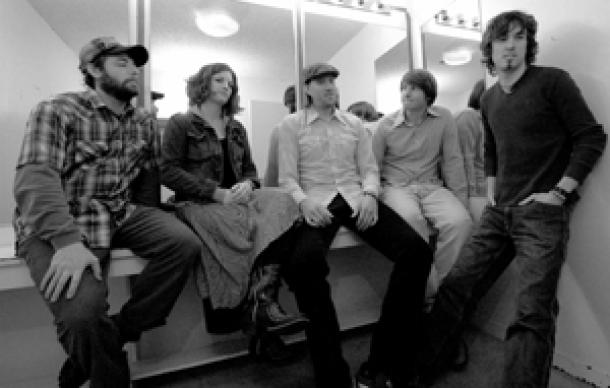 Dead Winter Carpenters just kicked off the 2011 fall tour with back-to-back sold out north coast performances.  The band will be making their way throughout the west coast and mountain west over the next two weeks before landing back in California for series of performances around the Halloween weekend.
Hailing from North Lake Tahoe, CA, Dead Winter Carpenters represents everything the American west stands for. The band seamlessly blends Americana with roots rock and a tinge of straightforward 'tell-it-like-it-is' alt. country for hard-hitting performances that are as edgy as they are whimsical. The project pushes and pulls at musical boundaries with top-notch, live performances while walking the line with unexpected world music flair. In fact, DWC is even known for dropping a splash of hip-hop and reggae into their roots rock performance. With an unbridled spirit, and an authentic approach to the art of songwriting, the five-piece captures the freedom of the road with the kind of energy that is made of legends.­­
In just one short year on the road, Dead Winter Carpenters has already found considerable national success with invitations to premiere festivals and theater dates booked around the country. The band is currently out on their fall tour with stops in Oklahoma, Arkansas, Nebraska and Colorado before returning back west for performances at the inaugural Hangtown Halloween Ball in Placerville, CA and The Great Harvestival in Chico, CA.  With just a few day rest and the snow settling in on the American landscape in November, the band will head back out with their good friends, Head for the Hills, for a series of special performances in the Pacific Northwest.
For more information about the band check out the official website at www.deadwintercarpenters.com
----
On Tour:
10/12/2011    Mulberry Mountain  - Ozark, Arkansas
10/13/2011    Mulberry Mountain   -  Ozark,  Arkansas
10/17/2011    Zoo Bar  -  Lincoln, Nebraska
10/18/2011    Side Door Lounge -  Omaha, Nebraska
10/20/2011    320 South - Breckenridge, Colorado
10/21/2011    Paddy's Pub - Vail, Colorado
10/22/2011    Cervantes' Other Side - Denver, Colorado
10/23/2011    Mountain Sun Pub - Boulder, Colorado
10/24/2011    Southern Sun Pub - Boulder, Colorado
10/29/2011    The Great Harvestival - Concow, California
10/30/2011    El Dorado County Fairgrounds - Placerville, California
11/3/2011    Silver Moon Brewing Inc - Bend, Oregon
11/5/2011    Mississippi Studios    Portland, Oregon
11/6/2011    Tractor Tavern - Seattle, Washington
11/10/2011    Torch Club- Sacramento, California