DeVotchKa | Boulder Theater | 10/26/12 | Review & Photos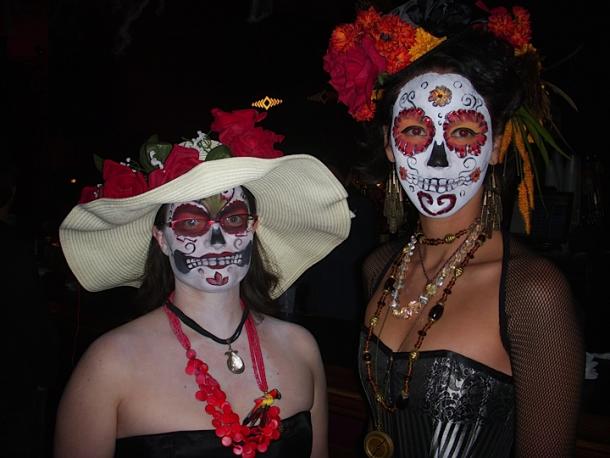 Dia de los Muertos (Day of the Dead) is celebrated at the end of October or early November across Mexico as a celebration and worship of ancestors long since passed.  In more Southern areas of Mexico, home to Mayan ancestors, the holiday is called "Hanal Pixan"; which translates to 'souls food'.  People celebrate by making food and altars to present to their deceased family members.  At Boulder Theater, DeVotchKa fed our souls with haunting, beautiful, and stirring songs and MarchFourth Marching Band prepped the audience to receive the offerings of DeVotchKa by playing funky, danceable songs with a sideshow-like presentation.
Many in attendance dressed for the night.  Some stayed true to the Hanal Pixan theme of the evening and others wore their Halloween Costumes.  I saw several people dressed as the adolescent lovers from Moonlight Kingdom, while others stayed with the Mexican theme as members of Lucha Libre.  Of course there were several people dressed as superheroes and women in barely-there costumes but nothing beat the outfits worn by MarchFourth Marching Band.
I seriously doubt that MarchFourth Marching Band even knew it was Halloween.  They seem like a group of people whose handlebar mustaches are real and not stickers and whose steam-punk type band uniforms and burlesque dancers and dancers on stilts are everyday attire.  There were 15 people on stage busting out the funk.  Much of this band focuses on the low end: multiple drummers and giant bass lines plus an amazing horn section that would make James Brown boogie in his grave.  Most of the songs did not have lyrics but watching and dancing was a complete joy.  Everyone was dancing hard and enjoying the antics of the stilt performances.  The joy in the Boulder Theater during MarchFourth Marching Band was bursting at the seams.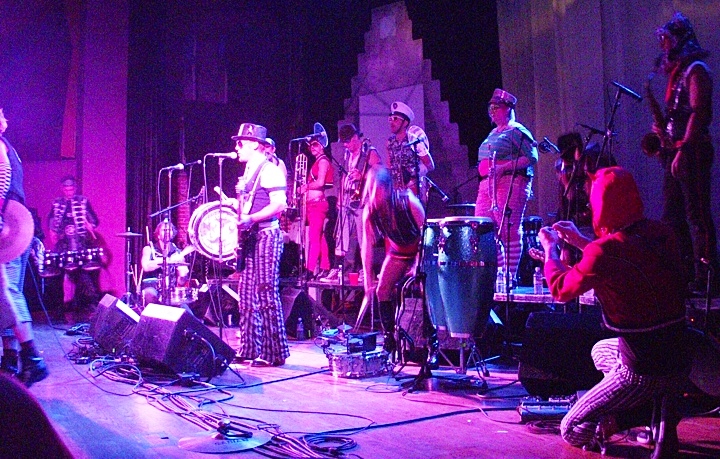 DeVotchKa took the stage in dramatic fashion.  The lights were low and they came out dressed as Mayan shamans in full regalia.  These were the most beautiful costumes I have ever seen; complete with feathered arm dressing and giant, beautiful animal spirit headdresses.  The first song launched into a haunting yet beautiful rendition of "The End" by The Doors.  With that, the room was transfixed and spellbound by the grace that is DeVotchKa.  With combination of costumes, musicianship, and vocals, DeVotchKa put on a great show.  They played all the favorites including The Man From San Sebastian, and How It Ends.  As usual, DeVotchKa put on an inspiring and intense show.  The sound was incredible and the room was enthusiastic and appreciative of the clear effort demonstrated on stage.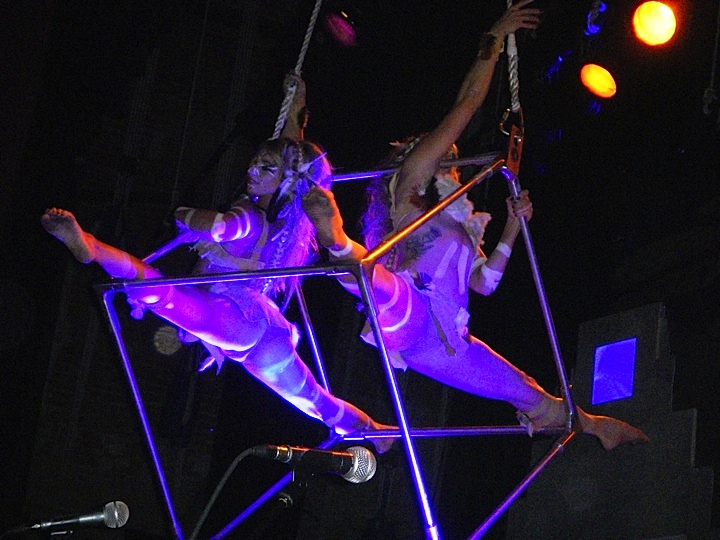 If Hanal Pixan is a celebration to feed the souls of the ancestors, I can say that my lyrical soul was fed and satisfied by this show.  Both ends of the musical spectrum fed me; dancing to the funky and quirky MarchFourth Marching Band gave me the unadulterated joy of music that fills my body and makes it move and DeVotchKa fed me with the intensity and beautiful song writing that makes me such a fan.  I left that table totally sated.