Dubskin Shows No End In Sight: New Album
From the college town of Fort Collins, CO comes the blazing five-piece roots reggae band, Dubskin featuring drummer Cory Eberhard of Pretty Lights. The project, known for their off-beat bass laden rhythms and spiritually aware lyrics are releasing their sophomore effort, No end in time for free on the band's website.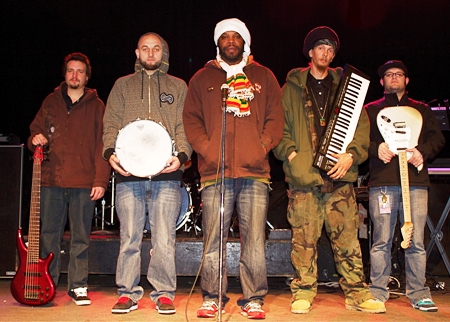 With an eye on the past and a foot in the future, Dubskin captures an authentic Caribbean sound replete with soulful vocals, newfangled ska and soaring guitar undertones. Dropping dance ready beats with spot on harmonics is second nature to the band, who has performed along side the likes of Burning Spear, Israel Vibration, Barrington Levy, Morgan Heritage, The Itals, Midnite, Mad Professor, Anthony B and Collie Buddz to name a few.
The five-piece project features a well-rounded cast of characters including Jamal Skinner (Vocals), Cory Eberhard (Drums), Jason Wieseler (Keys and Samples), Phil Salvaggio (Guitars) and Dean Curtis (Bass). Collectively the project has self-released two rousing albums since their 2006 inception. However, it's No end in time that showcases the projects ability to shine. The album, which was also mixed and dubbed by Jason "Jocko" Randall of the popular nationally touring band John Brown's Body has already made a significant buzz on the reggae circuit. Using only the power of community networking and the rumble of word of mouth marketing, the release has registered thousands of downloads.
The project will be taking their upbeat dance party to the streets in 2010, with a number of select performances on the table. With a genuine feel that is both old and new, Dubskin is bound to make waves in the coming year, inspiring a new sound for music fans of all types.
To download No end in time check out the bands website at: www.DubskinMusic.com For Booking: booking@dubskinmusic.com
1/20/2010 Durango, CO The Summit
1/21/2010 Telluride, CO The Llama
1/22/2010 Crested Butte, CO The Eldo
1/23/2010 Steamboat Springs, CO Mahogany Ridge
1/30/2010 Breckenridge, CO 320 South
2/3/2010 Boulder, CO w/ Euforquestra Boulder Theater
2/4/2010 Denver, CO w/ Euforquestra Cervantes Masterpiece