Elephant Revival Colorado Fall Dates & New Years Stampede
Submitted by Sue DuMond on Thu, 11/10/2011 - 19:24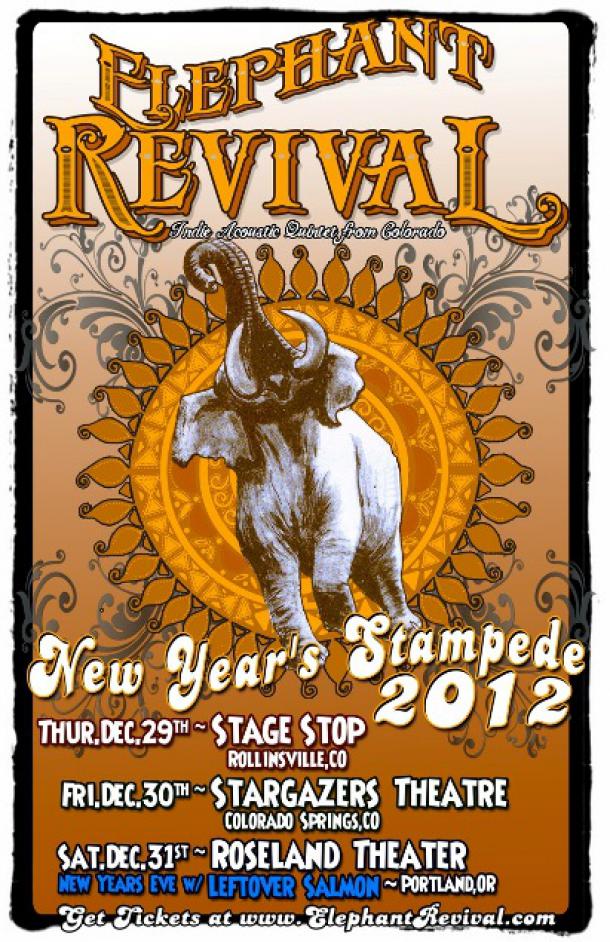 Elephant Revival will round out a busy tour year with a return to their home base of Colorado in November and December.  The Elephants will charge across the Colorado Front Range and into 2012 with a series of shows, including a trio of special "New Years Stampede" performances. Colorado dates include: Nov. 18th at The Bluebird in Denver with Shel, November 19th in Boulder with The Steep Canyon Rangers at the Boulder Theatre and Dec. 10th at The Pac3 in Carbondale. End of the year Stampede festivities kick off at the historic Stage Stop Inn in Rollinsville on Dec. 29th, The Star Gazers Theater in Colorado Springs on Dec 30th, and then onto Portland, Oregon for a spectacular New Years Eve celebration hosted by fellow Coloradoans Leftover Salmon.
The indie-acoustic quintet from Nederland Colorado, has toured throughout 2011 in support of their sophomore album, 'Break in the Clouds' released on Ruff Shod Records (an independent label created by Chad Stokes of State Radio). This past year has garnered considerable praise for the group's songwriting, instrumentation and multi-genre musical style, receiving widespread radio airplay, including being used in segments of NPR's "All Things Considered."
This summer the quintet performed at prominent music festivals like Desert Rocks, Northwest String Summit, High Sierra and the Oregon Country Fair; and fall dates included trips to the East Coast and South.
The Chicago Sun Times says, "The melodic, finely tuned songs are a tribute to the collaborative songwriting talents of each band member," who are: Bonnie Paine (vocals, washboard, djembe and musical saw), Sage Cook (electric banjo/guitar, acoustic guitar, mandolin, viola and vocals), Dango Rose (double-bass, mandolin, banjo and vocals), Daniel Rodriguez (acoustic guitar, electric banjo/guitar and vocals) and Bridget Law (fiddle and vocals).
The band plays a variety of folk instruments, from washboard to fiddle, electric banjo, djembe to musical saw, but the band goes further with originals that snap and sparkle with traditional balladry, Scottish/Celtic fiddle, psychedelic old-time, indie rock, rustic Americana, world beat, traditional jazz and an occasionally hip-hop beat.
"Elephant Revival is not five musicians supporting one songwriter, but friends in full collaboration for the betterment of music," says The Huffington Post, "both their own and what folk means to modern America, which is inevitably embedded in the lyrical content." BREAK IN THE CLOUDS was recorded in Lyons, Colo., and was produced by David Tiller (Taarka) in his studio, The Distillery.
"We have elements from many different styles of music. The cohesive quality comes from the honor and respect we hold for each other and our fans." Rose told Relix magazine, which featured the band as one it's summer stars and wrote, "The band's multi-layered musical style comes from the various musical breeding grounds of its players" a particular quality that puts Elephant Revival far ahead of the rest of the crowd. "We create in service to the music," Rose said. "We do not control what it is or what it will become."
-
Elephant Revival  Fall & New Years Stampede Tour:
Nov. 18 - Bluebird Theatre, Denver, CO***
Nov. 19 - Boulder Theater, Boulder, CO ^^^
Dec. 10 – Pac3, Carbondale, CO
Dec. 29 - The Stage Stop, Rollinsville, CO
Dec. 30 - Stargazers Theatre, Colorado Springs, CO
Dec. 31 – Roseland Theatre, Portland, OR ###
*** with Shel
^^^ with The Steep Canyon Rangers
###  New Years Eve. Opening for Leftover Salmon, with Jim Page & Fruition