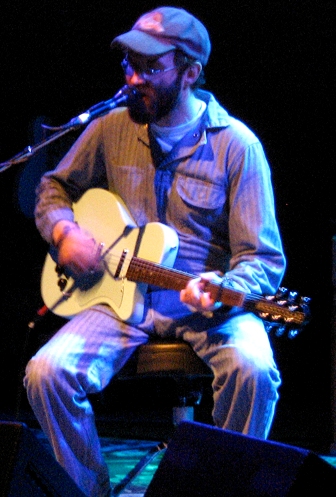 Not every rock star could get away with showing a movie about themselves and calling it the opening act, but then again, not every rock star is Mark Oliver Everett, songwriter and front man for the Eels. Everett, or E as he is affectionately known, is the son of the world-renowned quantum physicist Hugh Everett III, who, since his death, has been raised to a sort of cult status among physicists and lay people alike for his theory of parallel universes. E on the other hand, who spends his on-screen time in the movie Parallel Universes, Parallel Lives trying to comprehend the genius of his father, claims to have failed 9th grade algebra. Go figure.
E's father's theory on parallel universes never really took off, and Hugh Everett III died a lonely and deeply depressed man when E was 19. This tragedy was followed in relatively short order by E's sister's suicide, and then by the death of his mother. Suddenly, E was all alone and in a state of mind that produced and is still producing some of the most depressing, humorously cynical and emotionally charged lyrics in pop music history, often in the voice of a happy-go-lucky school boy or to the tune a lullaby. The irony inherent in the softer side of tragedy is clearly not lost on E or his fans. The same cannot necessarily be said for the people who only know the Eels for their contributions to the Shrek movies.
The Eels played to a packed house on Wednesday night, as all the underground Eels fans, who I rarely if ever meet in person except at Eels shows, crept out of the shadows en masse to learn a little more about the man behind the band. Needless to say, the movie was as much a hit as the show itself - a testament to the fact that an offbeat personality, tragedy, emotional conflict and general weirdness go a long way in the music biz. Thankfully, the hardship isn't rubbed in our face. E, whose lyrical prowess has been compared to that of John Lennon and Kurt Cobain, prefers to let his band do the real talking in this regard. The Eels songs reflect a sadness that is intricately tied to clarity of thought and an acceptance of self that today's crowd of teenage emo-punk rockers could take a lesson from. That lesson: that you don't need to scream about how much you hate your dad, how much your hate yourself, or how much you want to die to make truly emotional music. Sadness, however, is not E's only virtue. The Eels have a streak of anger and attitude to which only heavily distorted guitars can do justice.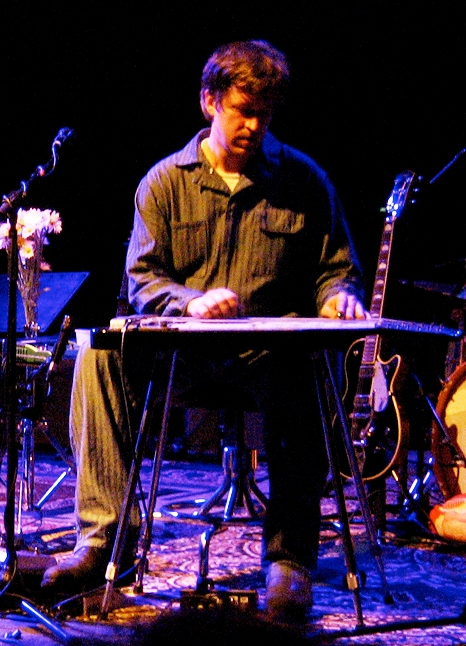 The real appeal of The Eels is that you never know what they're going to do next. Last time I saw them perform in Boulder, E was dressed in a full leather flight suit and aviator goggles, and was backed by guitar, drums, and a 6 foot 4 inch, 200-pound bodyguard named Krazy Al who was dressed all in black, played the steel pipe and shadow kung fu-ed on command. The bodyguard also dispensed whipped cream to the audience members lucky enough to be handpicked by E himself, who never actually said a word to the crowd. It was a spectacle, it was theatrical, and it was pure rock and roll. The mood of Wednesday's show was completely different, and fans of the Eels have come to expect nothing less.
At show time, E walked onto the stage alone and strummed out a few songs on the electric guitar and piano before he brought out his partner in crime and long-time friend The Chet, who literally is an entire backup band unto himself. Things started heating up after The Chet made his presence known, on guitar, drums, piano, organ, pedal steel, saw, and xylophone. The saw, a throwback to the band's 2005 Eels With Strings tour, made more than one appearance during the show, and turned out to be a hauntingly poignant addition to the more typical instruments on stage. Midway through the show the pair performed a tricky maneuver involving the mutual switch from piano to drums (and vice-versa), without losing a single beat. It was at this point that the Eels brought the house down with a raucous rendition of Zeppelin's "Good Times, Bad Times" with E on drums and The Chet on lead guitar and vocals. Jimmy Page and Robert Plant would have been pleased! A psychedelic version of "Novocaine for the Soul" followed, reminding us all that despite the Eels prolific catalogue and undeniable talent, the only American mainstream radio attention they ever got was for this particular song, and it was certainly less than they deserved.
In contrast to the flight-suit-wearing performers of 2006, E and The Chet were quite talkative, even going so far as to threaten the audience with an in depth discussion of particle physics, a threat that was never backed up, but which drew more than a few laughs. E mentioned his new book, Things the Grandchildren Should Know, but refused to read any of it to the crowd, saying that to do so would be unthinkably pretentious. Instead, he made The Chet read a few passages to the enormous approval of the audience. E and The Chet grabbed tracks from all eras of the Eels history, performed two encores, and eventually the theater security guards had to ask the last few diehard fans to leave long after the house lights came on and the gear was disassembled and pulled off stage (the Eels occasionally surprise the crowd by pretending to leave, turning on the house lights, and then returning to the fully lit stage for one last song).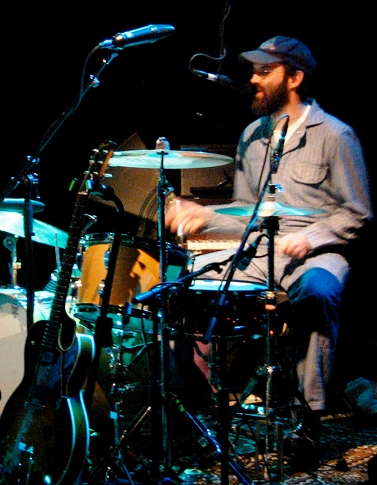 With the avid following the Eels have built up over the years, it's hard to imagine that they have yet to become a household name. E and company have released 5 studio albums, a handful of live albums, two DVDs, a Best-Of and a disc of B-Sides and rarities all since "Novocaine" made its appearance on their debut album and on radios worldwide in 1996. Just like his father, E's genius has never been fully accepted into the mainstream. In fact, George W. Bush's 2000 presidential campaign used Eels album Daisies of the Galaxy as an example of the inappropriate musical content that is supposedly poisoning our children's minds. And yet the Eels have achieved cult-like status among those musicophiles looking for answers the mainstream media outlets cannot provide, which leads to only one conclusion: that the President simply doesn't know what he's missing.
It would be pointless to ask what's next for the Eels – half the fun is not knowing. Mark Oliver Everett's book, Things the Grandchildren Should Know will be released this fall, and after that, who knows? No matter what the format, you can be sure that the Eels will continue to transcend the boundaries of their recorded work with their live shows, adding to the music whole new dimensions that have proved impossible to capture in the studio. And for now anyway, I don't mind if the Eels are still our dirty little secret.
Oh, did I mention that The Chet's real name is Jeff? Yes, it is.