Everyone Orchestra takes its name from its ever-changing roster of participants. Matt Butler's celebratory circus of improvisation has been going strong for almost fifteen years now. The world-traveled ensemble has hosted Everyone, or just about everyone, it seems. But here's why, if given the opportunity to go, you should never miss an Everyone Orchestra show: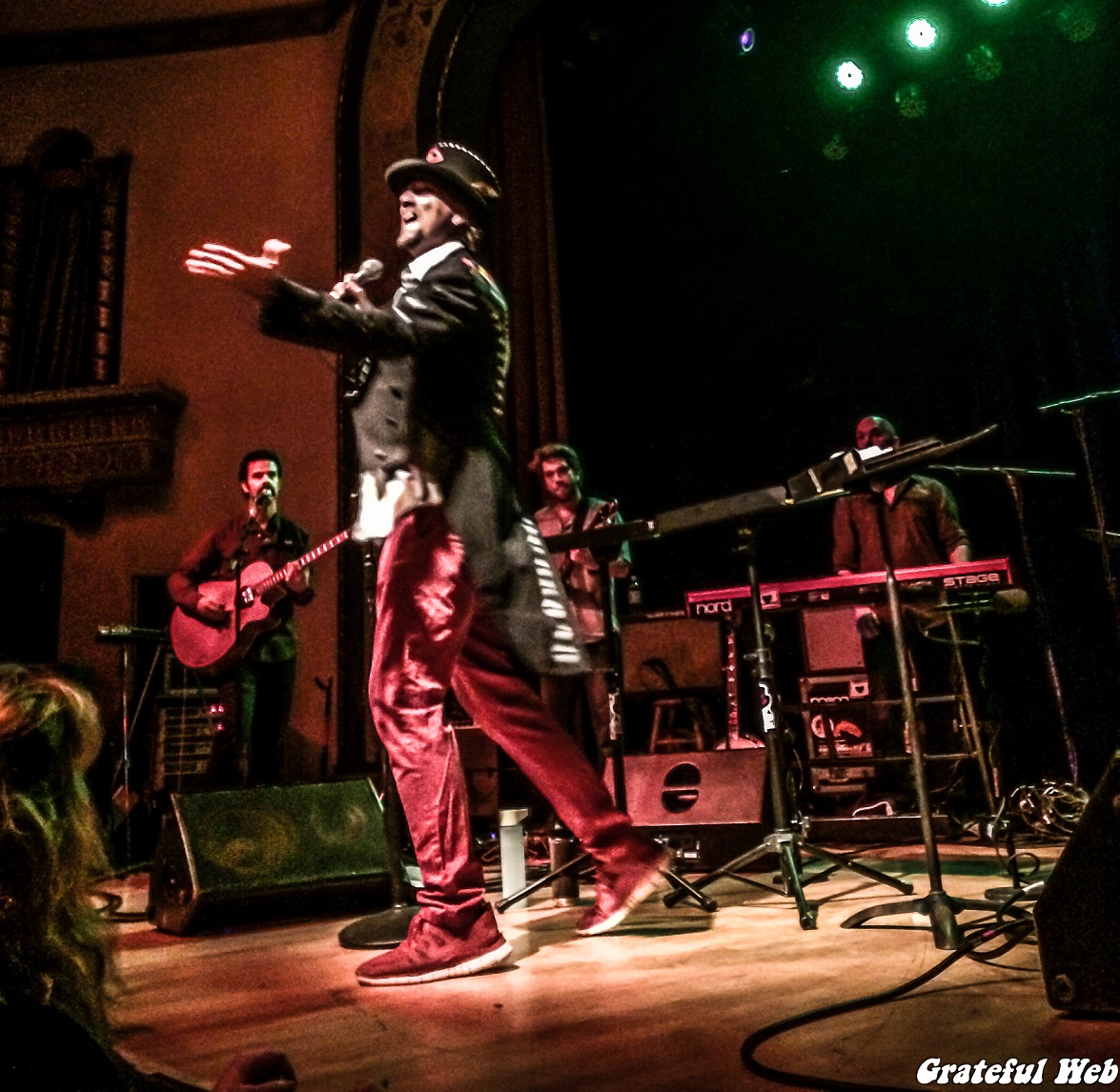 Not just because the line-up will likely be never-before-scene, the songs never-before-heard, and the talent pool deep. Make a point to go because the magic that happens, no matter who takes the stage, is irreplaceable. The experience of being in the crowd is unforgettable. Quite simply, the joy created at these shows—dancing!—transcends a good time. It's a rare, musical alchemy.
The talented group Matt assembled for two Northwest shows this month (Seattle and Portland) included three members of Fruition (Mimi Naja on Mandolin, Jeff Leonard on bass, on Tyler Thompson drums), Dan Lebowitz, AKA Lebo (Animal Liberation Orchestra) on guitar and vocals, Asher Fulero (Halo Refuser) on piano, and Allie Kral (Yonder Mountain String Band) on fiddle. They were joined by Jans Ingber of the Motet, on percussion and vocals, and Andy Thorn (Leftover Salmon) on electric banjo.
In any venue, solo or accompanied, any one of these artists would shine brightly (and do)—as an improvisational collective they created brand new ways to love them. There was second-show warmth to the group, which shot right out of the gate at 8:15pm sharp and wasted no time in gathering a crowd of ecstatic dancers. By 8:30 the Aladdin was packed, and Everyone Orchestra was on fire.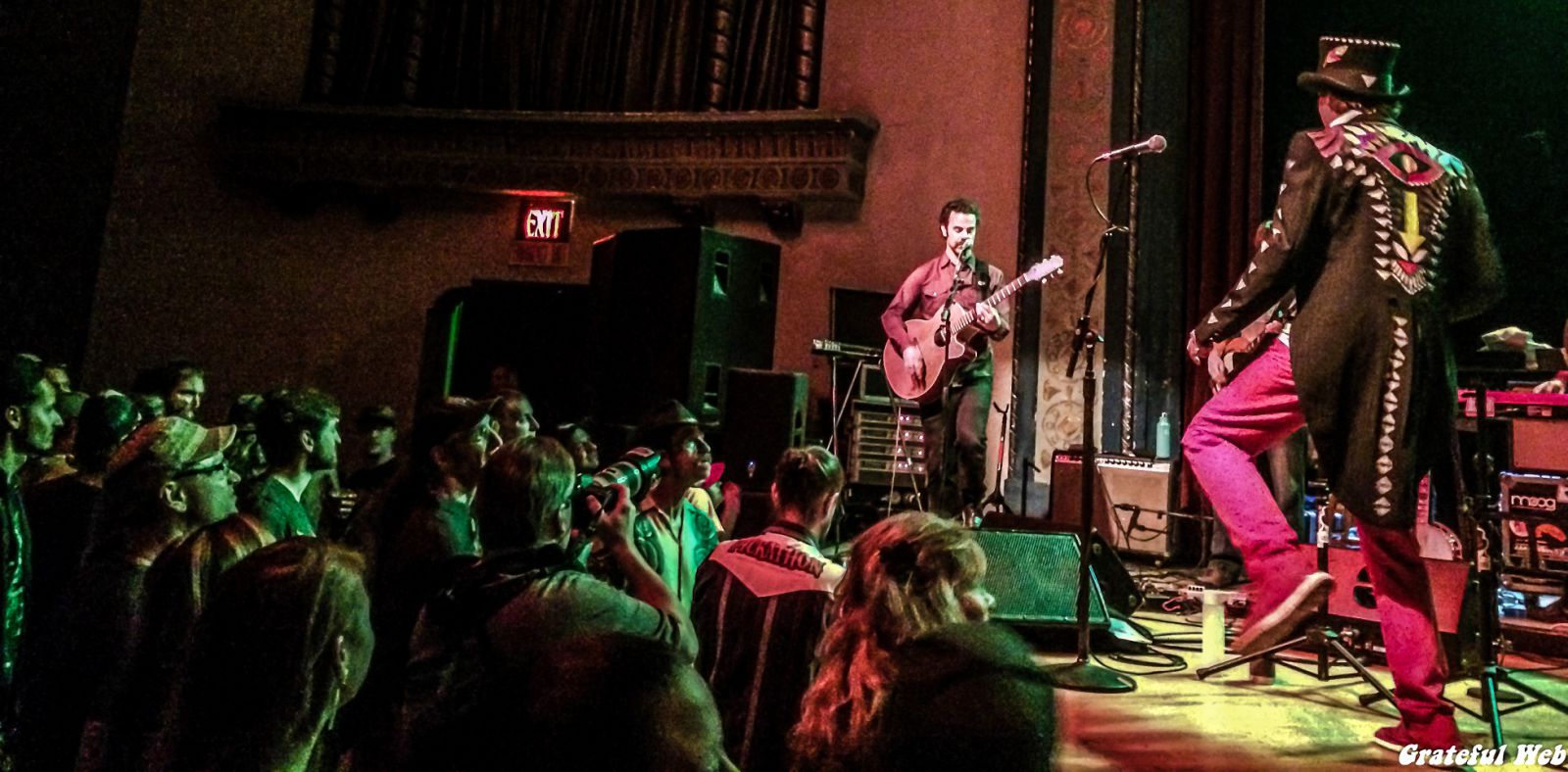 It's near impossible to describe what happened on stage, but it went something like this—Matt, waving the band on enthusiastically, in top hat and patterned tails, scribbles instructions on a mini dry-erase board, showing them to the players. (And some to the crowd—words like "NOW" and "YEAH!") The band takes his queues, periodically raising the energy to mountainous highs, and stepping back so single members can shine.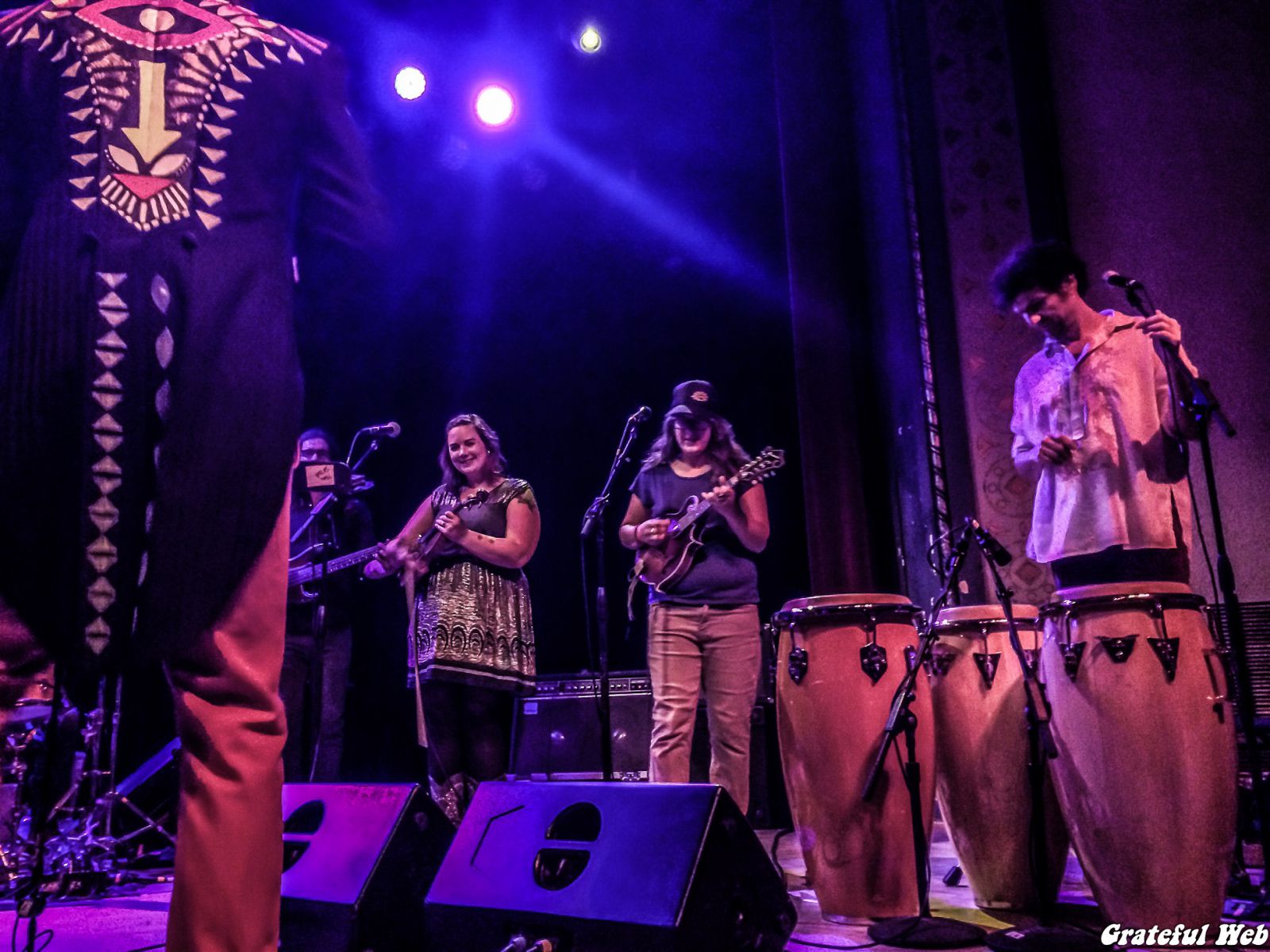 This is genre-bending jam music at its finest. Mimi steps into the light, her fingers moving quickly and sharp, high up the neck of her mandolin, while the crowd (this is her city) cheers excitedly. The light switches to Jans, whose on-the-spot lyrics make the made-up songs feel lasting and real, while his firey hand-drumming injects some of the afro-funk that makes the Motet so danceable. The first few songs are mostly instrumental, until a reggae-like number kicks off with Matt throwing out a title, "Landlord Lucy," for the band to take away. The switched-on, summery tune features some of Jans' more amusing lyrics—"Landlord Lucy, your head in the sky; Landlord Lucy, please tell me why; 'cause your rent is too damn high." Verses, chorus, and all.
The first set also confirmed something I'd been suspecting for a while: that it's Allie Kral's world, and the rest of us are just living in it. Ever since Kralfest (Northwest String Summit) 2013 I've considered what life in the Northwest would be like without the Chicago native. It would be terrible.
Allie is nothing sort of virtuosic on the fiddle. Much of the symphonic breadth of Everyone Orchestra's Aladdin show was thanks to the melodies she wove over the band, harnessing the sound into a sweet, wonderful cocoon of fiddle. When she solos, that power is projected into the crowd. You feel better about yourself.
"I just want to take moment to say that the day that Allie Kral moved to Portland was a very happy day for this city," says Matt, midway through the second set.
Northwest String Summit flashbacks aside, Allie and Mimi's backing and sometimes lead vocals throughout the night were warm and larger-than-life, just like the two musicians, and left me wondering why they don't play as a duo, or at least side-by-side, more often.
After a brief set break Everyone Orchestra came back in full force, sometimes sea of strings, sometimes percussive ball, and the crowd grew ever larger. Tyler and Jeff held down a strong groove for the strings to dance around. Pianist and genre-bender Asher Fulero, always fun to watch, tore it up on the keys, and I found myself thinking for probably the thousandth time this year about how grateful I am for the host of musicians that lives locally.
Also in the second set, Lebo took to the mic, bringing his lovely singing voice and impressive guitarmanship to multiple songs. And Andy Thorn's major league banjo work in the second set was unreal. Sometimes, it seemed, he wasn't playing the banjo at all, but spinning sounds on some sort of cosmic loom.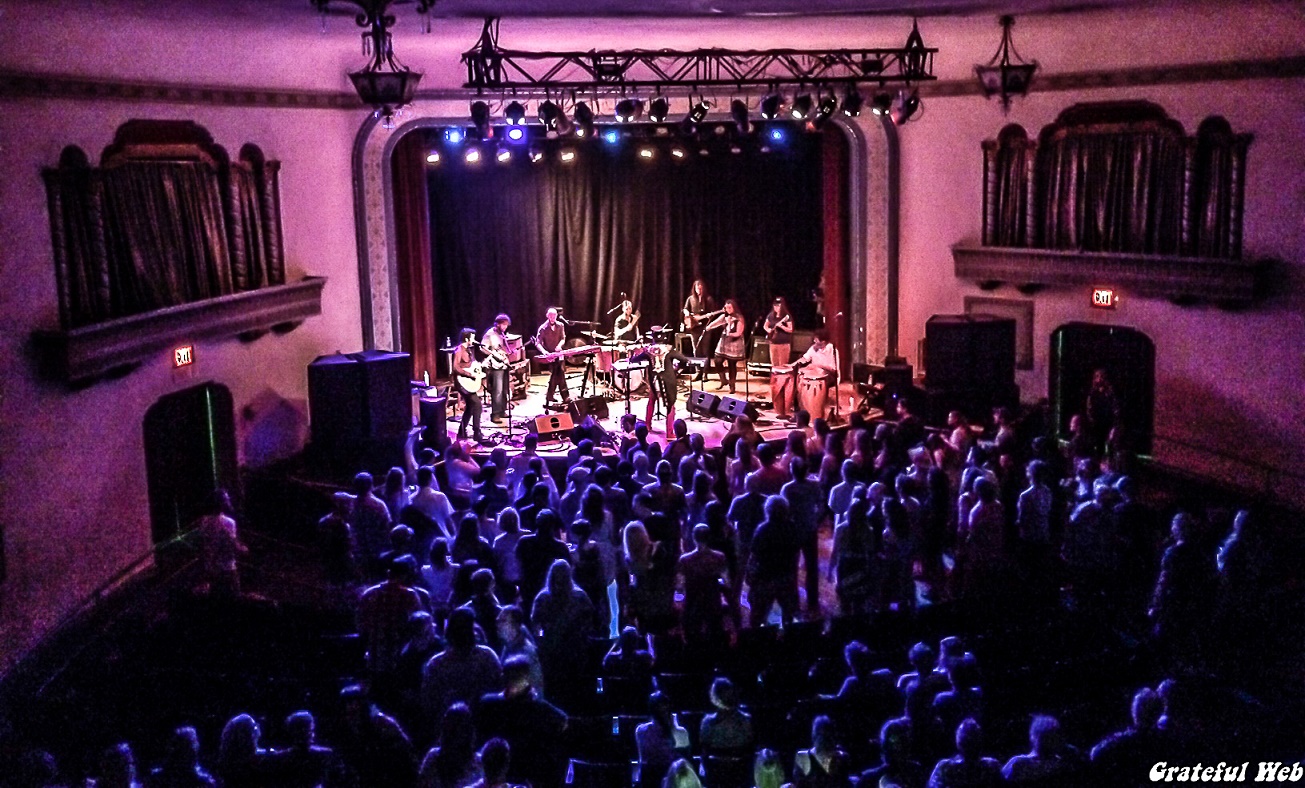 After an expansive, oceanic number, Matt asks the band for a good song title. Lebo comes up with "Nothing You Wish Could Be Too High." Jans titled the same song, "Go to the Principal's Office, You're Suspended." They settle on something like "Rub the Magic Lamp," making it a tribute to the Aladdin.
Throughout the show, I couldn't help but think, "This can't be easy." Don't get me wrong, these folks looked like they were having the time of their lives. Asher Fulero confirmed this for me the next night, when I ran into him at the Star Theater. "That was incredible," I told him. "Believe me, it was for me, too," he replied.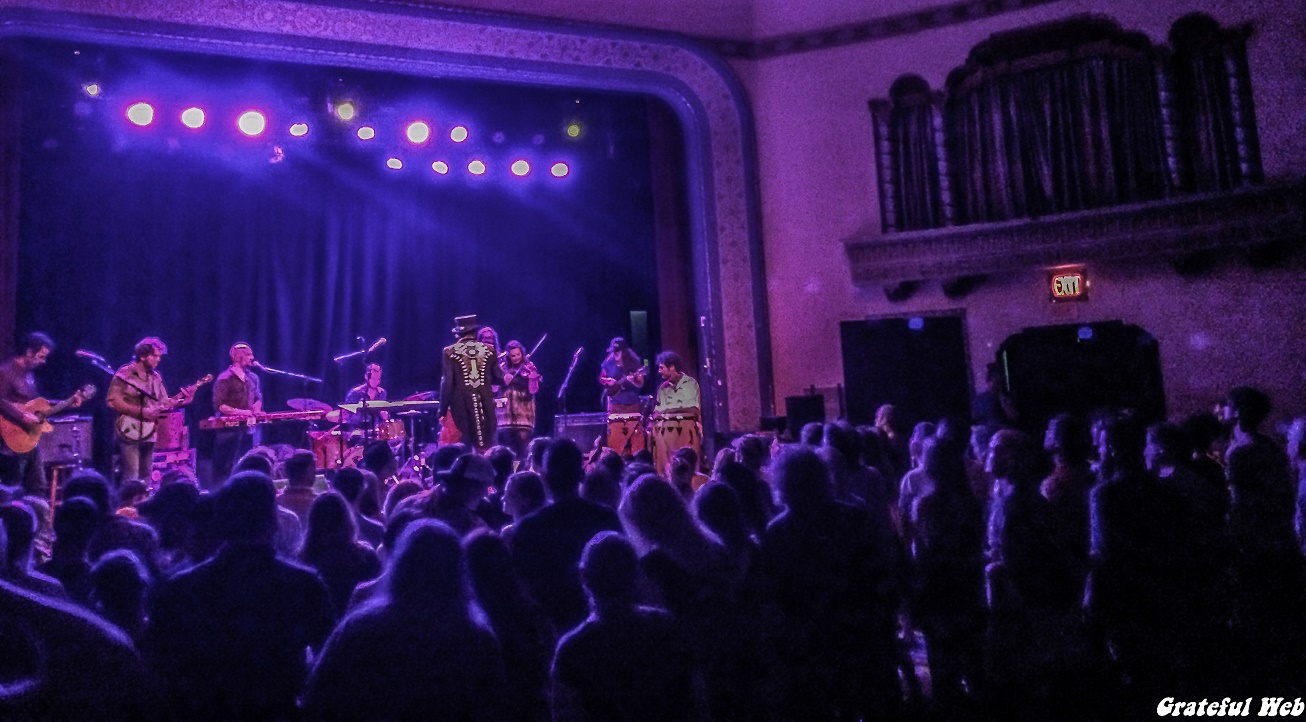 But even so, without Matt, with his animated signals, mysterious messages, and psychedelic dreamcoat, could so much talent mix together, seemingly so effortlessly, ending with a performance so joy-affirming and charged you're left wondering why it isn't an all-the-time thing?
I doubt it. He's the captain—of a colorful, transitional crew. This particular band may never reassemble, though I hope they do. But either way, Everyone Orchestra will continue to inspire the kind of free-flowing expression that makes live music so much like alchemy. It's all any of us can do to show up and soak it in, whenever we're given the chance.