Gamble Rogers Folk Festival Returns to St. Augustine, FL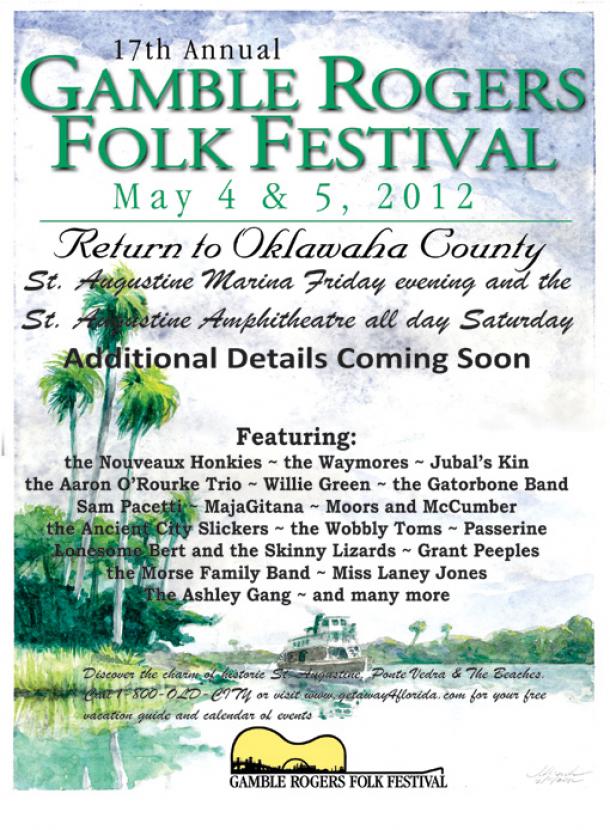 The popular Gamble Rogers Folk Festival returns to St. Augustine for the seventeenth year with an all-star line-up of national and local talent.  Scheduled for Friday evening, May 4th and all-day Saturday, May 5th, the Festival will feature The Nouveaux Honkies headlining on Friday night and The Waymores headlining Saturday.  Friday night's festivities will be held at the St. Augustine Marina at the foot of the Bridge of Lions on A1A while Saturday will feature four concert stages at the St. Augustine Amphitheatre , 1340 A1A,  2miles south of the Bridge of Lions.  Tickets for the Festival go on sale Tuesday, April 10th.
This year's line-up for the Gamble Rogers Folk Festival features a stellar class of performers.  In addition to The Nouveaux Honkies and The Waymores are: The Aaron O'Rourke Trio; The Gatorbone Band; The Morse Family Band; Jubal's Kin; Moors and McCumber; Sam Pacetti;  Passerine; Grant Peeples; Red and Chris Henry's All Star Band and much, much more.  A full performing schedule will be announced soon.
General Admission tickets for the Festival go on sale Tuesday, April 10th and are $10.00 for Friday Night only, $35.00 for all-day Saturday and $40.00 for the two day Weekend ticket.  Children 12 and under are free with each paid adult admission.  Advance tickets are available locally at Music Matters and Simple Gestures and through the Festival website, using PayPal.  You can also obtain tickets by mailing a check to Paul Linser (made out to Gamble Rogers Folk Festival Inc.) at 6713 Hidden Creek Blvd., St. Augustine FL, 32086 or by phoning in credit card info at (904)794-4163.
The Gamble Rogers Folk Festival is scheduled for Friday, May 4th at the St. Augustine Marina and Saturday, May 5th at the St. Augustine Amphitheatre.  For more information go to www.gamblerogersfest.org