Getting to Terrapin: Notes from a northwest corner, where we too sing a rare and different tune....
"Let my inspiration flow in token lines suggesting rhythm that will not forsake me till my tale is told and done...."
Like Terrapin Station—the narrator's tale replete with metaphor and imagery while also serving up commentary on narratives and sense-making—I'll endeavor to make some meaning of this past weekend's reconvening of the Grateful Dead and the assembled 'Heads, but meanwhile leave you each and all largely to glean whatever senses you may from the experiences.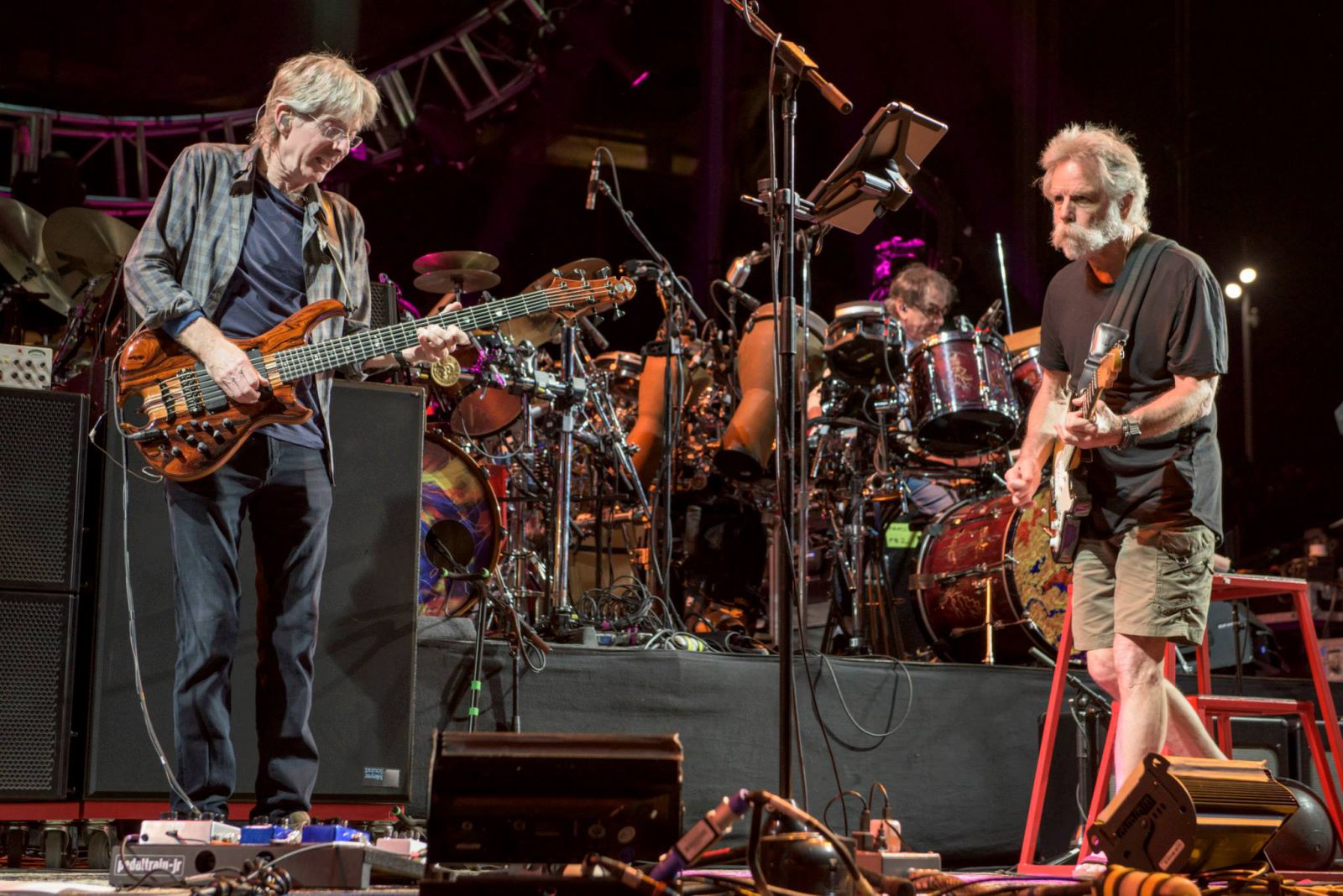 I would, however, recommend we all do well to avoid or wholly ignore mainstream blitzkrieg banalities now tiding the print-broadcast-Interwebbing waves, which already have dumbed-down our tribes and vibes with bigoted clichés: for one among numerous examples, the Associated Press' (lack-of-)insight that we've gathered to don our tie-dyes one final time.
Aargh. Dead music and lyrics—and the creative movements (artistic, psychedelic, countercultural, spiritual, et al.) that simultaneously birthed the Dead and that the Dead, in turns, birthed—may also be theater, but they are not theatrics. In any event, the magic, movement(s), and yes, even the earliest tie-dye, predate the Dead per se (cf. Merry Pranksters).
The Grateful Dead and we who have for decades co-piloted this shared experience in music and culture (... and yes, that includes tie-dye) were never minstrels in blackface. Tie-dye was never a fashion statement to be worn at a Dead show; and "peace" was not an advertisement.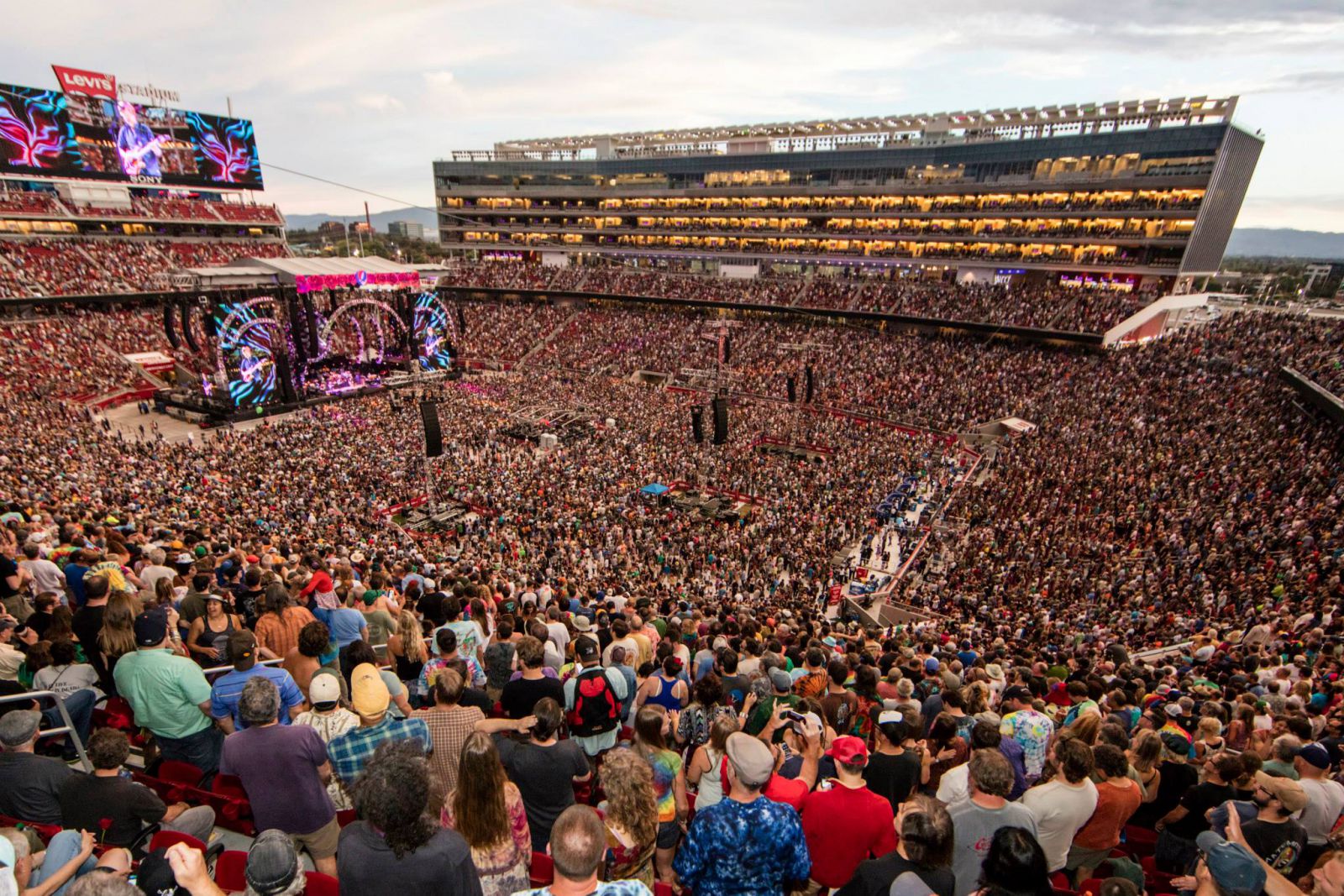 What media in the main still doesn't grok is that we—most of us—are genuinely here to re-commune with the vibe: our tribes (families and friends—old and new) nourishing on the music and lyrics and tour- friendships old and new that sincerely convey a shared hope through mystery and metaphor and wonderment to seek Peace, Love, more Consciousness ... to tap back into that rarefied sense that "... once in a while you get shown the light in the strangest of places if you look at it right."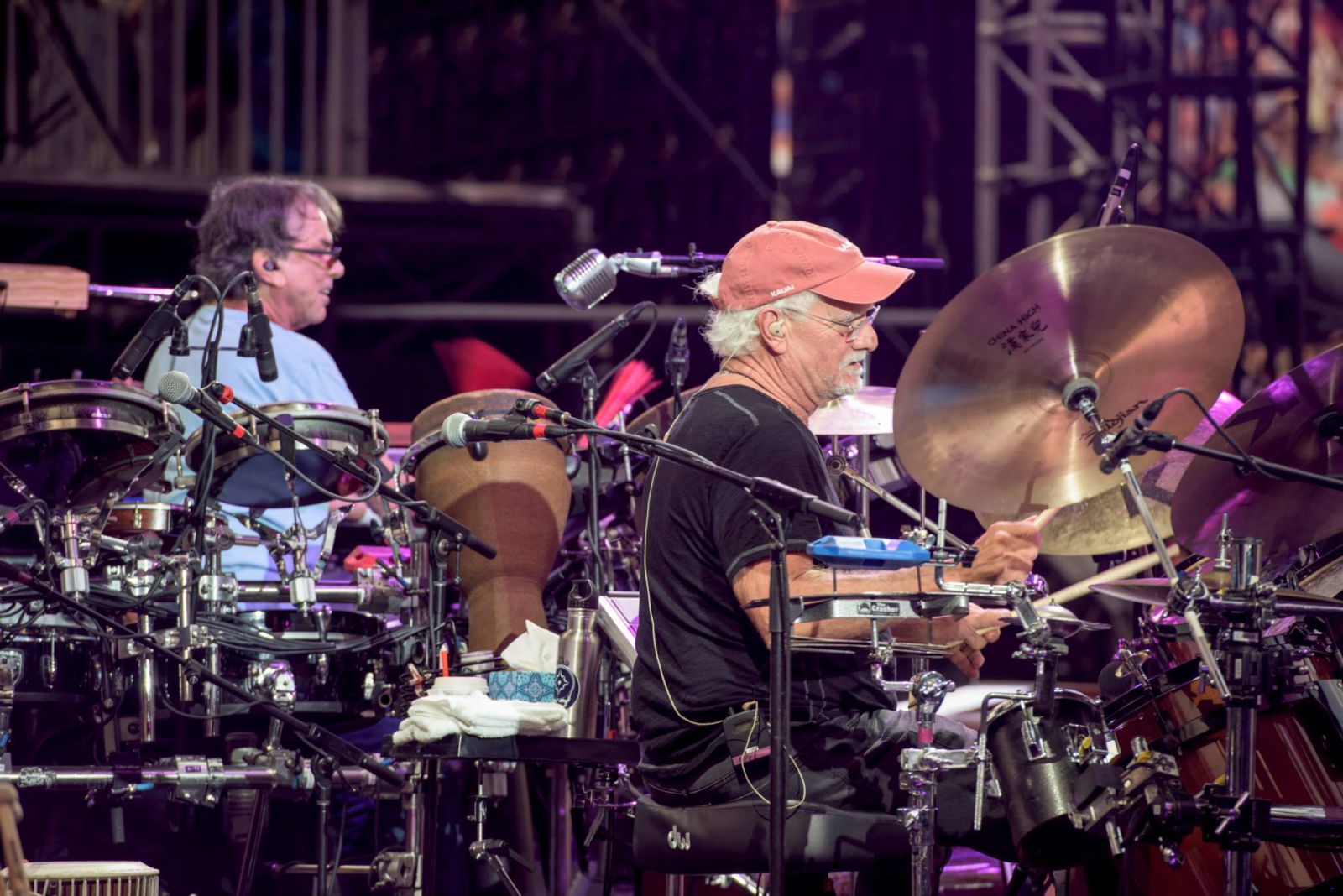 As Mickey instructed after Sunday night's proceedings, take this positive energy from the show out into the world. (Or as we've likewise been advising at the Oregon Country Fair—site of the Dead's "Decadennal Field Trip" in 1972 and 1982—reflect and multiply the positive energy we create during the Fair back out into the "unFair" world during the rest of the year.)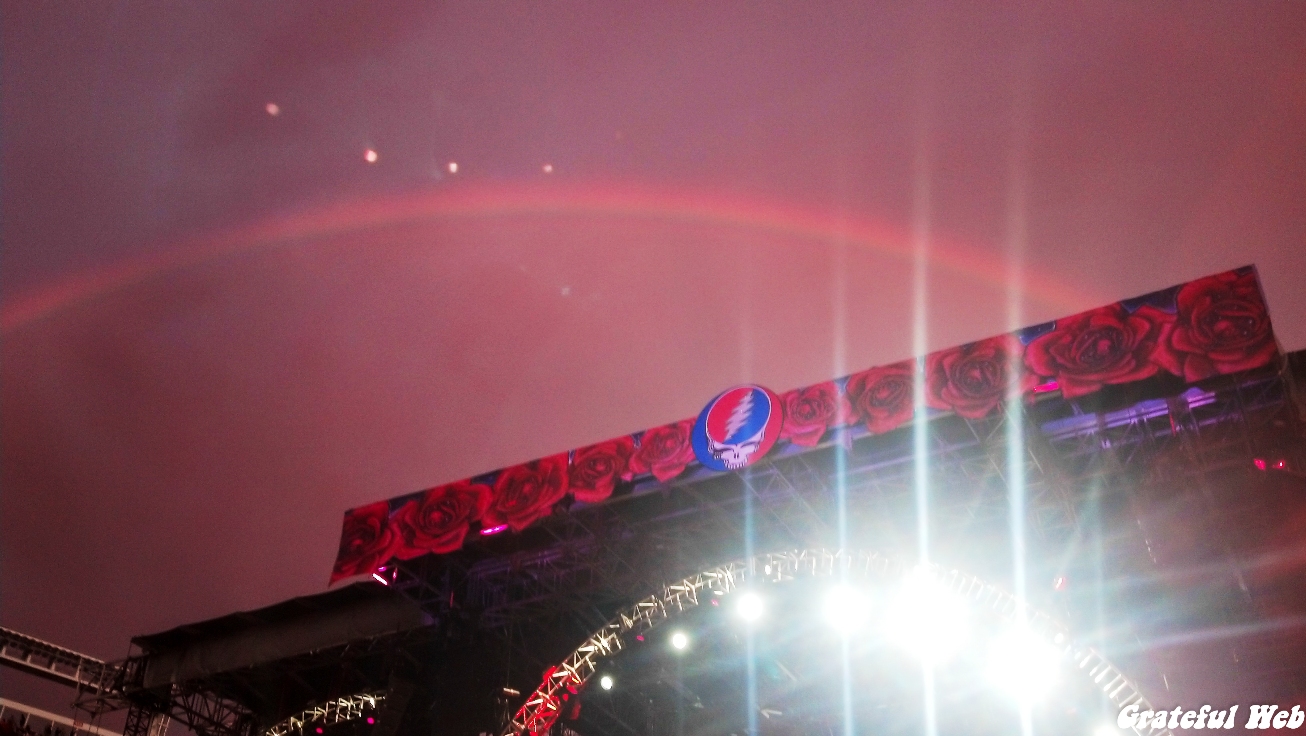 Thus, the Steal-Your-Face flags high atop the stadium are emblems of that movement, along with the lone rainbow flag (historically a symbol among hippies and in the peace movement; in more recent times, appropriated as—and appropriately—a symbol of the Gay Rights and marriage equality movements ... especially relevant on this night following the Supreme Court's ruling affirming gay marriage as a Constitutional right).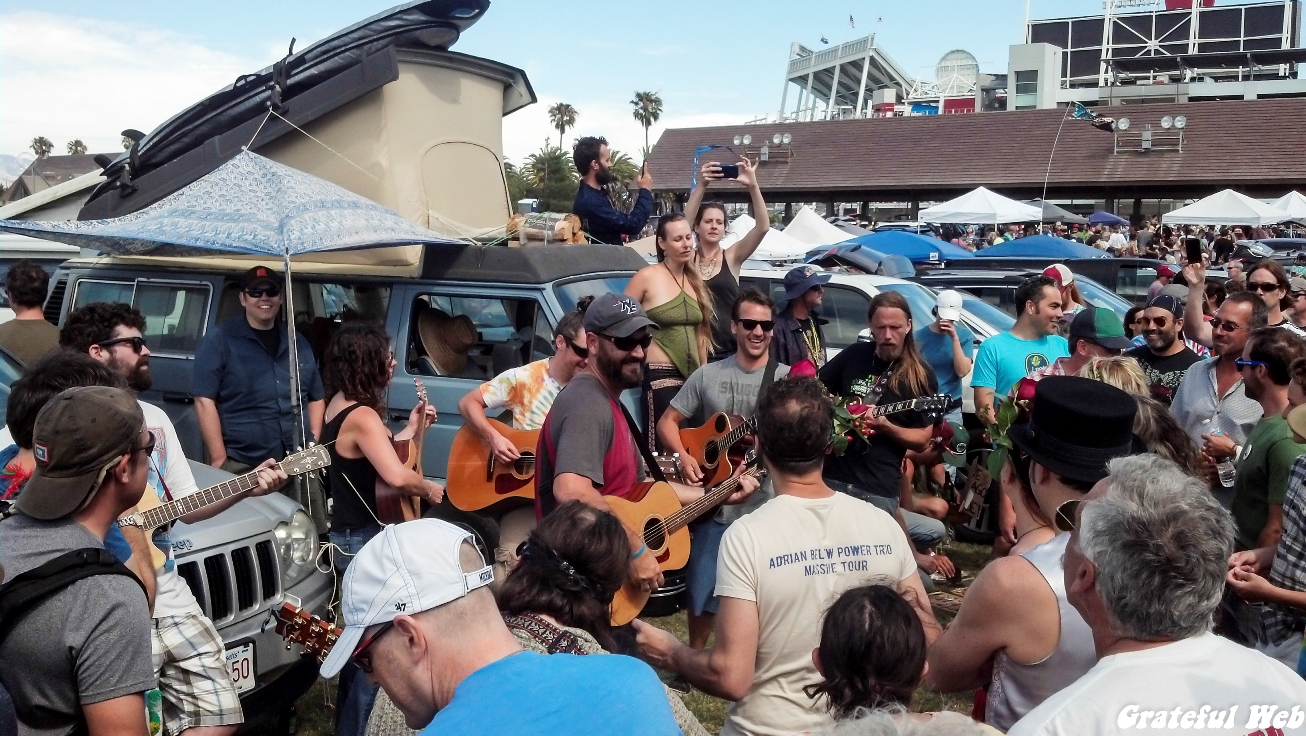 Likewise, our expressive colors and tie-dyes ... and "rings on our fingers and bells on our shoes" ... are emblematic: collective and individual expression that acknowledge that I, like you (... and that: I like you!), recognize that we each respect in ourselves and in each other our individual difference and, simultaneously, our shared humanity—that "sometimes the songs that we hear are just songs of our own." This is our ethos, not a marketing slogan.
"The storyteller['s] job is to shed light and not to master"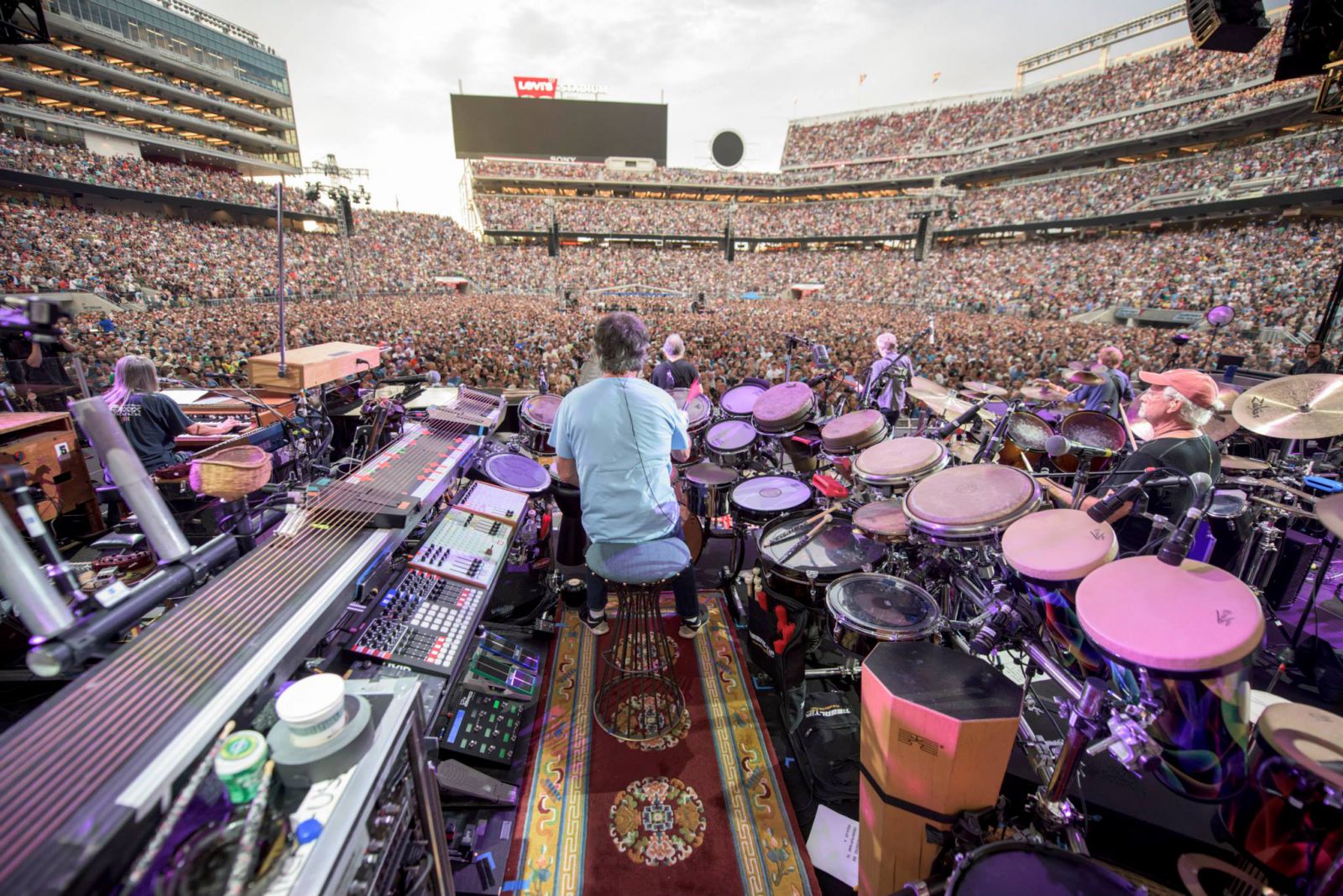 I felt both presences and absences throughout the weekend, and often the two senses commingled. Garcia's absence, though always present, has morphed for me and for most during these twenty years into a scar that has healed while always reminding us of a once-vulnerable open wound. The reemergence of old friends—tour friends, lifelong friends—heartens; their absences along the way, some temporary, many permanent, conversely disheartens; and now, these experiences and memories, to share among those still with us but not present for the shows, encourages anew.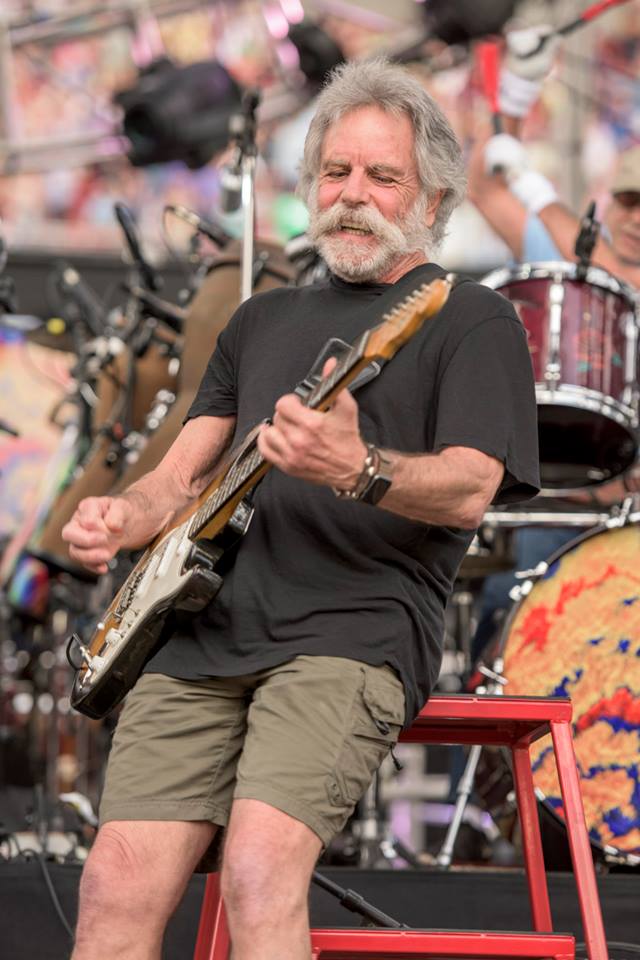 The Grateful Dead (minus Jerry Garcia and others; and plus Trey Anastasio, Jeff Chimenti, and Bruce Hornsby) took the helm at approximately 7:30 p.m. Saturday evening. Given the many well-traveled openers to engage us, they opted for "Truckin'" and "Uncle John's Band," thematically an autobiographical nod to themselves and a biographical nod to the congregants: that here we are once again, reconvening as we've done throughout their and our past half-century, one last but never final time imbibing the music, and traversing and transitioning along our individual and collective long strange trips.
"... Light the song with sense and color"
SATURDAY NIGHT – In the GA Pit, Audience-Right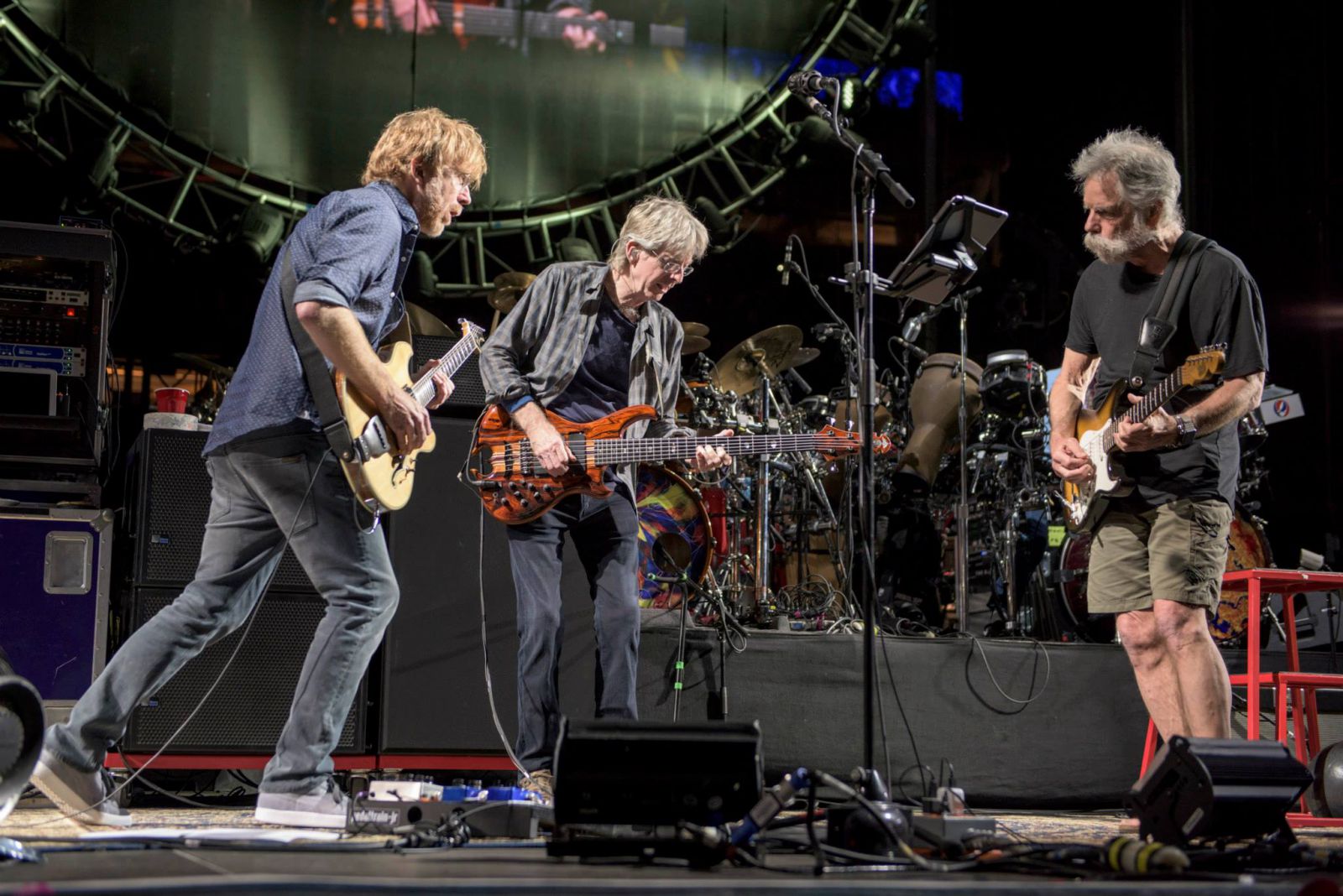 Unfortunately, there were plenty of fits and starts throughout Night One, no doubt due to the mix of rust and anticipation and the hype and expectations of a foursome who'd not set sail as a foursome now for many years. As noted, kickoff was nearly 30 minutes tardy, and, following a 65-minute first set, the set-break was fully an hour. (But Ha! That brought back some memories.)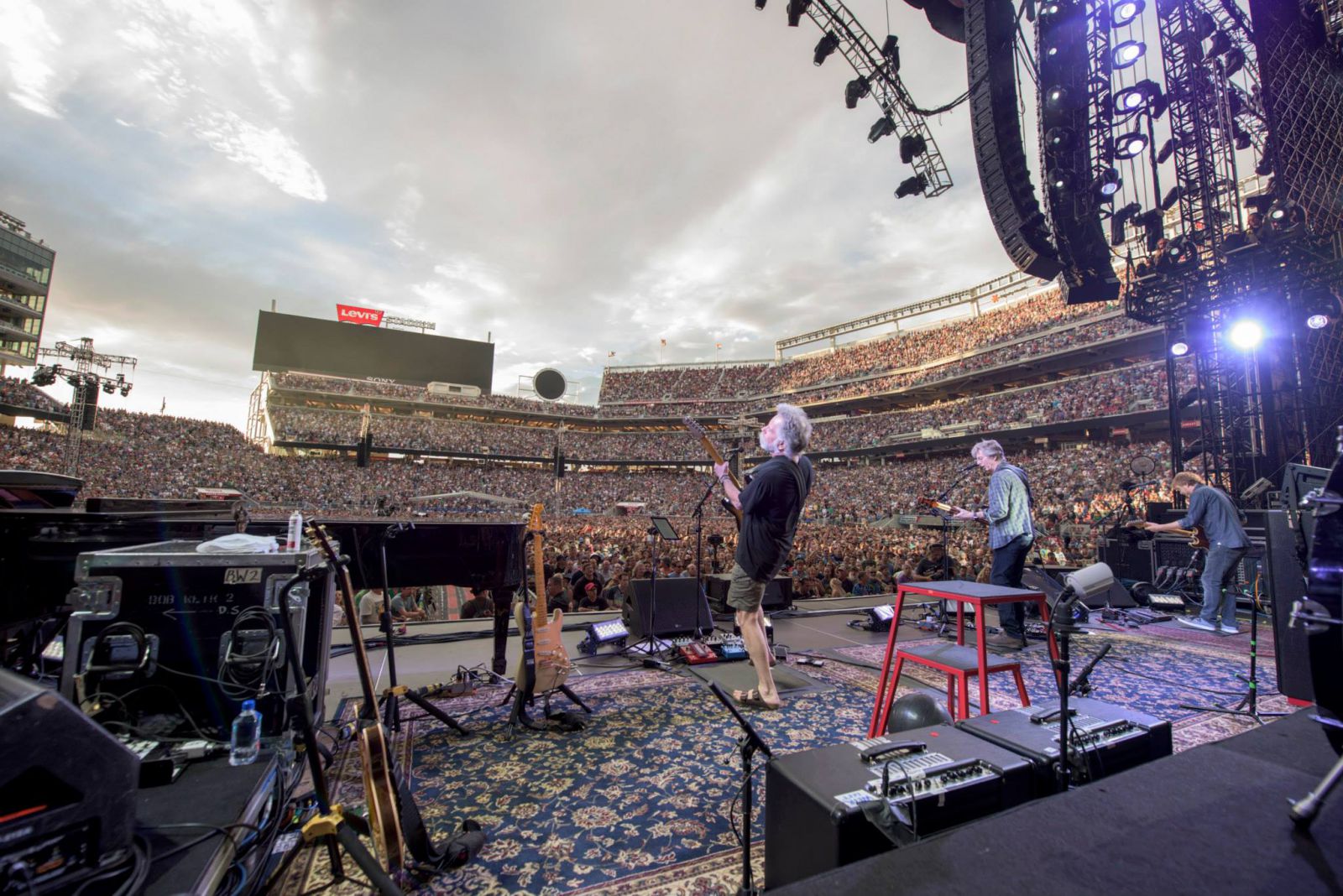 However, as I was in the GA pit, and thus fairly close to the stage, I could make out that Phil had joined his techs and at one point strapped on his bass. Hence, the very looong set-break likely occurred in part due to technical difficulties. Perhaps that also explains Phil's stage presence, where he was alternately engaged or peeved at several junctures. The gang flubbed a verse (during Born Cross-Eyed?), requiring Bobby to step back from the mike, spin a raised arm to signal a redo, and bring everyone back to the task. In the parlance of the concurrent Women's World Cup soccer tourney, the band played on through with no stoppage time. Professionals all the way!!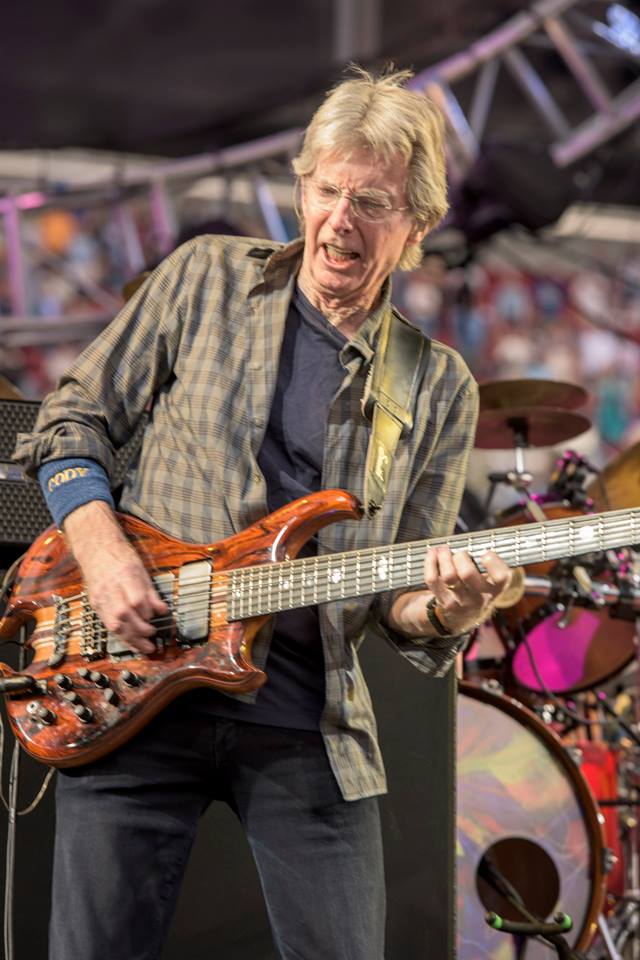 But these are minor complaints, and in any case are part and parcel of the Dead's historical excursions: The song titles and musical architecture may be fixed, but the songs themselves were more malleable—scaffolding for exploratory jams and shifting orations, ever open to new interpretations ... and yes, subject to ill-timed misses, but also so frequently aspiring to and reaching cosmic, X-factor breakthroughs that made the live-Dead experience always a show-to-show adventure, irreducible to mere setlists, recordings, journalists' accounts, or even deadheads' catalogs of recollection.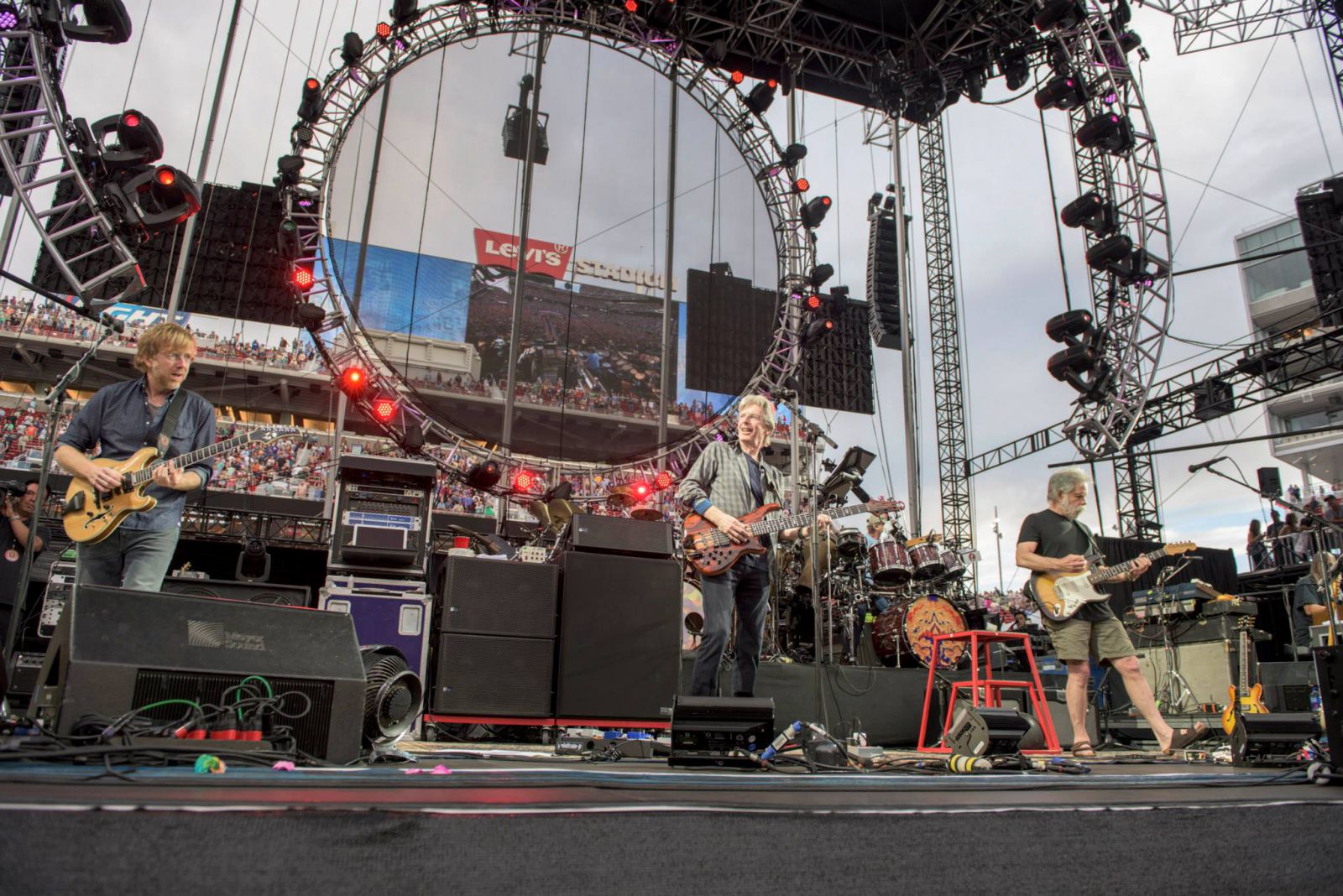 Following the stand-alone Truckin' and UJB were: Alligator (nice mid-tempo intro), a rollicking Cumberland Blues, Born Cross-Eyed, a rocked-out Cream Puff War, and Viola Lee Blues (complete with the de rigueur crescendo jam—much tighter and in-time than the Truckin' climax).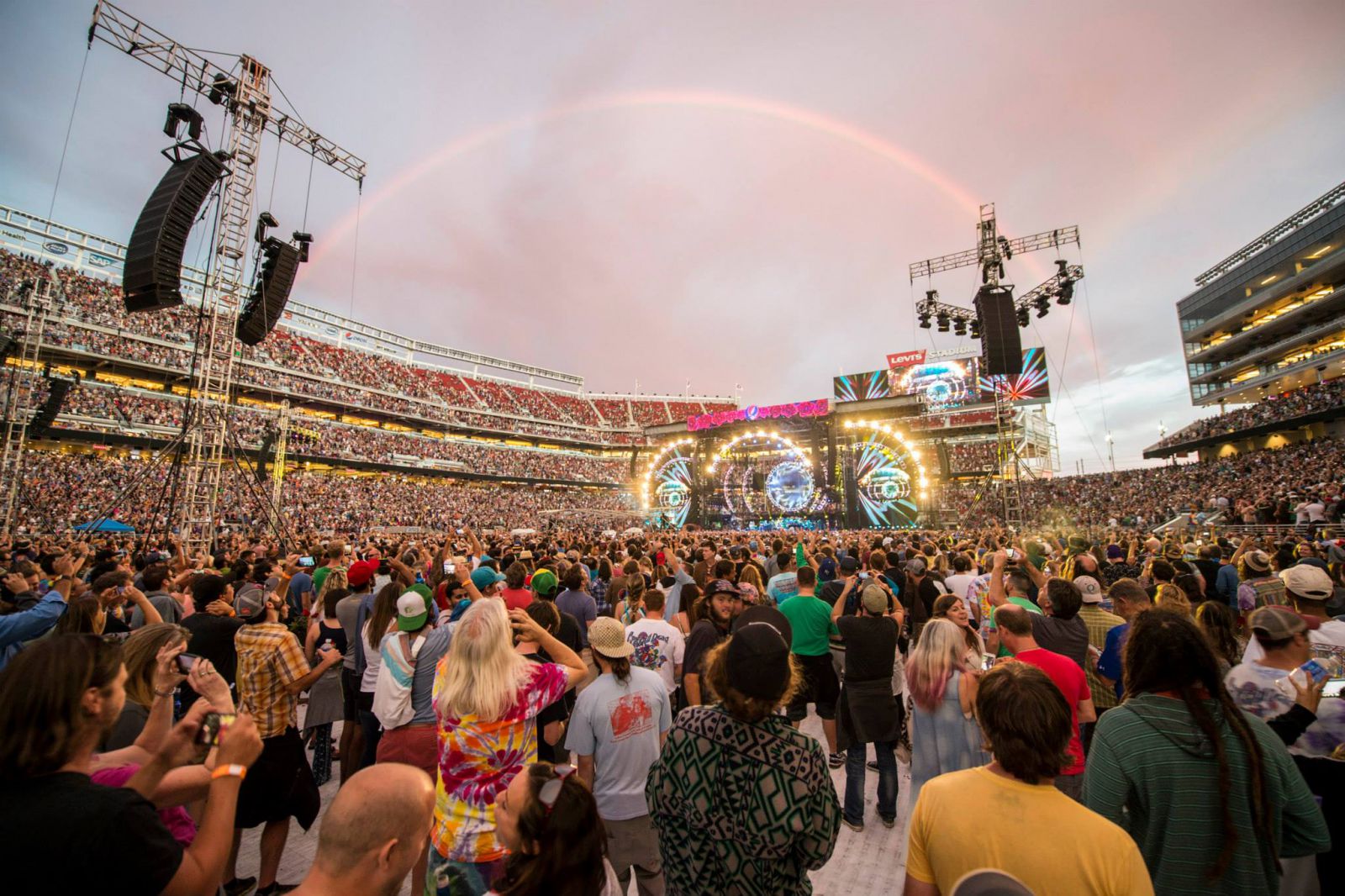 At least, that's the official setlist. Missing, however, is the clearly audible "Turn on Your Lovelight" instrumental jam/tease (fully rendered in Set 2), but which then kinda-sorta oddly simply faded to set-break. No matter. Jerry made his presence known in those moments, as the cosmos delivered a full-spectrum rainbow across the northwest corner of the stage, arcing northeast (i.e., from audience-left to audience-right) over the stadium. More will follow on the rainbow.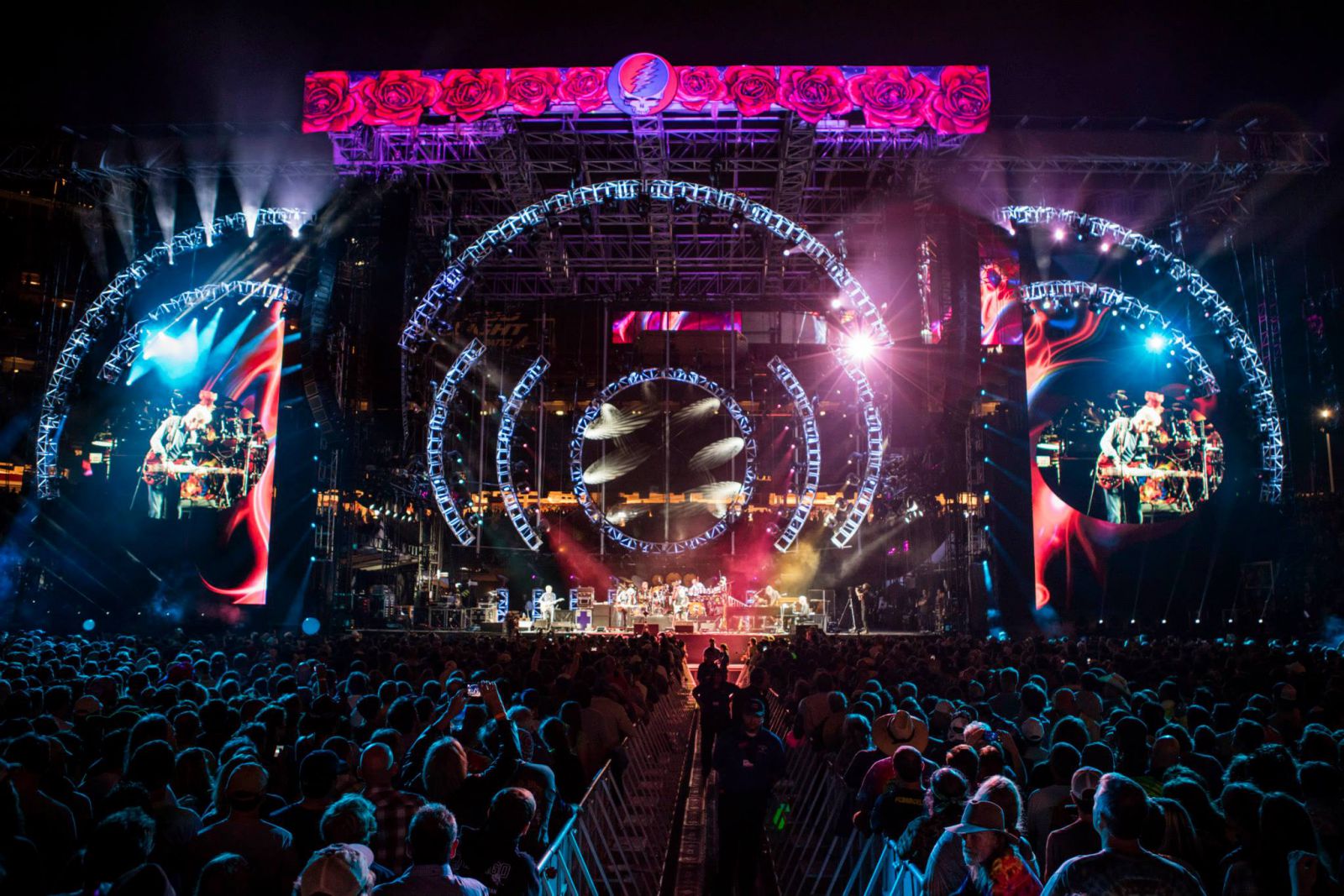 Set 2 headed in more mystical and jamming territories: Cryptical Envelopment > Dark Star > St. Stephen > William Tell bridge > The Eleven > Turn On Your Lovelight > Drums > Space > What's Become of the Baby? > The Other One > Morning Dew; and to conclude, Phil's donor rap followed by a Casey Jones encore.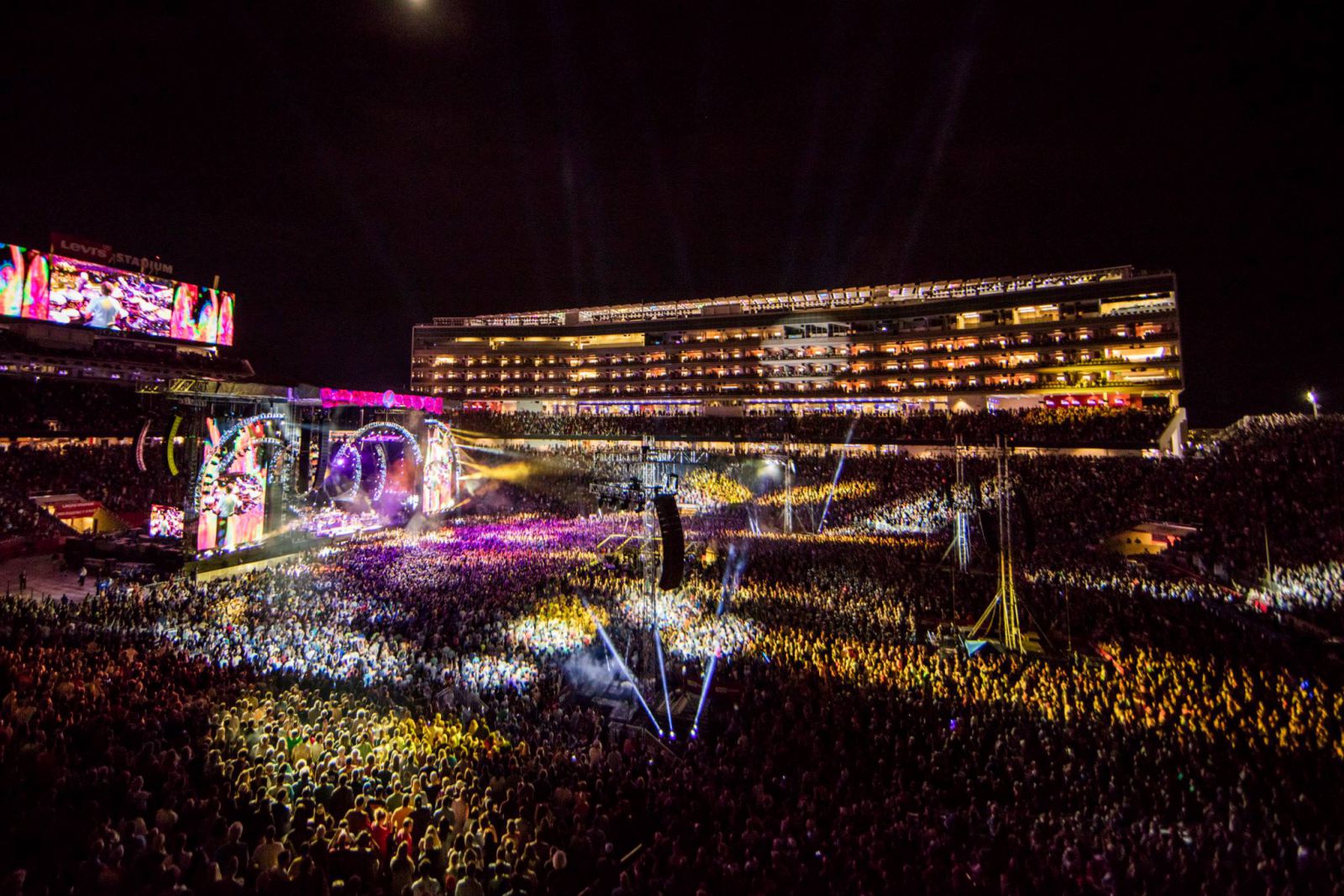 [No offense intended Phil, because here in Oregon I've been a registered organ donor for decades (it's the "D – anatomical donor" listed on state driver's licenses), but just in the name of good fun Prankster-ism: In all the years you've been recommending that we turn to our loved ones and say, "If anything ever happens to me, I want to be an organ donor," instead I've said to them, "If anything happens to me, I'm coming after your organs!" J]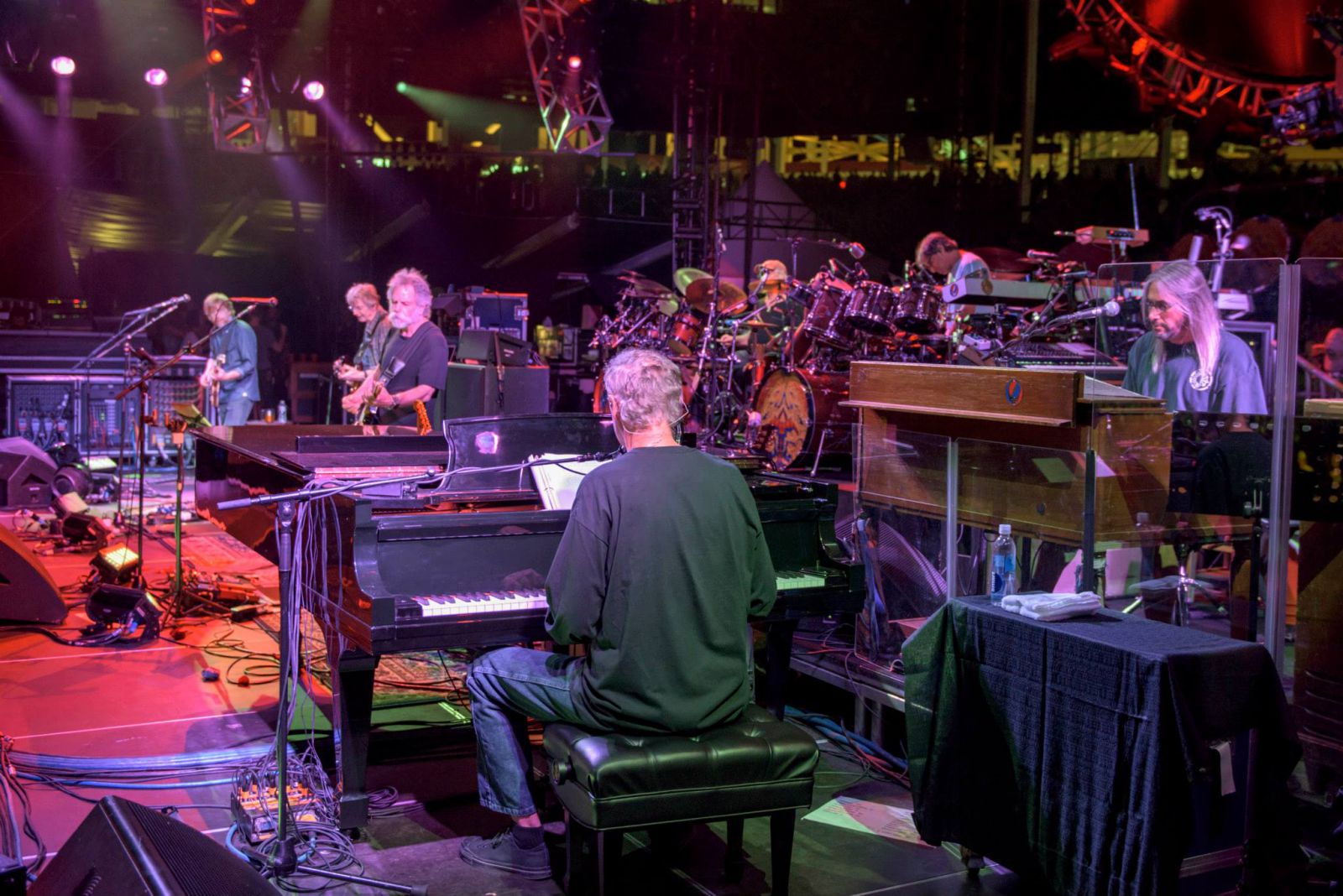 Although Saturday night was fun, it left me wanting. I saw old friends and made new ones. I danced and enjoyed. But musically, there were muffs and miscues, with Trey (either on his own or perhaps at the direction of Phil/Bobby) seeming tentative. As always, such matters are to be determined and experienced firsthand and individually. I can get off on almost any rock-n-roll gig. But at a Dead show, I'm not looking to get off; I'm looking to LIFT OFF!—to experience the ineffable and evanescent ... or to quote James Joyce, to surmount "the ineluctable modality of the visible."
But Night One was always going to have a lower-case x-factor in folks' minds. The Grateful Dead band—the music, the musicians, and their musicianship—has always been an evolution. These were not studio-session musicians performing repetitively to a singular sounding perfection. Rather, the perfection of the Dead was/remains in the exploratory adventures. That meant "off" nights as well as "on"—and I mean ON!—for a band and music that always was not a work-in-progress, but rather was/is a progress-in-their-work. What that meant in the reality of their considerable efforts: Touring.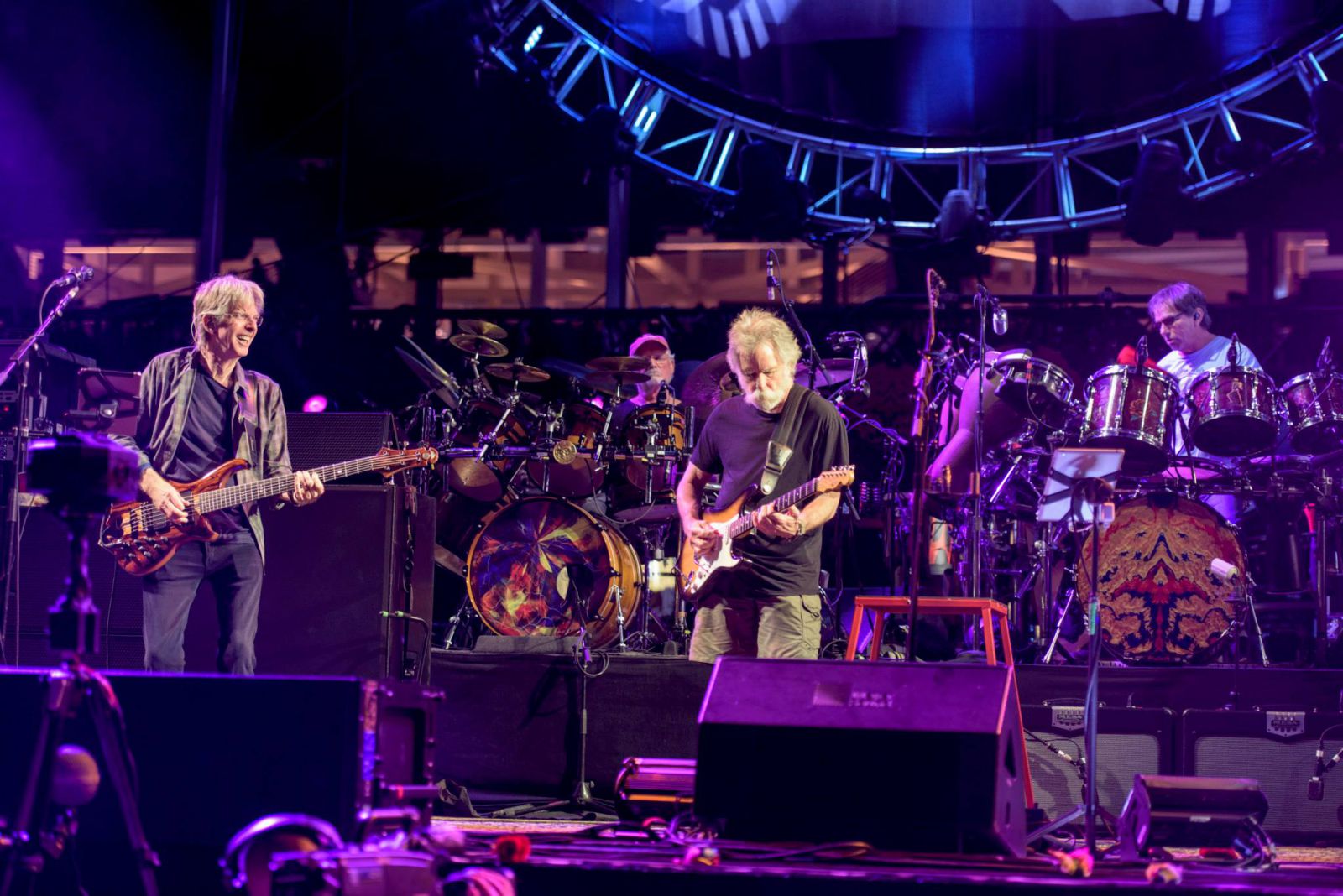 Well, this ain't a tour, sisters and brothers, and we would be mindful to keep the faith. After all, we are aware this would be "merely" a two-nights-on, four-off, three-on gig. Any sort of knots—whether personal, professional, technical, collaborative, or other—were bound to form and need some kneading, both onstage and off. That's fine. 'Twas always thus during the Dead's 30 years on tour. But I'm fairly certain the pressures (not just of economics, given the transitory but justifiable ill feelings for ticket-prices, pricing schemes, and related snafus, but ultimately of utmost significance to the band and tribes, the pressures of history and of legacy) were not only external but largely internalized—as Bobby timelessly intoned to the audience during many a '70s show and beyond, to get things "just exactly perfect." So I always approached the opening night with great hopes but few if any expectations.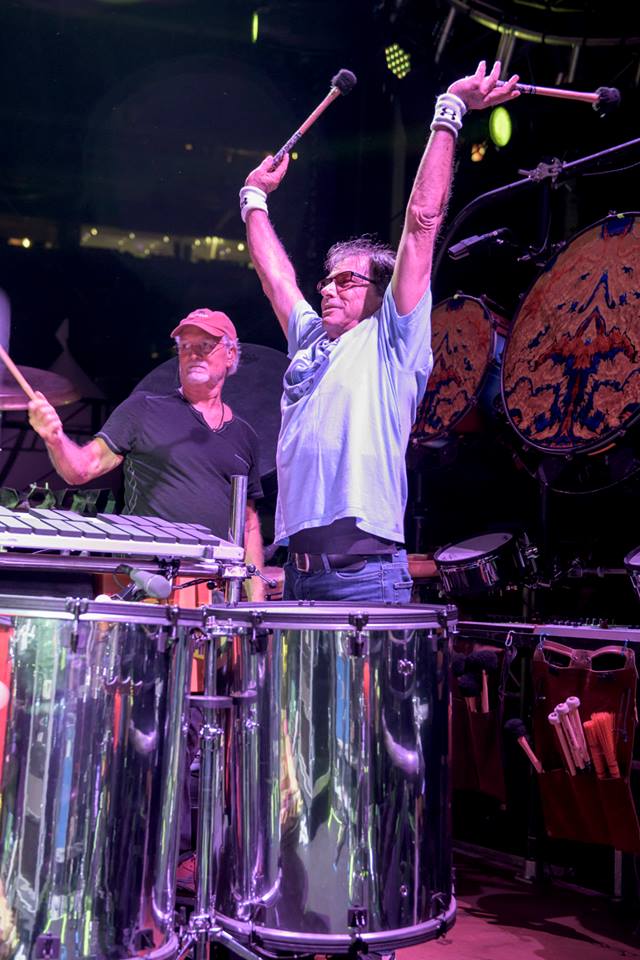 Thus, absence of the upper-case X-factor(!) on opening night, if apparent and disappointing at various times, nevertheless was not too worrisome. Jeff Chimenti and Bruce Hornsby were little used, and Hornsby's vocals and keys were often barely audible in the mix. That coulda been me, given that I was up front on the floor. But nope. I checked-in afterward with friends and others who'd been seated throughout the stadium, and they heard (or, rather, likewise could not hear) Hornsby. Again, just a bug to fix. But also, again, this was not the inaugural to a summer tour, and there'd be only one more chance for those of us attending these left-coast shows for the band to get it just exactly perfect.
"... From the northwest corner"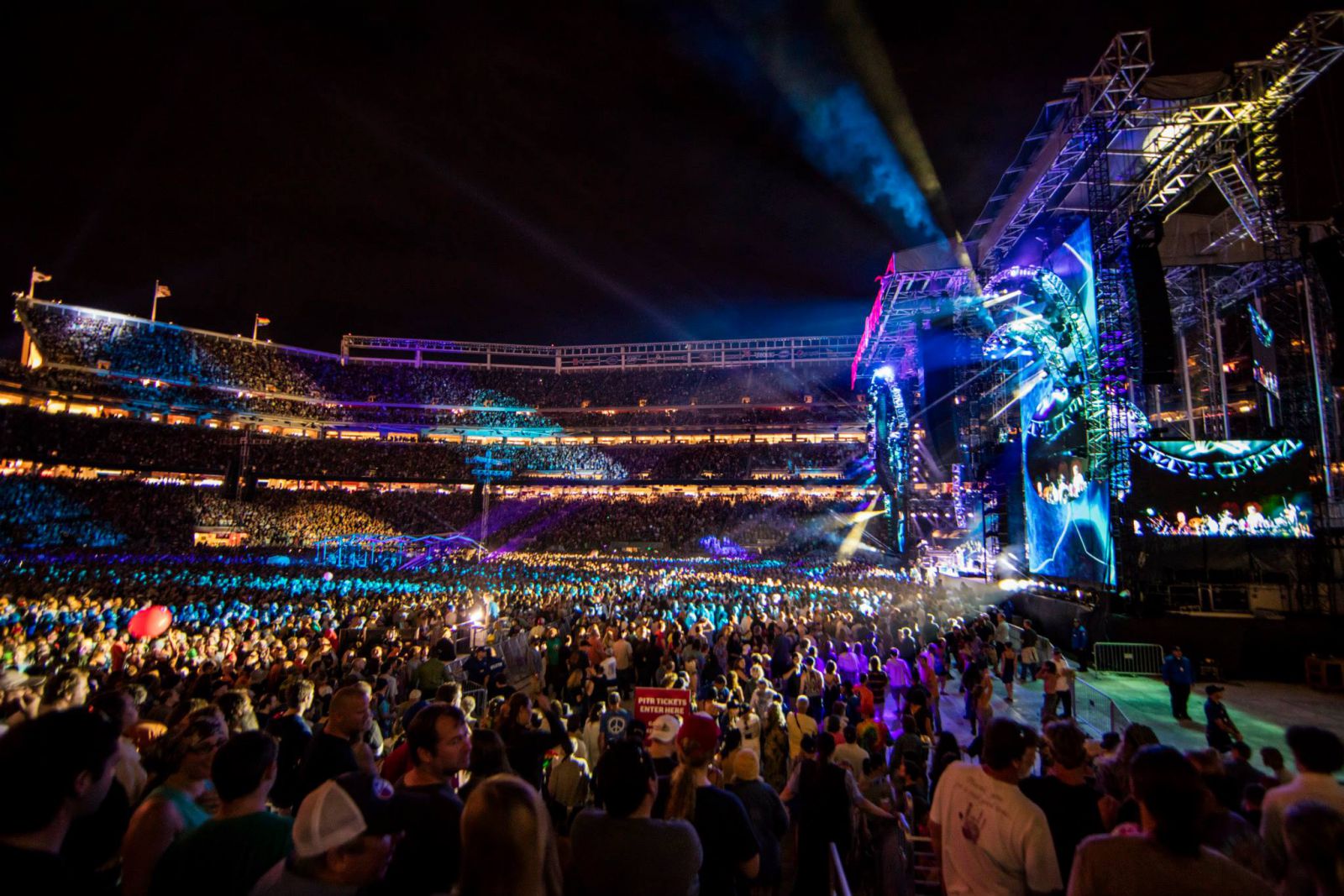 The weather—aaah, the weather—was...: Just. Exactly. Perfect. Cool seventies, light Northern California south S.F. Bay breezes, with blue skies and wispy clouds that would gather and darken. A welcome shift from Eugene, Oregon, high-90s we'd escaped for the weekend. (Climate change has likewise morphed our Willamette Valley's annual 9-10 months' rain-cycle into a drought.) Santa Clara's darkening skies never really threatened rain, but heavy moisture was occasionally palpable.
That moisture gifted us a rainbow ... a double-rainbow, in fact!—though the double was barely perceptible—which arced northwest to northeast from behind and atop the stadium stage-right (i.e., audience-left). The rainbow appeared just at the "Turn On Your Lovelight" tease that concluded Set 1, making even more dramatic for me the collective thought we later shared that Jerry was making his cosmic appearance! Yea!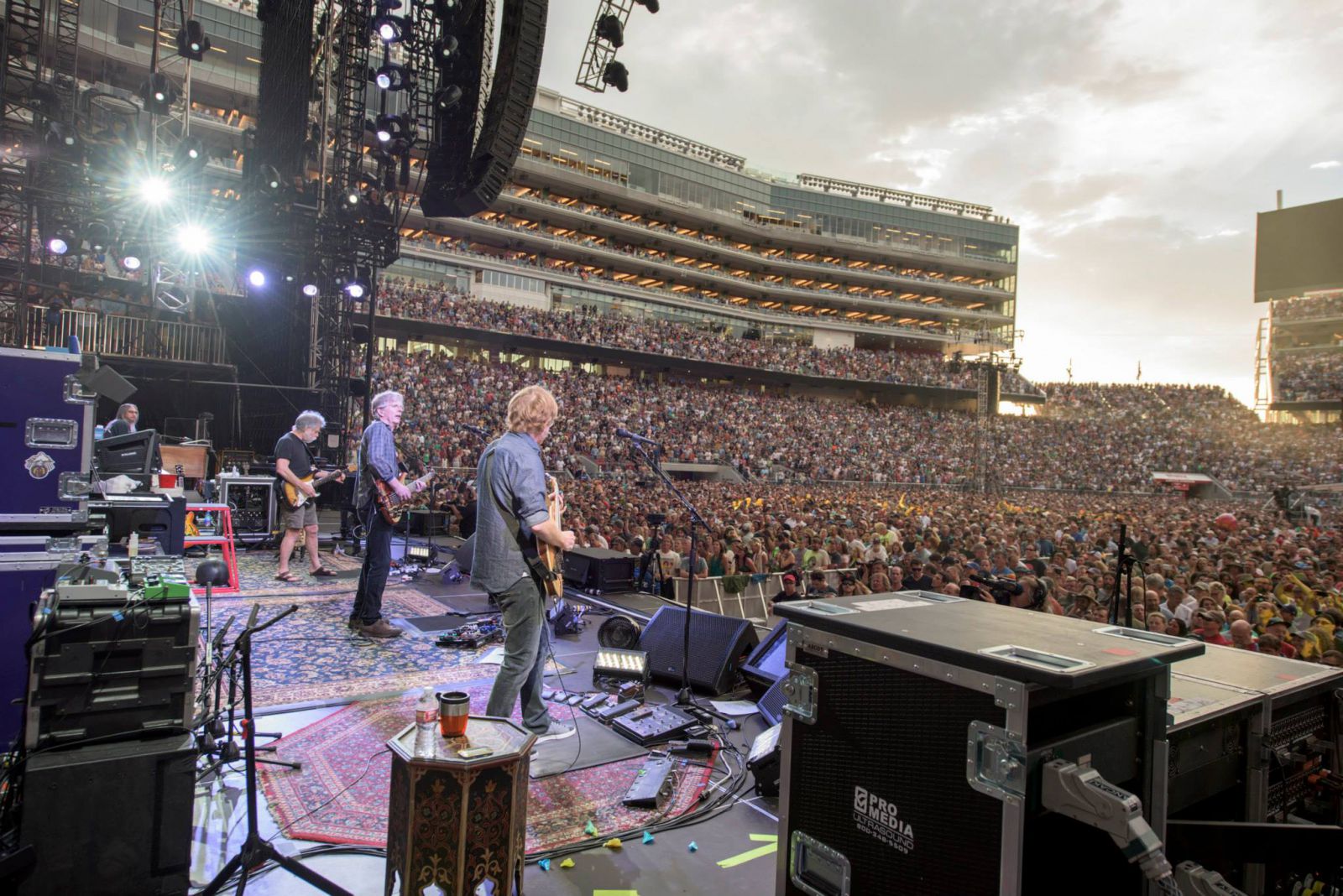 [Aside: Also, like the Gay Pride flag atop the stadium, the rainbow might've signified our tribe's rebuke to the previous day's lunatic ravings by Supreme Court Justice Antonin Scalia, who, in his dissent opposing the Court's affirmation of gay marriage, wrote: "Who ever thought that intimacy and spirituality ... were freedoms? And if intimacy is, one would think Freedom of Intimacy is abridged rather than expanded by marriage. Ask the nearest hippie." Well, I dunno if I'm the nearest hippie, but close enough. Jesus, Scalia! I honestly want to respect you as a fellow human being, though I certainly do not respect your professed inanities from the judicial bench. But you're such a constipated asshole. Eat a bran muffin or somethin'. Your "constitution"-al thinking definitely lacks fiber!]
"Some rise, some fall, some climb, to get to Terrapin"
SUNDAY NIGHT – In the 200-Level Seats, Audience-Right
Yowzah! Yowzah! Yowzah!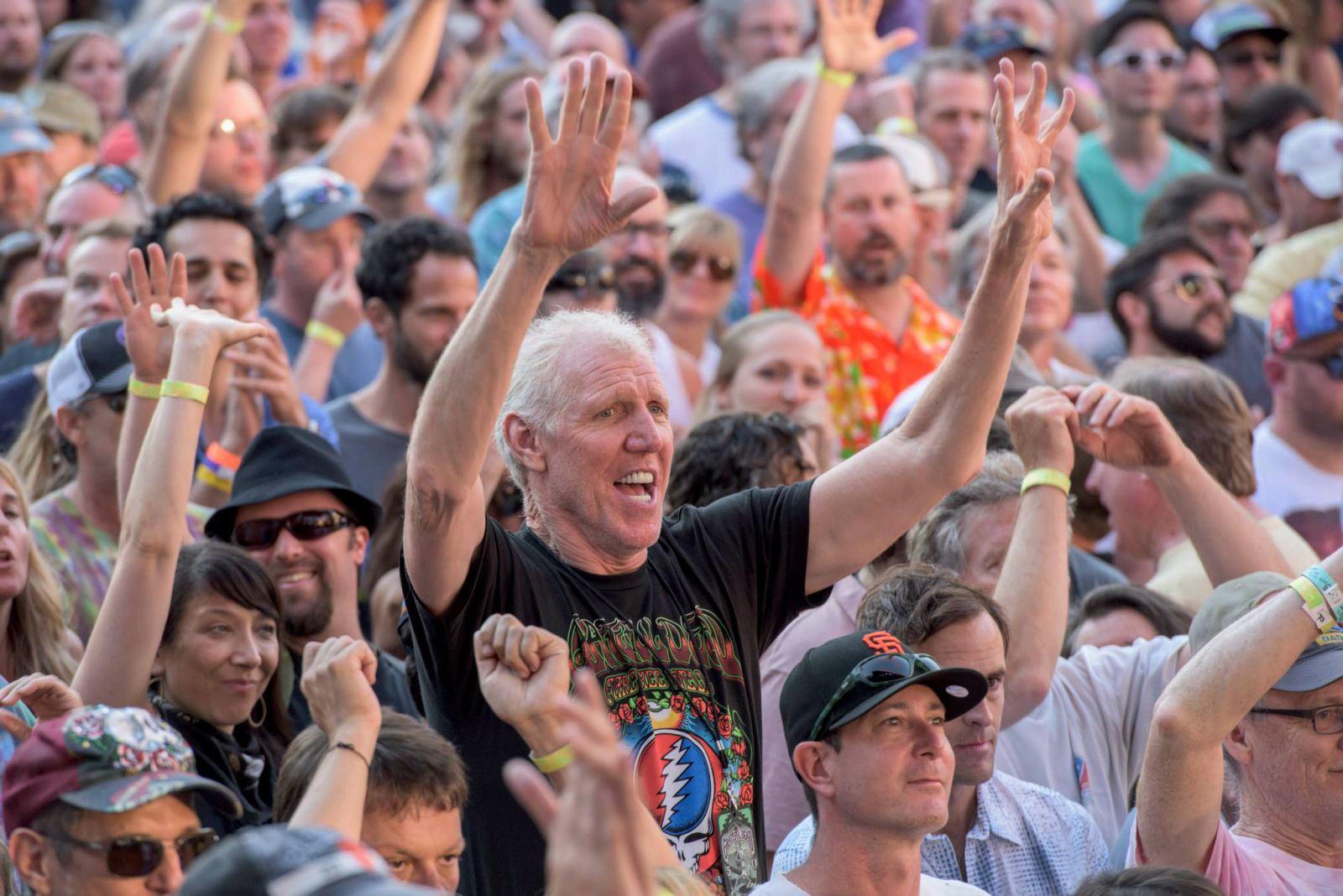 Beautiful weather again: sunny, breezy, few clouds, cooler at night, a bit of a sunburn from the afternoon festivities at Shakedown Street. Missed the Shakedown on Saturday, but located it Sunday ... far and away. (Levi's Stadium charged $60 plus fees to park. Thus, a stadium "shakedown," but no Street.) Instead, Shakedown occupied a large grassy field a few blocks down the road, abutting a golf driving range. Packed with folks, ticketed and non- and Miracle-seeking. Good vibes and impromptu high-quality Dead songs and jams that would not make either night's setlists. Eventually headed back to the venue and into the show.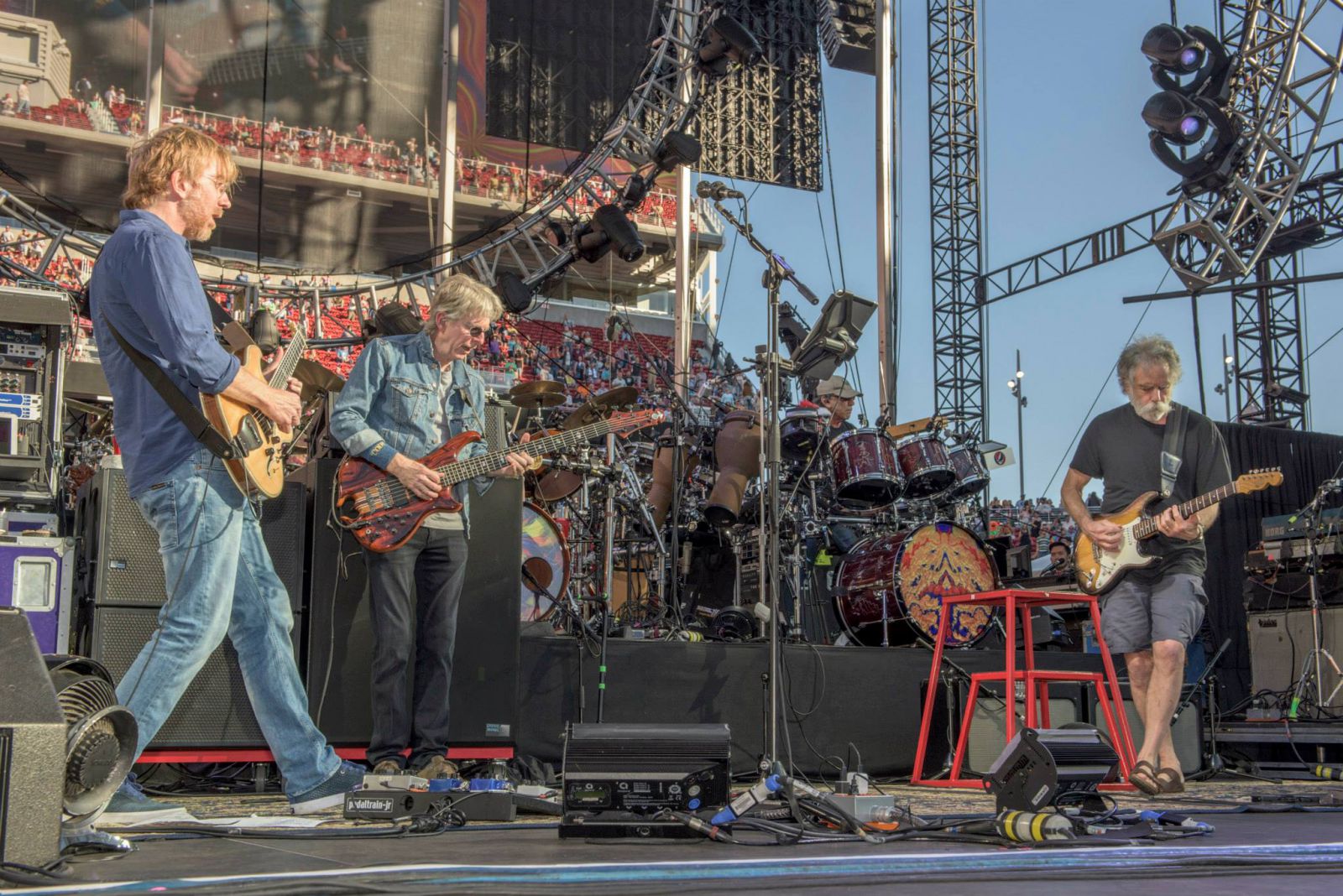 The boys exercised better timing both on and offstage, racing out of the starting gate closer to 6 p.m. and limiting the set-break to a respectable somethin' or other, but less than an hour. Or perhaps it was an hour, but given that I had a seat on this night, I didn't pay as much attention.
"Feel Like a Stranger" ("... let's get on with the show!") signaled what would be a fairly tight, if not muscular, and crowd-pleasing first set: then New Minglewood Blues, Brown-Eyed Women, Loose Lucy, Loser, Row Jimmy, Alabama Getaway, Black Peter, and Hell in a Bucket.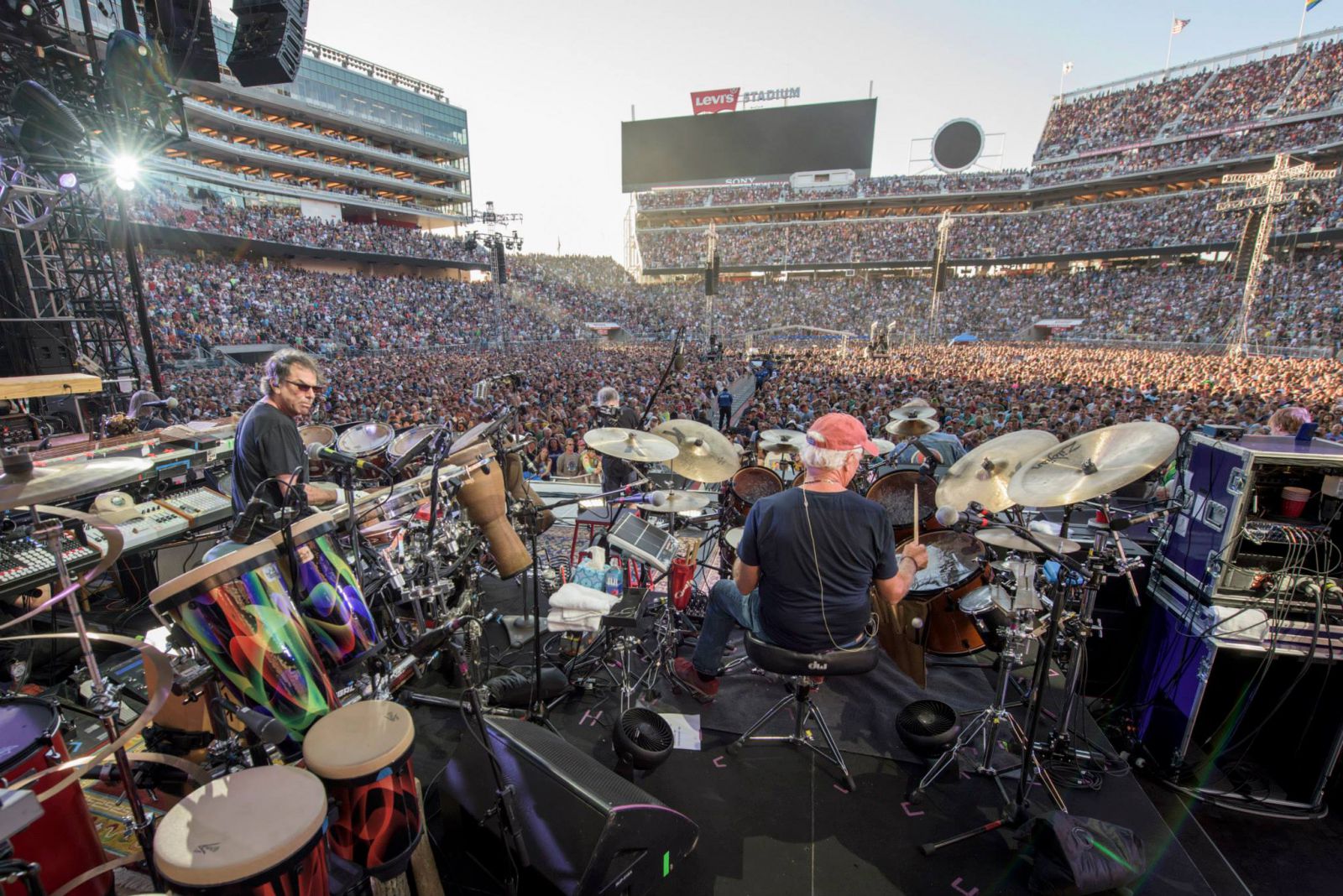 Set Two on this second night was far and away the bees-knees-for-me. Mississippi Half-Step > Wharf Rat > Eyes of the World > He's Gone > Drums (with unannounced guest Sikiru Adepoju on talking drum) (no Space) > I Need a Miracle > Death Don't Have No Mercy > Sugar Magnolia; and for encore, Brokedown Palace.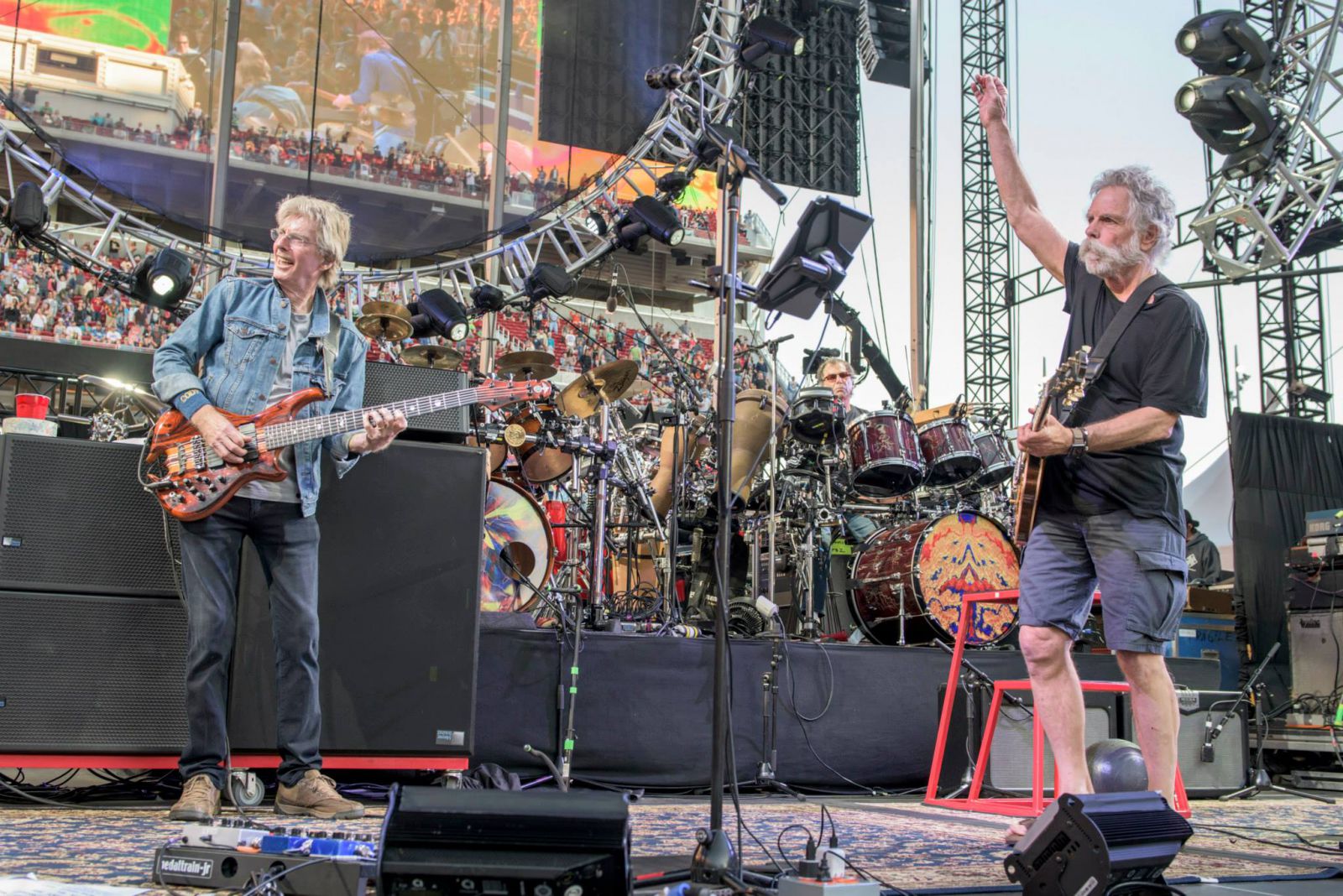 Wharf Rat. Eyes!!! He's Gone. Among Robert Hunter's numerous, gorgeous poetic narratives: first- or third-person tales of loss, of wonder, of gratitude for Being ... before the inevitability of Nothingness.
The "Death Don't Have No Mercy" dirge and "Brokedown Palace" lamentation would become especially poignant shortly after I returned home to Eugene, Oregon, on Monday afternoon.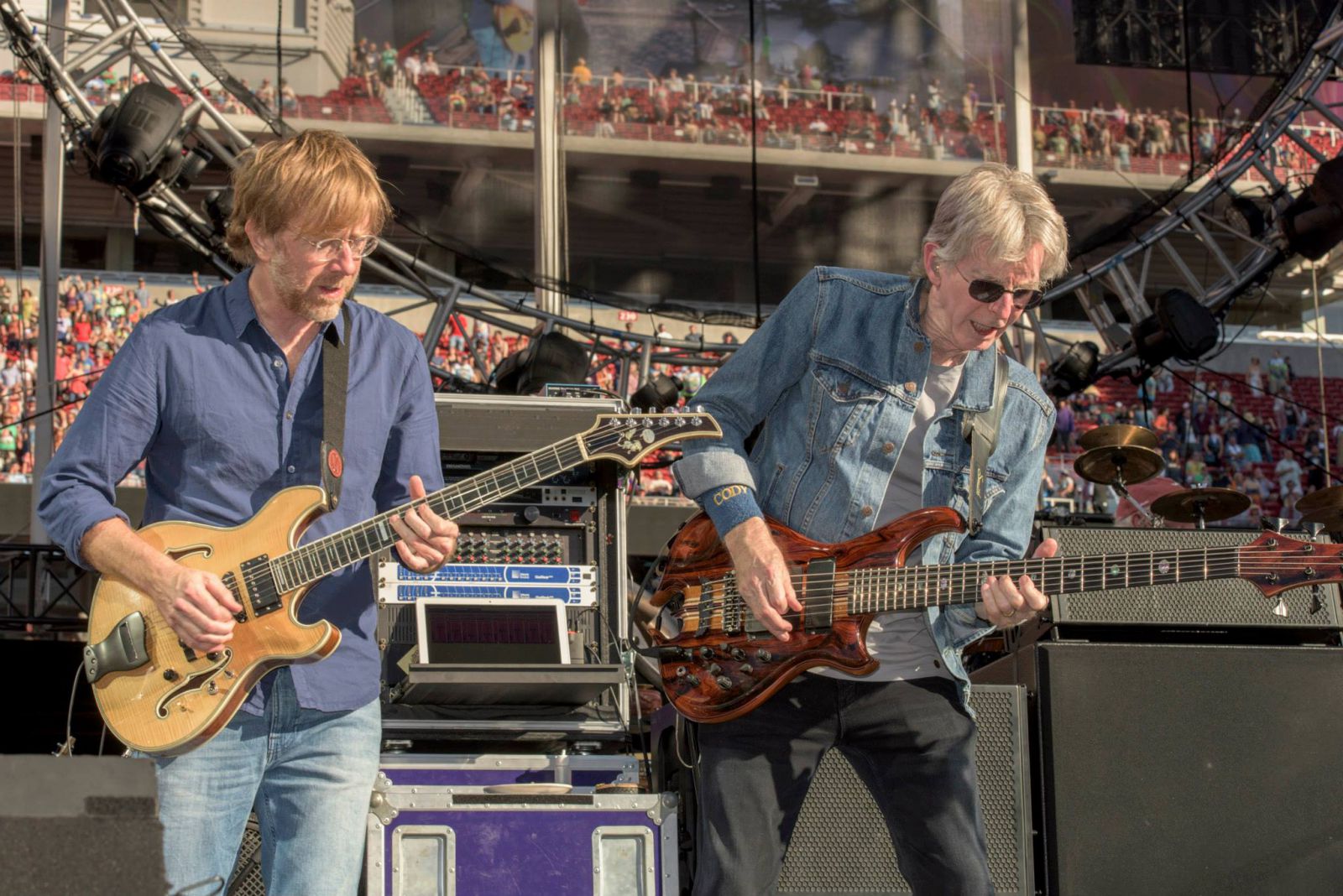 About a mile away from the neighborhood where I've spent the better part of the past 30 years, just beyond a couple parks, schools, running/bike trails, and natural/organic grocers, the historic wooden grandstand at 75-year-old Civic Stadium (minor league ballpark and host to other events) was fully engulfed in flames. A citizens' alliance (fueled by mostly small donations, and some large) managed to purchase the site from the city and school board, to maintain the grandstand and renovate the site for "kid-sports" and family recreational activities, despite Goliath developers bidding for the site to build (ugh) a shopping center. The renovations to provide family/multi-use facilities will proceed, but without the ol' famous grandstand. Brokedown Palace indeed. Sad.
And so, we're "... back in Terrapin ... for good or ill again."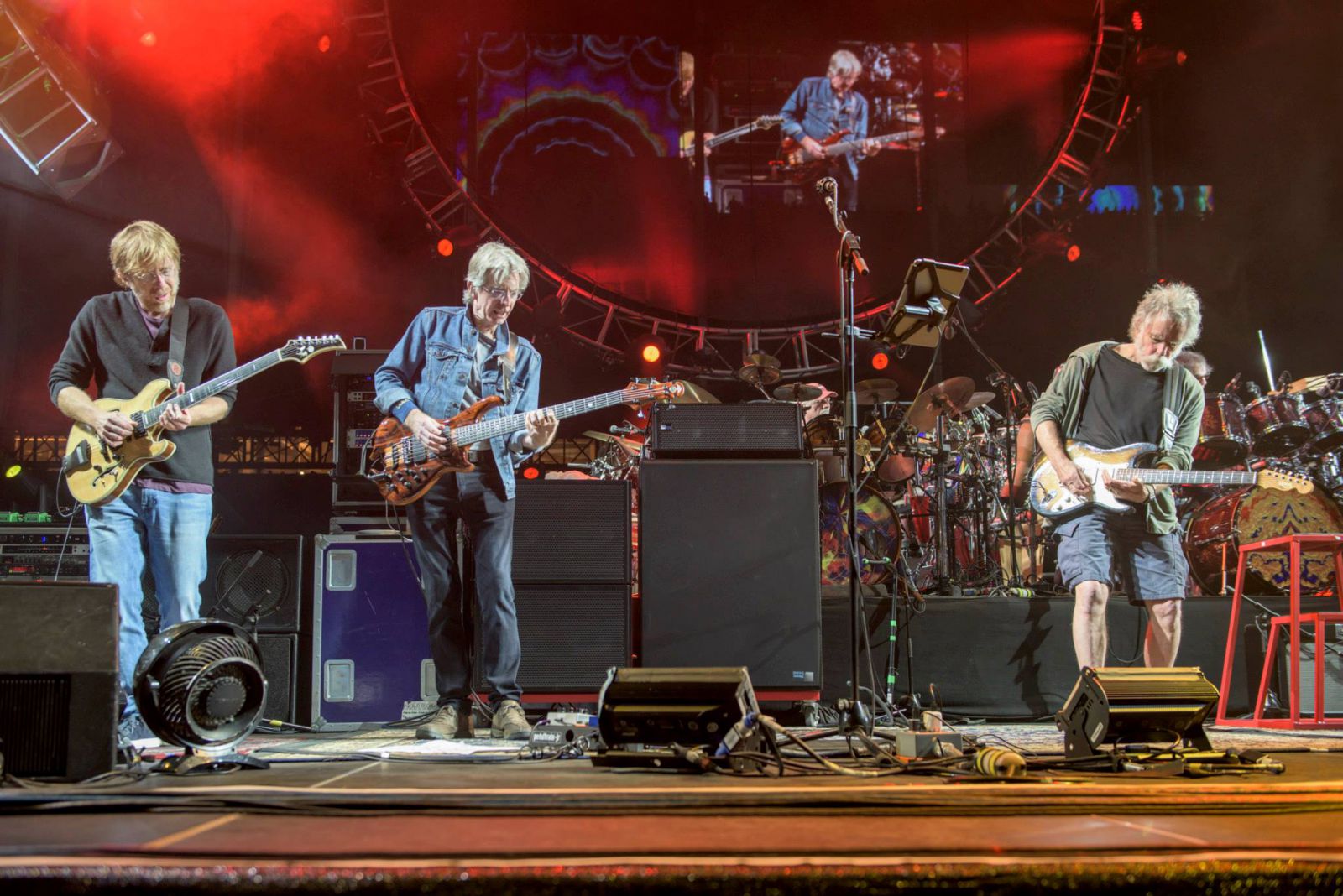 Just as well that others and I won't be going to Chicago. The Oregon Country Fair is nearly upon us. The Fair site hosted the Dead's decadennal "Field Trip" in 1972 and 1982. Garcia's illness compelled canceling the '92 Field Trip; however, a small throng of us celebrated southeast of Eugene on Kesey's land, marking the occasion with live music and other performances in a meadow encircled by woods that shaded and long ago overgrew the original "Further" (Harvester bus) that had been retired to pasture and ruin. Dark Star Orchestra played in town following Kesey's death in late-2001 (they'd already been scheduled to play at the Kesey-family-owned venue) and returned the following summer to play during the Fair in 2002—thus, to my mind, marking the fourth decadennal Field Trip.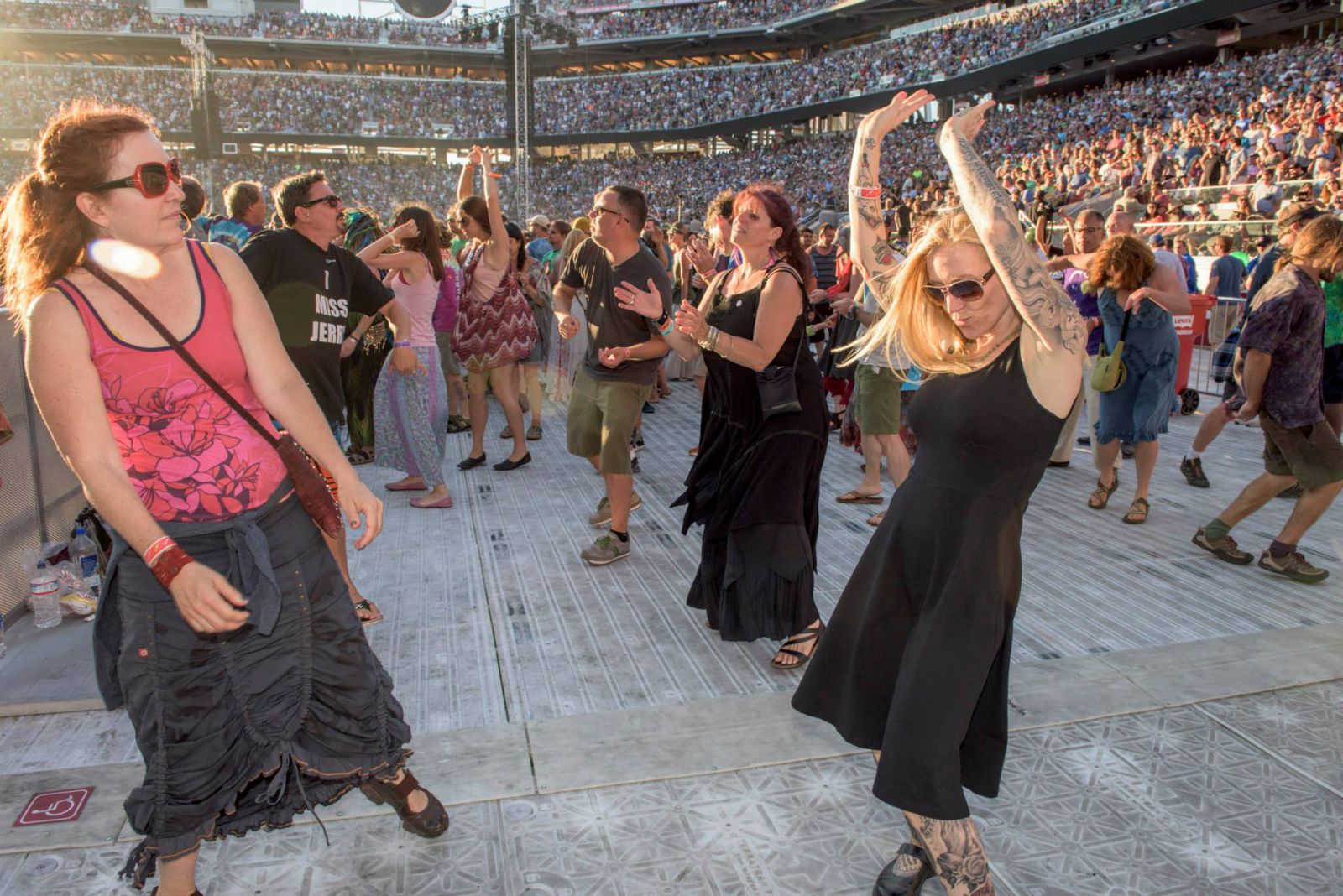 Thus, given plenty of local Dead lore, experience, and memory, and memento mori, I feel grateful for Santa Clara, but also grateful to be back home to patch my bones before I get back truckin' on to the Fair. Likewise, I'm grateful that the band and crew and many of you have a brief respite before truckin' to Chicago.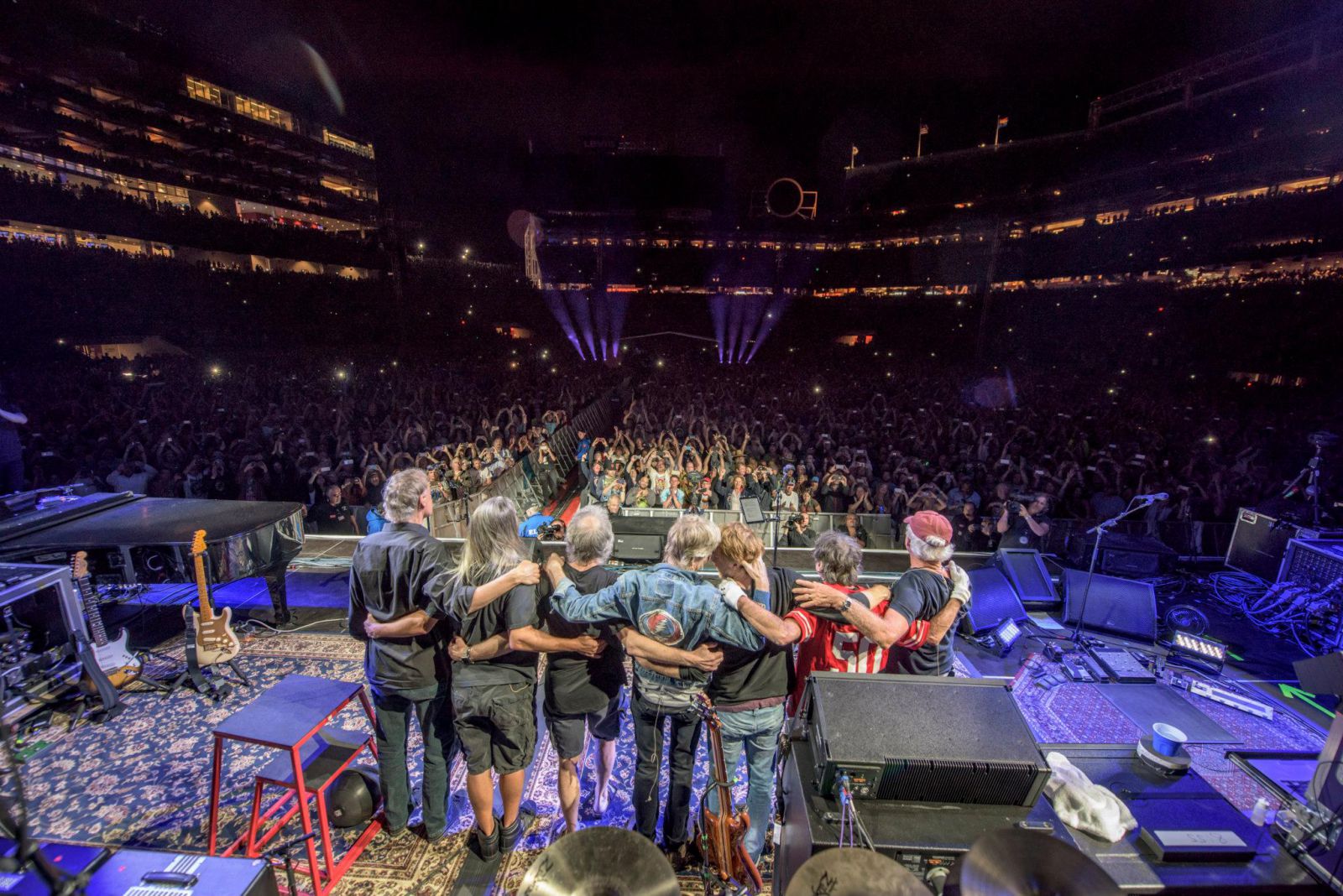 Peaceful travels to one and all. Glorious adventures. May the four winds blow you safely home! Meanwhile, to the living and especially to the Dead, I extend my gratitudes. Thank You for a Real Good Time! Much love.