Watsky | The Fillmore | San Francisco, CA | 4/25/2013 | Review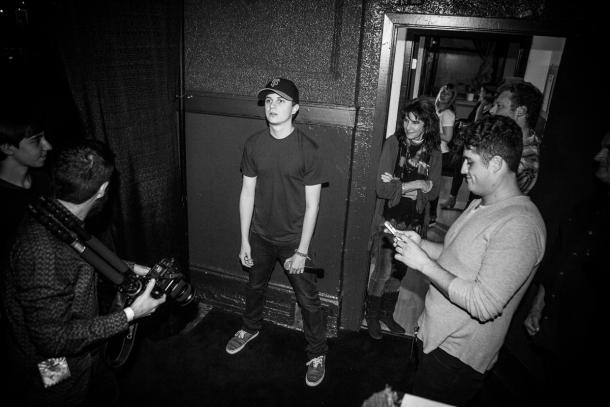 The legendary Fillmore in San Francisco boasts a lengthy roster of historic shows, but it's not every night that the concert means as much to the audience as it does to the performer (or vice versa). Last Thursday, April 25, was one of those nights. It's no secret that San Francisco native George Watsky has always dreamt of playing The Fillmore. However, when the quick-tongued rapper alludes to the monumental moment in many of his lyrics, he couldn't have imagined the intensity and pure, bursting love with which the sold-out crowd would respond.
Waiting for Watsky to take the stage, the anticipation in the air was palpable. As if it knew something big was about to happen, the disco ball was already spinning slowly over a noisy mixture of the 26-year-old's childhood friends and even younger admirers. Between 9:30 and 10, fans started no less than five chants of "Watsky! Watsky!" His band played him in and he exploded into the spotlight, wasting no time reminding his audience that his hard work is the reason he's living his dream by opening with "Moral of the Story."
"I've been waiting six years to say the following words...Fillmore, how the fuck are you are doing today?!"
Watsky's emotion was apparent from the moment he stepped onstage, but he didn't let it slow him down. Backed by an impressive band (no DJ in sight here), he barreled through older songs and hits from the recently released Cardboard Castles, which knocked Macklemore and Ryan Lewis from the #1 spot on iTunes' hip hop charts in March. The audience drank him in, singing along to every word (when they could keep up) and throwing rap hands up when they weren't snapping a picture. Watsky ran the length of the Fillmore stage like he'd been born to do so, letting himself fall into the crowd a few times and being pushed right back up almost mechanically. Despite his high energy and constant movement, he kept his breath in check and never broke his flow or his trademark spitfire speed.
Ellen DeGeneres may have tapped Watsky for that very same speed a few years ago, catapulting his career by inviting him on her show, but it's his honesty, his spunk and his relatable, average-white-boy looks that have cemented him as a star. He doesn't curse as a crutch, brag about his bling-bling (quite the opposite actually), or dedicate tracks to dissing other dudes. (OK, I guess "A Hundred Words You Could Say Instead of Swag" is a blatant dig at Justin Beiber, but we all agreed last year that Beiber sucks anyway, right?) Watsky bares his soul in his songs, allowing intimate memories and thoughts to slither into perfectly formed rhyme pockets . His brain has a rhythm to it, producing lyrics as strongly from the sounds and shapes of words as from their meaning. He balances emotions to complement each other, making you cry with laughter just seconds after breaking your heart. He makes the dirtiest realities of the world sound elegant and inviting by dressing them up and delivering them with his liquid flow.
Watsky, dressed in an average red shirt and standard Giants hat, blew the roof off the Fillmore Thursday night. Whether he was climbing the speakers, jumping off the VIP balcony into a welcoming crowd, or reciting spoken word to a stifled audience that was trying not to scream along, Watsky's smile was electric. When a fan passed a harmonica up to the stage during "Wounded Healer," Watsky took it without pause and slipped in a solo before sending it back. He connected with the crowd at any and every chance, even asking, "Why should I be afraid of people who pay money to come see our show?" after a security guard escorted a rogue girl off stage.
Thursday was his night, but instead of basking, Watsky inspired.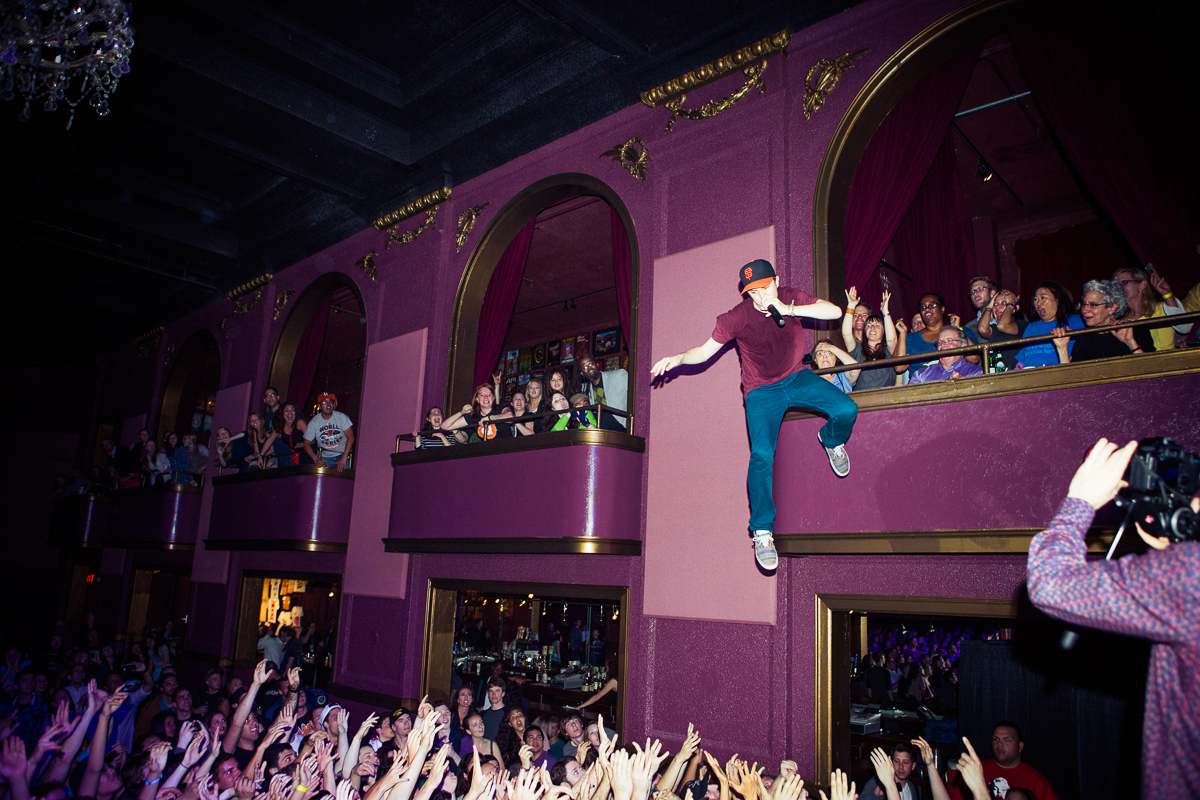 "This means a fucking shitload to me. If you think when you reach your pinnacle it's fucking magic buses and hookers on demand and blow...our bus broke down not once but twice on this tour. The transmission blew again yesterday as we pulled up in San Francisco. Today we took a caravan of six cars up to the gate I've been waiting to get to for six years. I have been that kid in that crowd wishing to be this person on this stage...there is someone out there in seven or eight or 10 years who will tell me they had a moment at this show where they decided to play The Fillmore...People step out of the way for other people to step up and that is what is so beautiful about this shit."
Against everyone's wishes, the night had to end eventually. But when the music stopped and the lights came on, Watsky stayed onstage and signed every hat that came his way.
If you missed Watsky's show at The Fillmore, check out more photos from the show by Ellie Stills. On Thursday May 2, Watsky will be featured in Tourettes Without Regrets' show at the Oakland Metro. Do yourself a favor and catch Watsky before he's too big to be seen.