Ghent Jazz Festival 2013 is a tribute to John Zorn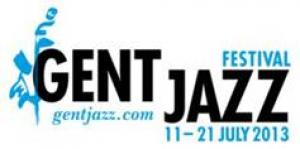 On Sunday, 14 July 2013 the Ghent Jazz Festival will be presenting "Zorn at 60", a project by John Zorn in the theme of his sixtieth birthday. John Zorn (1953) saxophonist, composer, conductor and producer will turn sixty on 2 September. To celebrate that birthday, he developed a complete programme, together with musician friends, under the name "Zorn at 60". With this project he will be showcasing a tantalising selection from his projects on 14 July at the Ghent Jazz Festival, a unique musical experience reflecting the diversity and enthusiasm of one of the most talented musicians of his generation. He will be taking an impressive array of musicians with him. You can expect to see the following artists in the various projects: Mike Patton, Jesse Harris, John Medeski, Marc Ribot, Trevor Dunn, Kenny Wollesen, Joey Baron, Cyro Baptista, Steve Gosling, David Fulmer, Jamie Saft and Ikue Mori.
The poster for 14 July at the Ghent Jazz Festival includes the Song Project, an all-star band of soul mates in which Mike Patton (Faith No More) and Jesse Harris will be singing, as well as Illuminations a piano trio inspired by the French poet, Arthur Rimbaud and Moonchild: Templars – In Sacred Blood. Zorn will be bringing one of his most popular projects to Ghent together with The Dreamers, and of course his renowned band, Electric Masada, is indispensable. The evening will be closed off with a DJ set by John Zorn himself. The programme will be further completed at a later stage (also check page 3 and 4).
Tickets for 14 July are available from 10 a.m. on Friday, 23 November via www.gentjazz.com and Fnac for € 37.00 + € 2.50 reservation fee