HannaH*s Field
Submitted by mike on Thu, 03/19/2009 - 06:22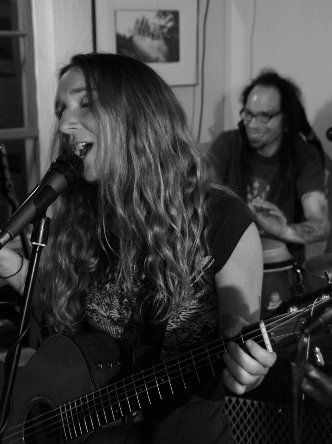 HannaH*s Field brings love, light & spirit to the people with their Gypsy Reggae music. Their uplifting roots, acoustic fairy folk & African Earth Beats blend together, creating a magical experience for all.
Nominated best female vocalist in the Hartford Advocate, HannaH*s Field has shared the stage with such great acts as: The Average White Band, Brother's Johnson, Gov't Mule(members of the Allman Bros. Band), Derek Trucks, The Samples, Percy Hill and Sound Tribe Sector Nine. They have performed at such venues as the Eugene Hempfest, House of Blues in Chicago, Mississippi Pizza, Toad's Place, 9 Muses Acoustic Tavern, Pearl Street Nightclub & the Spiral Rhythms festival. HannaH*s Field recently released their new CD, "Warriors of Love". Their new sound is being embraced by everyone, from folk lovers, reggae snowboarders to rock-n-rollers.
"With flash garments, long hair, and clamant, vociferous strains, vocalist and percussionist HannaH reminds me of an updated, confident Janis Joplin with an optimistic edge."(Dagmar Noll/Eastern Newspaper). HannaH spent the month of May 2002 writing and recording 7 songs with Brothers Johnson bassist and major session man-Louis Johnson. In February, Johnson discovered HannaH, singing at a night club, with HannaH*s Field. He invited her to his studio in Los Angeles to make a c.d. The Brothers Johnson were produced by Quincy Jones and had many hits including, "Strawberry Letter 23", "Stomp", and "I'll Be Good to You" . Louis Johnson played bass on albums by Micheal Jackson, Aretha Franklin, Ray Charles, Herbie Hancock, Paul McCartney and many other popular artists. HannaH toured with them as a back up singer playing such venues as the House of Blues and First Avenue in Minneapolis-the club that Prince enshrined in the movie Purple Rain.
HannaH*s Field will inspire you to envision flying gypsies, feel rhythmic tranquility & dance barefoot in the green summer grass.