The Heavy Pets Hit The Road With Double Live CD
2011 Has been a busy year for the Florida based Heavy Pets. The band hits the road this summer with a double-disc live album taken from their 2010-2011 tour recorded by Charlie Miller of the Grateful Dead fame. Coupled with a full national tour on the horizon, this could be the year of the Heavy Pets – whose last studio effort was hailed one of the top 10 albums of the year by the Huffington Post in 2010.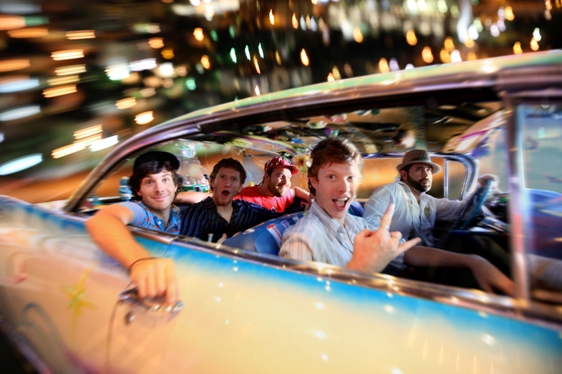 What's not to love about the Heavy Pets breezy approach to music? The five piece band seamlessly moves through pop, reggae, rock, rhythm, blues, hip-hop, funk and even masters the open-ended jam styling's of jazz as if it were their native tongue. Each musician as talented as the next, the players bounce between instruments changing roles as drummer, keys, guitar, and even lead vocals as they make their way through varied arrangements in their diverse and extensive catalog . It comes as no surprise that the Huffington Post named their last self-titled album one of the top 10 of the year; it plays like a Pandora radio station offering a little bit of something for everyone.
Beginning this summer, The Heavy Pets will hit the road with a 14 live tracks called Charlie Miller's Live Picks featuring two hand selected discs of music chosen from the best moments of their 2010-2011 Illumination tour and includes a selection of popular songs like "So Thank You Music", "Dew Point" and "Chew". The summer release will be available on-line for download and for purchase at select festival and theater performances while supplies last.
But it's not just their chops that set the Heavy Pets apart from other touring outfits. The band has an uncanny ability to write quality songs on a dime. This year will see the Pets releasing a live double disc, an acoustic album and a straightforward electric album which the band has been busy recording this spring. While the expected release date for the two new studio efforts are yet to be announced, rumor has it that each album captures a different face of the band who is known best for their jaw-dropping live shows. The band will be giving away a few of their original songs for free download leading up to the release to whet the appetites of their fans.
For more information about the Heavy Pets and their busy release schedule take a peek at the bands website at www.theheavypets.com and don't forget to sign up for the mailing list where the next series of free downloads are expected to be leaked in the coming weeks.