iClips to Webcast Elephant Revival show from Boulder Theater
Submitted by Sue DuMond on Fri, 11/18/2011 - 13:09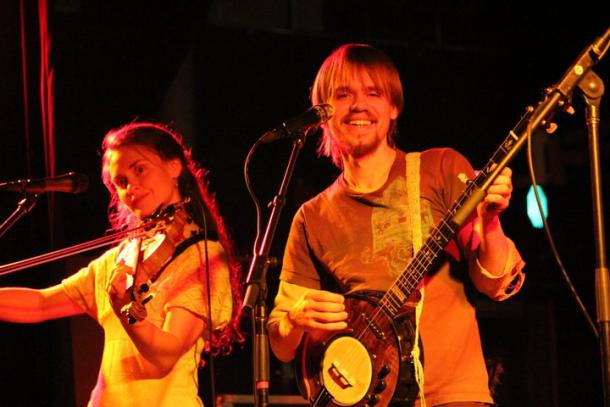 Elephant Revival, indie –acoustic quintet from Nederland Colorado is pleased to announce that iClips will be streaming a LIVE broadcast from their Nov. 19th show at The Boulder Theater. Joining them are the Steep Canyon Rangers - who, in March 2011, released their first collaborative record with Steve Martin, "Rare Bird Alert."
This event is only available on iClips Premium for $3.99 - which also includes 6 months of archival viewing (the archives will be available about a week after the broadcast). The 'LIVE' broadcast starts at 9 PM (MST).
In addition, Elephant Revival's first run of shows for 2012 have just been confirmed. January the band will join The Infamous Stringdusters on their Colorado Ski Tour, hitting the slopes in Durango, Telluride, and Crested Butte. Then it's onto sunny California and Arizona for a small run of shows that will take them to LA, San Diego and Phoenix. They've also just been added to the stacked line-up of the Ann Arbor Folk Festival. This annual two day festival takes place at The Ark in Ann Arbor Michigan on Jan. 26 & 27th, and includes headliners and musical luminaries Ryan Adams, Devotchka, Emmylou Harris, Glen Campbell, Nancy Griffith and many many more.
Previously announced "New Years Stampede" shows will round out a busy 2011, which found the band releasing its sophomore album, 'Break in the Clouds' on Ruff Shod Records (an independent label created by Chad Stokes of State Radio). "Break In The Clouds" has garnered considerable praise for the group's songwriting, instrumentation and multi-genre musical style receiving widespread radio airplay, including being used in segments of NPR's "All Things Considered."
End of the year Stampede festivities kick off at the historic Stage Stop Inn in Rollinsville on Dec. 29th, The Star Gazers Theater in Colorado Springs on Dec 30th, and then onto Portland, Oregon for a spectacular New Years Eve celebration hosted by fellow Coloradoans Leftover Salmon.
--
WINTER TOUR SCHEDULE
Nov. 26 – Steamboat Springs Ski Resort, Steamboat Springs, CO
Dec. 10 – Pac3, Carbondale, CO +++
Dec. 29 - The Stage Stop, Rollinsville, CO &&&
Dec. 30 - Stargazers Theatre, Colorado Springs, CO &&&
Dec. 31 - Roseland Theatre, Portland, OR &&&###
Jan.12 - Community Concert Hall, Durango, CO ^^^
Jan. 13 - Sheridan Opera House, Telluride, CO ^^^
Jan. 14 - Sheridan Opera House, Telluride, CO ^^^
Jan. 15 - Crested Butte Center for The Arts, Crested Butte, CO ^^^
Jan. 19 - The Mint, Los Angeles, CA
Jan. 20 - AMSD, San Diego, CA
Jan. 21 - The Compound, Phoenix, AZ
Jan 27 - Ann Arbor Folk Festival at Hill Auditorium, Ann Arbor MI ***
+++ with All The Pretty Horses
&&& New Years Stampede
###  New Years Eve. Opening for Leftover Salmon, with Jim Page & Fruition
^^^Ski Tour with Infamous Stringdusters
*** Ann Arbor Folk Festival with Ryan Adams, Devotchka, Dawes, Carbon Leaf, Sunny War, David Wax Museum, Heywood Banks, Emmylou Harris, Glen Campbell, Nancy Grffith, Joe Henry, Sarah Jarosz, Caravan of Thieves, Seth Glier