Last weekend, Keller Williams played a double dose of his unique one-man-band music to us lucky Colorado residents, with a solo show at the Fox Theatre in Boulder on Friday, followed by a night with the Yonder Mountain String Band at Red Rocks Amphitheater in Morrison on Saturday. Better yet, the Friday night show was "An Evening With" show, meaning a solid night of nothing but Keller. With an ever changing set list, and since Keller's the kind of guy who's made way too much music in his life to even fit into a whole day, I knew the night would be full of surprises. I was not disappointed.
For those of you who may never of heard of K-Dub, allow me to encourage you to come out from under that rock. I too was once like you; I'd heard the name Keller Williams, and had even heard remarkable thing about him, but somehow, just never got around to going to a show. When I did, I realized that everything everybody said about him was grossly understated. A far cry from the one-man-band with a bass drum strapped to his back and an accordion strapped to his front, Keller Williams brings enough instruments on stage for a sizable band, and by way of an ingenious use of looping and delay pedals plays them all himself. Fitting mostly into the genres of folk and bluegrass, Keller also touches on elements of rock, funk, dance/electronica, and the vague genre that is jam band. About 75% of what he does, he does with the acoustic guitar and vocals. When jam band mode kicks in, he records a riff through his looping apparatus, and as the riff plays itself over and over, Keller moves around to the other instruments, held up on racks so that he never has to put his acoustic guitar down. With some wild effects hooked up to the electric guitar on stage, Keller can create some seriously space age sounds.
But Keller attracts fans for more than just his instrumental wizardry. His lyrics are clever, downright hilarious sometimes. He reminds me at times of a clean and sober(ish) version of Jack Black of Tenacious D. More appropriately, although retrospectively since Keller was around first even if I hadn't heard him first, I suppose Tenacious D reminds me of a dirty, drunken version of Keller Williams. As many people will laugh as will cheer at a Keller show.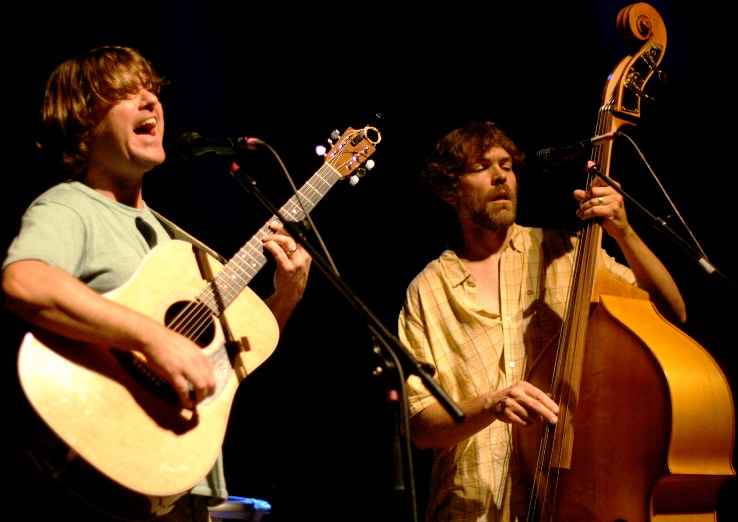 On Friday night, Keller was mostly alone on stage, surrounded by looping and delay pedals, sound effects pedals, a small mixing board, a drum machine/synth, a disembodied floating electric guitar, and a mysteriously hovering McCartney-esque bass. Oh, and a triangle. There was also the omnipresent acoustic guitar slung around his neck, where all the real magic happens. During the first set, Keith Moseley (of String Cheese Incident fame) played a bunch on the upright bass, and for one song, Keller played the upright while Keith took the acoustic guitar and sang. Afterwards Keller admitted that his respect for upright bass players, though high already, had increased, and that (low and behold!) playing the upright is harder than it looks. He did quite well though, which should be no surprise given how many other instruments he can play.
I must admit that I can't tell you what any of the songs played that night were, since I've only ever seen Keller live, and don't even know what any of his songs are called. Some of the magic must be lost in a studio recording, since part of the appeal of the one-man-band is witnessing the prowess it takes to do it all at once. I'm sure his albums are good, live or studio, but I can't imagine ever capturing the in-person atmosphere on an in-home medium. I love watching Keller run around in bare feet, monitoring himself, flipping switches, pressing buttons, and stomping down on any number of pedals, its like an advanced lesson in the performing arts. And as the sound grows and grows, fascination turns to wonder, and I find that I can't even look away. He's like a magician, and I'm worried that if I blink I'll miss his next trick. How can you capture all that on an audio disc? I for one don't believe you can.
Keith Moseley stuck around for about half of the first set. After a short break, Keller came back out alone, and really got into things. With Keith on stage, the music was largely confined to the acoustic and the bass, but Keller on his own roamed the stage and piled track over track to create elaborate and sonically rich mixes that defy categorization. Having the two sets gave us an opportunity to see two sides of Keller Williams (although there are surely several more we weren't privy to that night), both of which are appealing in their own right. The multi-person dynamic may not allow for as much multi-track experimentation, but it allows Keller's nimble fingers to show off a little and indeed both Keller and Moseley played and built off each other, giving the set an organic, free-form quality which can be lacking in a Keller-only set. I suppose this is part of the reason why Keller collaborates with so many other musicians, among them the String Cheese Incident (aka the Keller Williams Incidents) and the WMDs (with Keith Moseley on bass, Jeff Sipe on Drums and Gibb Droll on lead guitar).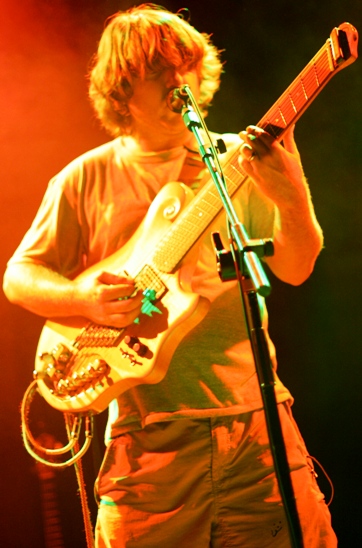 Keller's second set started off with back to back covers of "All Apologies" and "In Bloom" by Nirvana and ended with back to back covers of "The Hustle" by Van McCoy and the Soul City Symphony and "Burning Down the House" by Talking Heads, all tricked out in characteristic Keller style. As if two sets weren't enough, Keller came out and did an encore, starting with a cover of "Can't Come Down" by the Grateful Dead in honor of Jerry Garcia's birthday. Judging by the reaction of the crowd, I'd say that on that night, Keller Williams was everyone's absolute favorite musician - an exaggeration certainly, but probably not by much. Keller's light hearted (and bare-footed) style puts everyone in a good mood, his innovative technique is sure to elicit wonder, and you just can't help but laugh out loud at his antics and sense of humor. Possibly better than any other anti-depressant on the market today, its just too bad you can't put him in a pill.
Keller will be performing next weekend (on August 16th) at the three-day Yarmonygrass festival in Copper Mountain, Colorado, with more dates around the country to follow. Check out his website for a complete list of tour dates.
To see more photos from this show, including possibly yours, please visit the Gallery.