On day 2 of my Magical Mystery Weekend I found myself somewhere I'd never been before – the shower. Wait, I mean Owsley's Golden Road in Denver, Colorado. Exactly what a little venue in a big city should be, Owsley's screams character from every angle. From the broke-ass stone edifice and multiple staging areas to the comfortably lit outdoor patio and a laxity towards the rules that the DEA might not entirely approve of, Owsley's is like a little slice of Amsterdam – completely laissez-faire. The biggest appeal to me was the two stages, set up so that the music never stopped once it started. As I stood at the back of the ancillary stage and waited for Steve Kimock and the gang to set up, I watched the heads and hippie-chicks dance the dance of lowered inhibitions amidst the multicolored flashing lights and tunes of an electro-funk band called BoomBox.
BoomBox was as much a visual treat as an auditory one, incorporating elements of the Glam Rock movement into the psychedelic framework that so pleased the slightly intoxicated. Feather boas, Technicolor dream pants, a fuzzy green hat, a pedal board that would make David Gilmour jealous and a left-handed Stratocaster strung for a right-handed person characterize singer/guitarist Zion Rock Godchaux (is that a Glam Rock name or what?). DJ and producer Russ Randolph seemed less concerned with appearances and more concerned about creating the rich soundscape and dance beats that frame Godchaux's lyrics and straight out of the 70's style of funk guitar. If you closed your eyes, you'd probably believe that there were more than just two people on stage. It was an entirely different kind of show than the one that was about to transpire.
The main stage was mostly full before Steve Kimock and friends came out, including several people who had been camped out at the very front since the place opened. The lights were basic yellow, and there was none of the showiness that BoomBox had brought with them to the stage. Steve Kimock, Bobby Vega, John Molo and Melvin Seals were coming to the end of their three night jam fest weekend at Owsley's, and although I didn't ask anyone about it, there were a great number of people who had a look about them like they'd been there before, possibly for each of the two previous shows, and were back for one last helping before their food for the mind was taken away. On Sunday the band was joined by guitarist/vocalist Ray White, who had canceled out of the Friday and Saturday shows, and had been replaced by superstar singer/songwriter Joan Osborne.
Though it kills me to play the role of dickhead in the room, I forced my way through the fray to the front and carved myself out a tiny nook from which I could observe as well as listen. The performance had all the dizzying highs and terrifying lows of an acid trip, which seemed appropriate given the crowd, many of whom were glassy eyed and dressed head to toe in tie-dye and hemp. Cool, drawn-out grooves turned into epic guitar solos the likes of which made the hair on the back of my neck stand up, and at times, the roller coaster ride that was KVMWS had nearly every eye in the room closed and every body swaying back and forth, including the eyes and bodies on stage. You know there's something special about a performance when you don't even need to watch it to enjoy it.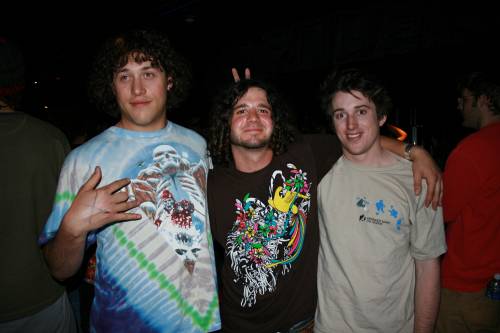 The true test in my mind of whether or not a jam band is worth its salt is how time is perceived while the jam unfolds. If I end up zoning out, or checking my watch before the song ends, than something has gone awry. I had this sensation on a few occasions during day 1 of my Magical Mystery Weekend (watching Medeski, Martin & Wood), but on Sunday night, the passage of time was completely irrelevant. When KVMWS ended their first set, it felt as though they had only just started. I made my way back out to the patio with everyone else to grab some air. The atmosphere on the patio was one of post-excitement euphoria, analogous only to the feeling you get after sex, and all the more powerful since we all new that more music was on the way. Indeed, for the music junkies among us, the good times had already begun to roll again as BoomBox retook the ancillary stage. There was no opportunity to come down from Kimock's performance, and I found myself wandering once more amidst brightly colored flashing lights and dance club beats.
By the time Kimock et al. returned to the main stage I was completely stoned on music, and exhausted in a way that made everything seem soft and fuzzy, and two inches farther away. I began to plan excuses for why I wouldn't be going in to work tomorrow morning, knowing full well that I would never get away with it.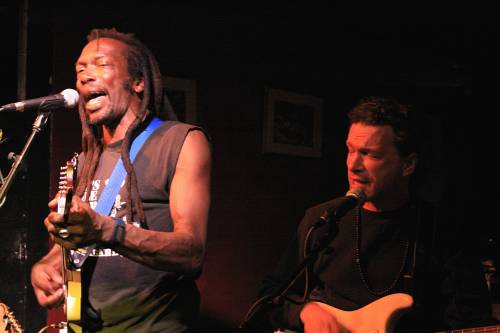 Coming up next: Day 3 of Sam's Magical Mystery Weekend featuring Birds of Avalon and the Raconteurs.
More photos from this show can be found in the Gallery and on my Flickr page.
To read Part 1 of my Magical Mystery Weekend, click here.