Thursday night was an exhibition of local talent at the Boulder Theater, and Yours Truly does what he can to get the word out about local talent. Four Denver area bands heated up the stage, each bringing a unique and innovative flavor that I find to be too often lacking in the Big Name touring company bands. True to the Indie Rock tradition, you'll probably never hear any of these guys or girls on mainstream radio, but their ever-growing fanbases reminds us that media attention is not a prerequisite to stardom. Small-scale fame is still fame after all, even if it doesn't come with millions of dollars and a Reality TV contract. Maybe its for the best, I hate Reality TV.
The Wheel (aka Nathaniel Rateliff, also of Denver-based band Born in the Flood) got the ball rolling, filling the theater wall to wall with nothing but his powerful voice and an acoustic guitar. Unfortunately, I was stuck in the will-call line, and missed all but the last two songs, sorry Nathaniel. My impressions were good, however brief they might have been, and the audience definitely approved.
Paper Bird, who brought with them possibly the most eclectic collection of instruments and performance props that I've seen at a show in recent memory, was a huge fan favorite, and for good reason. The band regularly consists of acoustic guitar, banjo, trombone, and three vocalists, synergized to create a truly one-of-a-kind sound that is at once folksy, jazzy, rockin' and theatrical. Added to this particular night's performance were a violin and an upright bass, providing a touch of eerie atmospherics that lifted Paper Bird to a whole new level of sonic complexity and richness.
I first read about Paper Bird in the local newspaper, and was intrigued by what I read. But for me, intrigue comes coupled with the nagging fear that I might be disappointed when events don't live up to my hopes and expectations. Innovations in the world of music are always born into thin air, poised to either fall to the ground with a sickening splat or to stay afloat and possibly fly higher. As it turned out, I needn't have worried. Paper Bird may not yet have reached the peaks of flight, but they're definitely not a stain on the pavement. Although they weren't headlining the event, Paper Bird turned out to be the talk of the town Thursday night. When they left the stage, they managed to keep the spotlight, and as I walked about the theater, whispers and exclamations about the band abounded long after they were gone.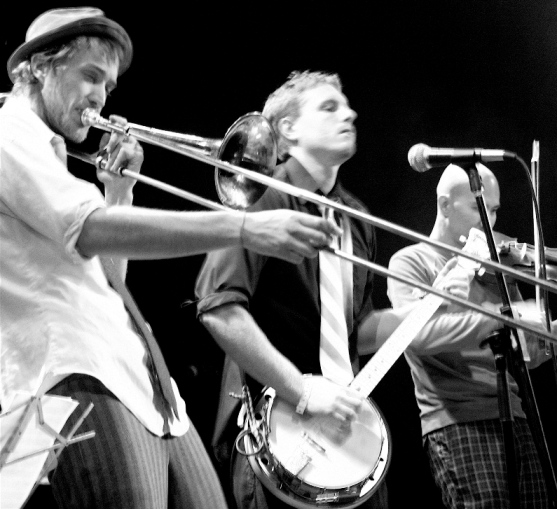 What everyone seemed to recognize was that they were witnessing something remarkabley innovative and altogether different in Paper Bird. Here you have a band which is in no way confined by the typical notions of what a band should be, from their choice of instruments and the puppet show that accompanied one of their songs, right down to the handmade t-shirts for sale out in the lobby. Three beautiful voices acting as one, a trombone substituted for lead guitar, and the occasional insertion of a rhythm section that consists of some wooden-spoon-on-metal-mixing-bowl action - you have to see it to believe it.
Paper Bird brings an air of down to earth personality to the stage with them, and I imagine that the group's practice sessions are similar to their live shows: just a bunch of individuals coming together not to blow anyone's mind, but with the singular goal of doing something that they love. The intra-band camaraderie and fun loving attitude personified by the group spills out and is absorbed by the crowd, and there is the distinct sense that Paper Bird could just as well be playing in your own living room, and not on stage to hundreds of people. These fledglings birds may still be testing their new wings, but already they show a potential that goes above and beyond their small time roots.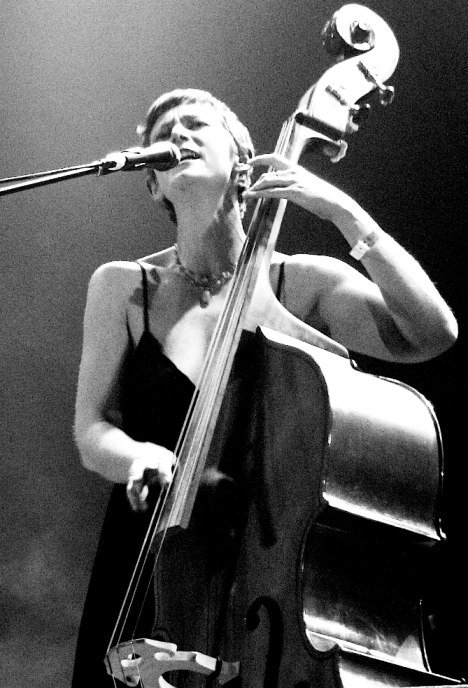 Bela Karoli, whose album "Furnished Rooms" was named best local album of 2007 by John Wenzel in the Denver Post, followed Paper Bird. Driven largely by a string section composed of standup bass, violin, and cello, Bela Karoli brings together a mix of night club style jazz, progressive indie rock, quasi-psychedelic harmonies, and hypnotic electro-beats, all of which reminds me vaguely of bigger names like Beth Orton or Radiohead. That comparison is not entirely fair, however, since Bela Karoli's sound is undoubtedly their own, both mechanical and organic, but undeniably alive and kicking (like a cyborg!) - you have to see it to believe it. After hearing them perform, its not hard to imagine why they're favorites of the local music scene.
Those who came for The Wheel, Paper Bird or Bela Karoli stayed, and were joined by legions more for Gregory Alan Isakov's performance. The first thing that came to my mind while I listened to this singer-songwriter and his powerfully emotive voice was that about half of Gregory Alan Isakov's songs might make someone like Damien Rice recheck his catalogue to make sure he didn't write them first, while the other half would surely make Damien Rice extremely envious that he hadn't written them. Seriously, you'd have to see it to believe it. In the mood for another comparison? How's this: Gregory Alan Isakov could have easily filled the roll played by Glen Hansard in the movie Once, had it been filmed in Colorado and not in Dublin, Ireland. Sometimes he's alone, sometimes he's backed by strings and drums, but he's always sincere, always dramatic, and always good. Drawing these sorts of comparisons puts Gregory Alan Isakov among good company, both lyrically and musically, and even if there isn't anything terribly groundbreaking about Isakov's work, he does what he does tremendously well, and his rapport with his band, the Freight, made their performance as soulful as it was exciting.
All of the (local) bands I've mentioned are touring nationally, and all have websites on MySpace. Look them up, have a listen for yourself, and see them if they come through your town. Would I want to see them all again? Only about as much as I'd want to watch any given episode of the Simpsons again (that means yes). Unless its the episode where Marge gets a boob job, I hate that episode, but of course, you'd have to see it to believe it.