The Love Load | Three On A Match | Review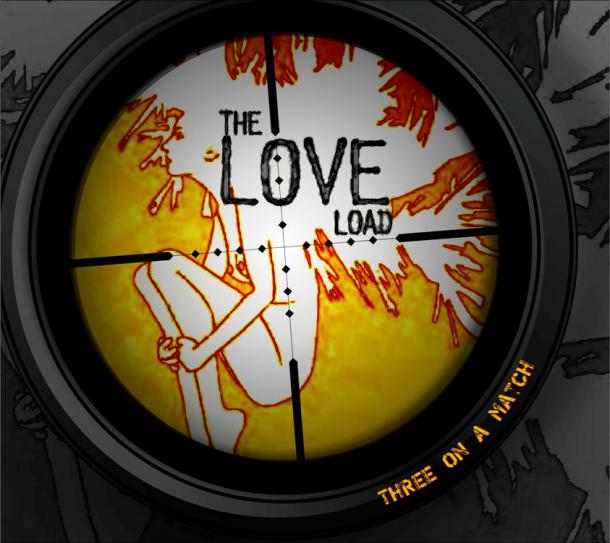 Washington D.C. power trio, The Love Load, has released a four song e.p. entitled "Three On A Match" following their internationally acclaimed debut, "The Human Resourceful". This second release sees the group both coalescing as a true band with Ted Watts handing over all the guitar reins to Blaine Misner ( who also produced, mixed, and recorded the record aided by assistant engineer William H. Waikart III) and regressing into punk aggression served up on a soon to be release 33rpm 7inch complete with a digital download card.
"Three on a Match" is the latest release from 3 piece Washington DC based 3 piece band "The Love Load" (2012). I would describe TLL as: darker, denser, more complex than most Alt-Rock bands out there right now with infectious poppy hooks, harmonies and better than average playing.
"Three on a Match" is not their debut release and it has much to commend it. Admittedly, there is a whole lot of variety to these arrangements and performances. First: The impressive band Ben Azzara – Drums, Blaine Misner - Guitar and Vocals, Ted Watts - Bass and Vocals delivers rock solid playing like a well oiled machine. This is testament to hundreds of hours of rehearsal time no doubt. Second: Vocals by Watts hit the mark remarkably well within the context of this catalogue. Third: their sound and amazing songwriting touch is action packed. In fact one could classify TLL as a four genera artist: Progressive, Alternative, Hard Rock and even a dash of Punk. All songs are a skillful combination of all the aforementioned genera's. Music will remind you of Jon Foreman, Kutess, Hawk Nelson and Falling Up. TLL have the power and songwriting prowess to be extremely dangerous. There's also a unique quality to this catalogue that breaks the mold when compared to the overly predictable, forgetful rock that's been filling the airwaves lately. What am I trying to say – well let m start by saying there is nothing predictable and forgetful about The Love Load. Not every square inch is filled with musical ambience delivered under duress – but musical space this allows the music to breathe on its own with passion that cannot be faked. Equally as impressive is how marketable this band is as they have effectively found the voice for all frustrated Prog-Rock fans out there.
Bottom Line: I've always said if you can play it a party, then it's marketable. The music is extremely marketable - with a raw sound that is passionate and entertaining very much like the band. All 6 tracks will genuinely rock your world, shake the tree and lift your spirits unlike most music you hear on the radio these days.