Lubriphonic February Tour Announced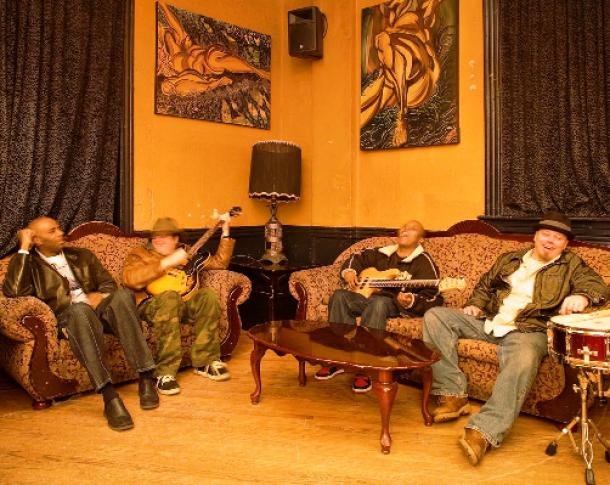 The Chicago, IL based Lubriphonic is heading out west, with stops through the Midwest, for a string of Colorado dates this February. With high intensity live performances and a searing stage presence, the quintet mixes elements of rock, soul, funk and groove into a silky smooth auditory experience not to be missed.
Mixing five individual, yet equally skilled touring musicians, Giles Corey (vocals, guitar), Richard King (drums, percussion), Joewuan Scott, (bass), Ron Haynes (trumpet) and Johnny Cotton (trombone) collectively make up Lubriphonic. Having toured with the likes of Koko Taylor, Buddy Miles, Otis Rush and Lenny Kravitz, the quintet blends pure talent with years of experience to create an original and exciting project. Dirty guitars, blistering leads, groovy rhythms, punchy bass, soulful vocals and razor sharp brass are trademark Lubriphonic.
Watch the funk out for these upcoming tour dates:
02/12 – The Gramophone – St. Louis, MO
02/13 – Port of Wichita – Wichita, KS
02/14 – The Bottleneck – Lawrence, KS
02/15 – Bar Fly – Omaha, NE
02/17 – Jazz @ Jack's – Denver, CO
02/18 – Gunnison Brewery – Gunnison, CO
02/19 – Snake River Saloon – Keystone, CO
02/20 – Alma's Only Bistro – Alma, CO
02/21 – Bubble Lounge – Telluride, CO
02/23 – Three20South – Breckenridge, CO
02/24 – Fox Theatre – Boulder, CO
02/25 – The Goat – Keystone, CO
02/27 – The Eldo – Crested Butte, CO
02/28 – Dulcinea's 100th Monkey – Denver, CO