The Mad Tea Party Jam Announces 2014 Lineup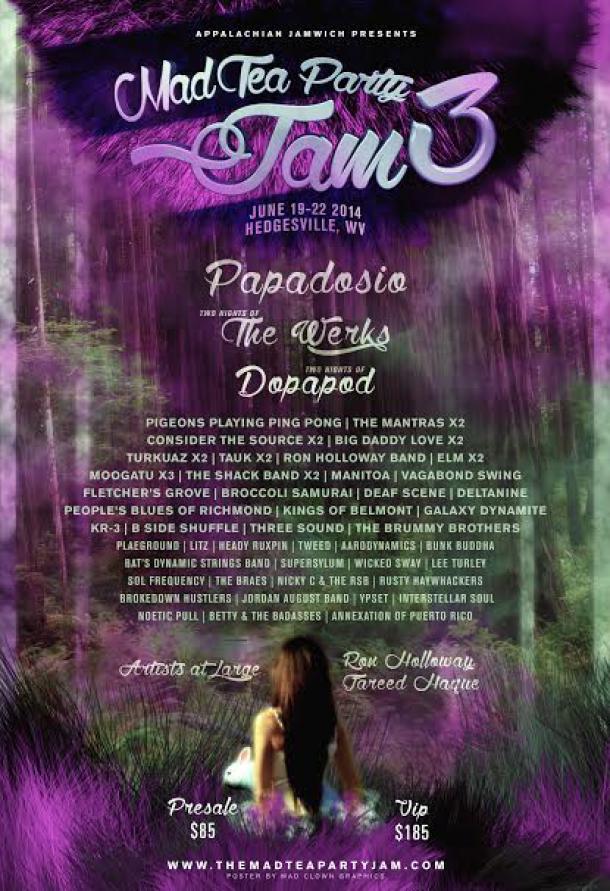 The third annual The Mad Tea Party Jam, presented by Appalachian Jamwich, takes place June 19-22 in Hedgesville, WV.  The music and arts festival will be headlined by Papadosio, two nights of The Werks, two nights of Dopapod, Pigeons Playing Ping Pong, The Mantras and more.
The event will host multiple stages, an electronic dance tent, and late night music to 5AM and later.  The arts will also be a prevalent component to the experience and patrons can enjoy looking through a transformative art gallery, exploring art installations, and watching live art being created before their eyes at the main stage.  The optical delights don't end there, because each night the crowd will transform into outlandish characters for our nightly costume contests and Friday night's Futuristic Burlesque Fashion Show.  Fire performers will be lighting up the night sky, hoop troupe performers will make LED lights melt before your eyes, and aerial performers will hang gracefully from the stage. Workshops teaching how to hoop, do yoga, play guitar and more will also be available to enhance your experience at the festival.
The Mad Tea Party Jam takes place on beautiful land with two ponds, a stream and swimming hole. Also on the property is a Bavarian style villa and stone courtyard that hosts the VIP/Artist area.  The intimate environment allows musicians to roam the property and rub shoulders with attendees.  The magical venue and kind vibes bring us together to love one another and transform our energies into a single creative collective.
General admission tickets are currently at their 2nd tier price of $85 and VIP tickets are available for $185.  A limited amount of tickets at this tier are available and may sell out.  VIP tickets include preferred camping with the bands, VIP hospitality area, 3 private acoustic sets by bands T.B.A., T-shirt, poster, and laminate.
The official lineup includes some of the most talented, fastest growing bands in the Northeast Jam Scene:
Papadosio
The Werks - TWO NIGHTS
Dopapod - TWO NIGHTS
Pigeons Playing Ping Pong
The Mantras - TWO NIGHTS
Consider the Source - TWO NIGHTS
Big Daddy Love - TWO NIGHT
Turkuaz - TWO NIGHTS
TAUK -TWO NIGHTS
Ron Holloway Band
E.L.M. - TWO NIGHTS
Moogatu - THREE NIGHTS
The Shack Band - TWO NIGHTS
Manitoa
Vagabond Swing
Fletcher's Grove
Broccoli Samurai
Deaf Scene
DELTAnine
People's Blues of Richmond
King of Belmont
Galaxy Dynamite
KR-3
B Side Shuffle
Threesound
The Brummy Brothers
Plaeground
LITZ
Heady Ruxpin
Tweed
Aarodynamics
Bunk Buddha
Bat's Dynamic Strings Band
Supersylum
Wicked Sway
Lee Turley
Sol Frequency
The Braes
Jordan August Band
YPSET
Interstellar Soul
Noetic Pull
Betty & the Badasses
Annexation of Puerto Rico
ARTISTS AT LARGE:
Ron Holloway
Fareed Haque
Fans can find more information and order tickets at www.themadteapartyjam.com