Mama's Cookin' to Play A String of Colorado Shows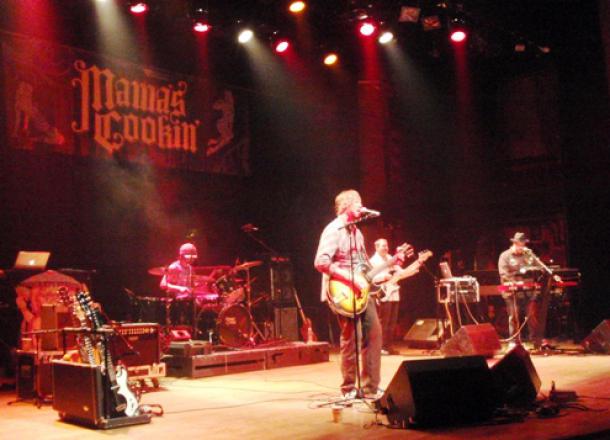 Mama's Cookin' returns to Colorado in June to bring the heat as only they can for 10 shows for the state that gave birth to the band. Mama's Cookin has become one of Colorado's favorite group of rockers and this tour finds them playing renowned venues and festivals including a headlining slot at the South Park Music Festival and two huge shows at The Fox Theater in Boulder and at Owsley's Golden Road in Denver. As the Denver Post said in a review of a Mama's Cookin' show, "You have to see this band."
Their effortless melding of blues, soul-driven rock and hip-hop has propelled the band to the point that their upcoming stops in mountain towns are charged with expectations of bigger things to come. June shows include Breckenridge, Durango, Silverton, Crested Butte, Salida and Grand Junction. This band is truly not to be missed. Aggressive and in-your-face at times, yet subtle and eloquent at others, Mama's Cookin' puts on a show like no other. Original sounds are generated from the obliteration of genres and the mixing of styles, making Mama's Cookin' true pioneers.
Zebuel Early's vocal style is refreshing yet gritty, rolling in hip-hop rhyme with down-south delta blues. His voice is inviting and flowing, but it's his slide work on the guitar matched with ranging and very technical riffs that make him the supreme lead man. Responsible for bringing groove to the equation, Eric Matlock manages the keyboards and Steve LaBella funks it up with the four-string, taking the hard-rock sound down home into the realm of dirty funk. The band's impeccable timing and fluidity can be traced back to the incredible chops of drummer Mike Adamo.
Their 2008 self-titled studio release won the hearts of music fans across the country as being nearly flawless and innovative. JamBands.com named the album the 12th best of 2008 and the album is finding national traction on the radio, indicating this is not a jam band. Mama's Cookin' has huge momentum and is looking at their shows at The Fox Theater in Boulder, Owsley's Golden Road in Denver and their headlining gig at the South Park Music Festival as a hint of what is to come. Get on board and see what the buzz is all about. These boys will rock you socks off and fill the dance floor with people ready to throw down with some Colorado-style raging.
For more information and tour dates, visit: Mama's Cookin MySpace and Website.
Tour dates:
06/11 – Owsley's Golden Road – Denver, CO
06/12 – three20south – Breckenridge, CO
06/13 – Animas River Days – Durango, CO
06/14 – Silverton Jamboree – Silverton, CO
06/17 – Center for the Arts – Crested Butte, CO
06/18 – Rotary Amphitheatre, FIBArk Whitewater Festival – Salida, CO
06/19 – Mesa Theater – Grand Junction, CO
06/25 – The Fox Theatre – Boulder, CO
06/27- South Park Music Festival – South Park, CO