Mimi Fishman Foundation Auction | August 2010
Submitted by mike on Fri, 08/27/2010 - 21:43
The Mimi Fishman Foundation just launched an auction are hosted for our friends at Conscious Alliance which features a handful of signed posters from bands such as String Cheese Incident, Widespread Panic, Disco Biscuits, Umphrey's McGee, STS9, and Phil Lesh. Also included is a Jam Cruise 6 poster with tons of sigs. Check it out here.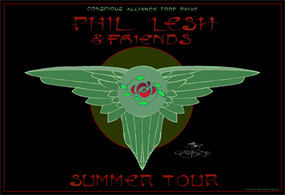 In addition the Mimi Fishman Foundation just announced several donations made by the Foundation.
$12,500 to the Phish''s WaterWheel Foundation
$2,500 to The Delta Gamma Center
$2,500 to Lincolnville Central School
$1,250 to Burlington''s Women Helping Battered Women
$1,250 to Lake Champlain Land Trust
$1,250 to The People Place
The Foundation has now donated over $390,000 since it's inception 12 years ago. A huge thanks to all your support over the years!!!