Perhaps the greatest thing about music is that it knows no restraints. Musicians explore this vast territory to varying degrees, and with varying levels of success. Some choose to specify, and others choose to generalize. The term "genre" has less and less significance all the time, obvious when you look at the staggering number of sub-niche's we need to describe just rock and roll. Alternative, progressive, pop, punk, funk, fusion, indie, etc., etc. Then there are bands like My Morning Jacket, who are none of the above.
Earlier this year, My Morning Jacket released Evil Urges, their fifth studio album. In the biz for about ten years now, My Morning Jacket have worked their way up from obscurity, and might even be bordering on household name status due in part to glowing acknowledgements like the one in Rolling Stone Magazine declaring frontmen and guitarists Jim James and Carl Broemel to be "guitar gods." Crafting an interesting mix of everything from psychedelic to country, and renowned for their exciting live show, My Morning Jacket certainly deserves all the praise they have received of late.
Evil Urges is a bold testament to the human condition of inner conflict and desire. A line from the first song, and title track of the album, pretty much says it all: "evil urges baby, they're a part of the human way." The tone of the whole piece is set from the very first track, and in some ways, Evil Urges (the song) is fairly representative of the album as a whole, with a definitive mood, atmospheric and reverb-heavy lead guitar, sudden changes in rhythm and overall sound, and the characteristic Jim James falsetto howl. Touch Me I'm Going To Scream, parts I and II come near the beginning and end of the album, sharing a few lines, but with vastly different composition and effect. Part II is perhaps the closest thing to house music that My Morning Jacket has ever done, and is one of my favorite songs on the album.
Highly Suspicious is another of my favorites, featuring a voice and drums verse, with a hard rocking, one-chord chorus that is somewhat reminiscent of German heavy metal, with Carl Broemel contributing some menacing backup vocals. The lead guitar in Highly Suspicious is one of the dirtiest on the album as well. I'm Amazed is the song that's getting played on the radio a bunch, although if you put My Morning Jacket into your Pandora radio playlist, you'll get all kinds of good stuff, including some demos and live material. The band shows of its Kentucky country roots in I'm Amazed, reverting briefly to poppy rocking guitar licks in the bridge. Thanks You Too! sounds to me a little like soap opera music, and the lyrics are almost as sappy. The saving grace in this one is the lead guitar part (notice how I keep mentioning the greatness of the guitar). And I'll admit, I like the line "you really see my naked heart, you really brought out the 'naked' part." Some of the soulful country side of My Morning Jacket comes back into play in Sec Walkin, which also has a bit of a lullaby quality mixed in with the almost voice-like lap steel guitar that gives the song much of its country sound. Two Halves turns back the clock a little, with a Beatles-esque old pop vibe.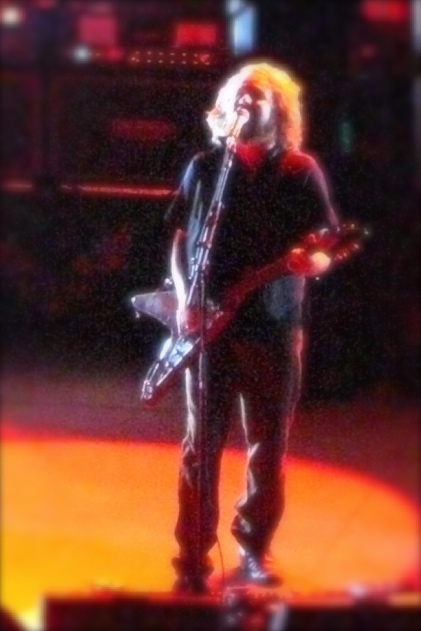 Librarian is another of the album's best, honestly emotional, sexy, touching, and sorrowful all rolled into one. The track builds up from Jim James finger picking and singing alone to an intricate fabric of moody sounds by the end. As I recall, this song killed, especially with the ladies, when I saw My Morning Jacket at Red Rocks last month. In addition to its appeal by way of sexy librarian references, I also love the line about how "since we've got the Inter-webs, these never get used," referring to the books in the library where the sexy librarian works. Look At You is an optimistic examination of inspirational forces, with a bit of a southern rock twang to it, and is followed by Aluminum Park in the Ramones-style. My Morning Jacket turns up the volume all the way one last time with Remnants. High energy, with crunchy hooks, and an anti-establishment, anti-"empire" rebel sound, Remnants might be the most overtly political song on the album, although not glaring in its intent. Smokin' From Shootin' leans more towards the introspective, and also features the atmospheric, voice-like lap steel, which contrasts nicely with the thicker, dirtier lead guitar. The constant, driving beat moves the song along well, even if many other aspects of the song are mellower. As Smokin' From Shootin' ends, it transitions deliciously into Touch Me I'm Going to Scream Part II, which has the best beats on the entire album, and is, as I hinted at earlier, an interesting blend of house and rock and roll. The distorted guitar, dance beats, and synthesizer mesh together for seven minutes of rising energy, followed by another minute or so of trance-like dénouement, capped off with 5 seconds of noise, and the words "okay, cool" (technically the last track) to close the album.
In truth, it is quite difficult to classify anything that My Morning Jacket has done, and comparing them to works of the past, even as a reference tool, doesn't really do them justice. What ever you want to call it, they are doing it well. With little exception, Evil Urges is a solid album. It exemplifies the a-little-of-this, a-little-of-that, genre-defying style that My Morning Jacket has made their own. I give it an A.