Few venues in the world are finer places to see live music than Red Rocks Amphitheater in Morrison, Colorado. On a clear summer night under a bright moon with a cool breeze, few places are finer to be, period. It is a venue ideally suited to big sounds and bright lights, as both of these will inevitably play upon and dance between the sheer vertical red stone cliff faces. True fans, and it doesn't matter of whom, show up early and tail gate in the parking lots, soaking up the sun and self-medicating themselves in preparation for the spectacle. On Thursday, August 21, My Morning Jacket played Red Rocks, supported by the Black Keys. Both bands have only recently garnered any mainstream attention, and what attention exists is fleeting, and each has yet to become a household name, but persistence and growth is a quality shared by both. Having worked their ways up from obscurity over a great many years, and churning out quality work in the studio along the way, both My Morning Jacket and the Black Keys have built large cult followings, and each seems primed to explode at any minute.
These are two of my favorite bands in recent memories, and playing at my without-a-doubt favorite venue. The prospect of such good fortune seems almost too good to be true. But alas, it's amazing the way a day job can ruin so many good things for a person, and by the time I made it to the amphitheater, just at show time, all the best seats in the front row were taken. After searching high and low, mostly low, I found a place to squeeze in near the soundboard. The view wasn't bad, and near the boards is where the sound is supposed to be the best, so I guess I cannot complain. At least I wasn't in the nosebleeds.
The sun had gone behind the mountains by the time the Black Keys began to play, but the sky was still bright, so a light show was out of the question. Not that I could picture it anyway. Part of the Black Keys' technique is simplicity. One guitar, one drum set, two people; no more than is needed. Drawing on a range of musical influences, from Jimi Hendrix to Buddy Guy to the Rolling Stones, the Black Keys fit into the style we currently think of as "rock revival," in which the trend is towards the roots of rock and roll, rather than its modern experimental cousins. A light show would feel out of place for a band that sounds best in a dingy, smoke filled bar, and in fact, Red Rocks itself almost seemed too big for them. But for only two people, they can crank out a pretty big sound. Guitar screaming and drums pounding, the duo kicked out their down and dirty brand of rhythm and blues as hard as they could, to a sizable audience, large for an opening act.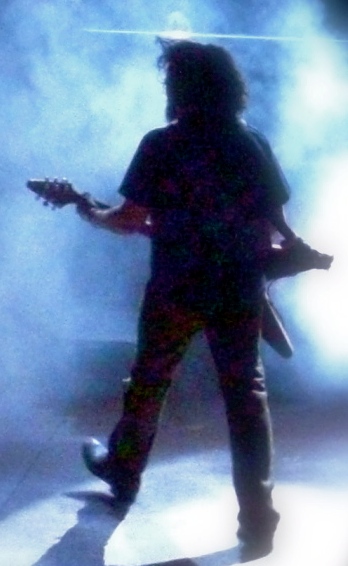 It's amazing what cult status can do for a band, not that the Black Keys don't deserve all the fans they can get. A great many people showed up early to see the Black Keys take the stage, and were not disappointed. Theirs was a hard hitting, high energy set, and an interesting antithesis to the main act, which would be complex, experimental, and genre defying. Included in the set list was a bunch of older songs, like "10am Automatic," "Stack Shot Billy," and "Girl is on My Mind." They played a bunch from their new album Attack and Release as well, among them "Strange Times," "Same Old Thing", and "I've Got Mine." The album, put out earlier this year, was produced by Danger Mouse (most currently of Gnarls Barkley fame) of all people, a guy without much of a reputation for simplicity. It is an interesting match up to be sure, and Danger's influence is fairly obvious, but the album is definitely worth a listen, and definitely still the Black Keys.
My Morning Jacket is renowned above all else for their live shows. Thrilling, I've heard, but until Thursday night, I didn't know just how much. My Morning Jacket is one of "those" bands, the kind that attracts a fairly eccentric crowd. Let me explain: within five minutes of leaving the car in the parking lot I was offered magic mushroom chocolates by no less than two different parties, and weed brownies by another. My Morning Jacket also played the late late late night set at the Bonnaroo Music and Arts festival this year, a spot in the lineup that is somewhat famous for its high attendance by experimental brain chemists and mental existentialists, and has featured the likes of the Flaming Lips, Sound Tribe Sector 9, and Trey Anastasio. Let's just say it's a full body experience with My Morning Jacket, whether you want it to be or not. The lights went out, and some old timey jazz came on the PA system. After what seemed like an age, the band trickled out in the dark to pick up their instruments. The lights flared up big and bright, and simultaneously Jim James leapt into the air and struck the first chord, backlit by white light and fog. My Morning Jacket had landed.
The problem with trying to describe My Morning Jacket is that you can only do so by referring to what's already been done. Paradoxically, My Morning Jacket is out there on the edge, at once like and vastly unlike everything you've ever heard before. There are songs that sound kind of like psychedelic rock, songs that are kind of like dance music, songs that are kind of like southern rock or jazz or country, and even songs that are kind of like German heavy metal. What's the word for that? Is it 'original?' I think so. The new album, Evil Urges, is a perfect example, and if it doesn't live up to the energy and raw emotion of My Morning Jacket live at Red Rocks, well that's the way it should be. Who wants to go to a concert to hear exactly what they can hear at home where the beer is cheaper at the seats more comfortable? I suppose I haven't got any sandstone, but whatever. In any case, My Morning Jacket outdid themselves, playing long and loud and with exceptional intensity.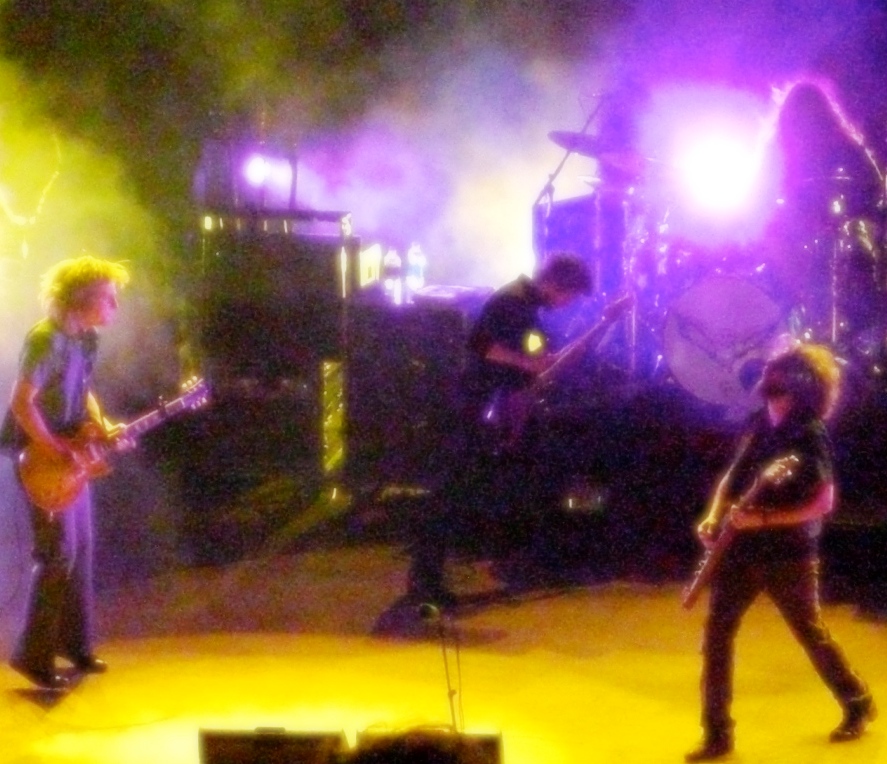 Although Jim James is the voice behind the group, writing most of the songs, and playing lead guitar, guitarist Carl Broemel is nearly as exciting to watch. The two of them trade off on lead guitar, and each has their own unique style. Broemel also plays the lap steel and saxophone and sings backup. They complement each other well. In fact the whole band meshes well, keys, bass, drums, guitars, everyone. And man, did they like it at Red Rocks! Jim James came close to gushing on several occasions, praising the wonder and energizing power of the natural red stone amphitheater. After beginning with three older songs, "Anytime," "Off the Record," and "Gideon," My Morning Jacket got to the new stuff. Over the course of the night, they played everything off the new album, and about 20 others as well. Excellent renditions of "I'm Amazed," "Highly Suspicious," "Librarian," and "Touch Me I'm Going to Scream" parts 1 and 2 were just a few of the highlights. Deep in the second half of their set, Carl Broemel brought out the sax for the song "Dondante" to immense applause. After a break, the band encored with seven additional songs, including the ultra-hardcore (and quasi-German metal) "Highly Suspicious." And just when you might have thought it couldn't get any more intense, My Morning Jacket launched into a towering version of "Run Thru," ending the show with an equally exciting version of "One Big Holiday."
It was a two-hour adrenaline rush, a sonic feast of complimentary sounds, lights and colors and the audience was electric the whole time, always on their feet, and always ecstatic over every moment of brilliance. With their unique approach, creative talent and massive live show, My Morning Jacket is a band that is virtually guaranteed a spot in history. It's rare when a band of this caliber and vision comes along, and as they continue to grow, we ought to feel ourselves fortunate to be along for the ride.
To see a few more photos from this show, please visit the Gallery.