NATIONWIDE BENEFIT CONCERTS for the Fishermen & Wildlife affected by the Gulf Coast Oil Spill
Submitted by press on Thu, 06/17/2010 - 03:38
On July 1st, 2010, a nationwide effort on behalf of independent club's will take place to benefit those directly affected by the Gulf Coast Oil Spill. We are all aware of the severity of this tragedy to the region and the global ecosystem.  What many are unaware of, as the oil continues to gush, the  Gulf Coast communities are quickly being devastated. The local and global economy will suffer irreparable damage that will last for many years to come. The ramifications will be that many families will not be able to survive financially in the very near future (http://www.dirtycajuns.com) : (http://tinyurl.com/2g487xj).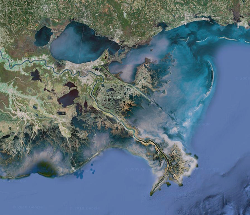 In addition to the dire situation facing the wetlands we have many people in our own back yard needing assistance.In the spirit of Independence Day, indie venues across the US are donating a % of of door revenues or ticket sales to the fishermen of the Gulf Coast and the clean up efforts. Many of our fellow Americans in the foreseeable  future will have no livelihood, are preparing to leave their homes, and are now lining up for food handouts. With hurricane season on the horizon there is reason for great concern. We've learned how essential it is to be prepared for the worst.
The funds will dispersed directly to the people in need through charity organizations directly aiding fishermen & their families, as well as those associated with wildlife relief efforts.
In conjunction with the events of July 1st, Coast to Coast will also be unifying a collective social media outreach campaign, which will be lead by Sloane Berrent (http://answerwithaction.com)
This is an opportunity for us to save lives and make a difference in an unnatural disaster of epic proportions where many want to get involved but don't know how. This is the way the music industry can help. No agenda other than working together for a common cause to raise monies and directly help the communities and support the efforts to save the wetlands and native species of the Gulf Coast.
The following venues will be participating:
The Roxy (Los Angeles, CA)
Viper Room (Los Angeles, CA)
Spaceland (Los Angeles, CA)
The Echo (Los Angeles, CA)
The Mint (Los Angeles, CA)
Fais Do Do (Los Angeles, CA)
The Comedy Store (Los Angeles, CA)
Saint Rocke (Hermosa Beach, CA)
Winston's (San Diego, CA)
Downtown Brewing Co. (San Luis Obispo, CA)
Mojito (San Francisco, CA)
Fox Theatre (Boulder, CO) - Euforquestra & Ocote Soul Sounds - Bands donating a % of all merchandise sales
Boulder Theater (Boulder CO)  -  Zane Lamprey "Drinking Made Easy" Comedy Tour
Triple Door (Seattle, WA)
Tipitina's (New Orleans, LA)
The Blue Nile (New Orleans, LA)
The Shed BBQ & Blues Joints (Lafayette, LA)
George's Majestic (Fayetteville, AR)
Neumeier's Rib Room (Fort Smith, AR)
The Shed BBQ & Blues Joints (Ocean Springs, MS)
The Shed BBQ & Blues Joints (Gulfport, MS)
Soul Kitchen (Mobile, AL)
The Shed BBQ & Blues Joints (Mobile, AL)
The Shed BBQ & Blues Joints (Destin, FL)
The Press Room (Portsmouth, NH)