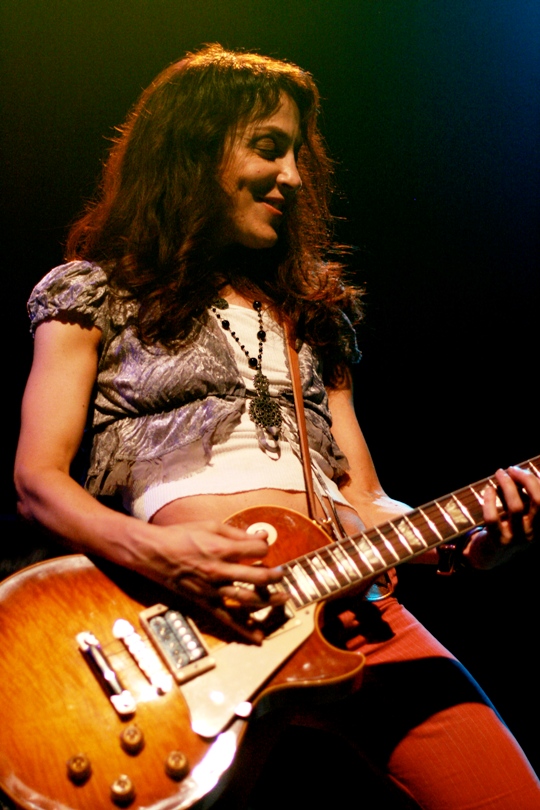 Anyone out there who might have read any of my previous Grateful Web publications, and I'm hoping there is at least one of you out there, may have noticed my slight fetish for Led Zeppelin references, analogies, and generalized words of praise. What can I say, I love the classics. Sadly yours truly was born too late in history to witness the phenomenon in person, when Led Zeppelin was really Led Zeppelin, and not a reunited troop of older look a likes. Certainly we all (or maybe just me) dream of the Zeppelin reunion tour that will satiate our desire to keep this monumental band alive and kicking, but we also must admit to ourselves that the band has lost something with time and age that can never again be recaptured by the surviving members. All is not lost, however, for the youthful, fiery spirit of one of the greatest rock and roll bands of all time lives on, reincarnated in the form of the all girl Zeppelin tribute band, appropriately dubbed Lez Zeppelin.
Hailing from New York City, Lez Zeppelin has amassed an ample following of people like me, too young to have known the real thing first hand, as well as a bounty of those who are old enough to appreciate how amazingly faithful to the original this exciting band is. Coming off a recent performance at Bonnaroo (where members of the press who hadn't read the lineup carefully apparently expected to find Led Zeppelin performing, causing a great hullabaloo), the girls stopped in Boulder on July 10th to play the Fox Theatre. Tour dates follow in Denver, Telluride, Aspen, Steamboat Springs, Beaver Creek and Bellevue, Colorado, before the band leaves the state for dates across the nation and overseas.
When I described the show to a friend he said to me that he was impressed just by the sounds of it. "You don't just cover Led Zeppelin, that's like one of the sacred cows of rock and roll." My friend is probably right. Zeppelin did it all so well the first time around that the potential for failure and letdown inherent in covering their songs is huge. But on Thursday night, it was 1969 again, and Lez Zeppelin expertly marched through the entirety of Zeppelin II, from "Whole Lotta Love" to "Bring it on Home," as well as a rich handful of extras. Their performance had an impressive effect on the enthusiastic Boulder crowd, who seemed smitten and intensely invigorated by the band's thunderous routine. Anyone who would doubt the ability of women to capture the dramatic spirit and raw power of Led Zeppelin would be a fool to do so, because this quartet of talented female musicians can rock it loud and proud with the best of them. Sarah McLellan's forceful and energetic vocals, while not as ruggedly vicious as Robert Plant's high-pitched growl, do justice to her influence, and her charisma, on-stage personality and confident swagger are characteristic of an accomplished front woman. And just as John Paul Jones did, Lisa Brigantino plays the triple roll of bassist, organist, and mandolinist (although the mandolin never made an appearance on Thursday night). Steph Paynes is nothing short of a guitar wizard, emulating Page's unique and influential style with near perfection, while Helen Destroy plays the ever-loving shit out of every beat. That last one may sound crude, but that's what rock and roll is all about!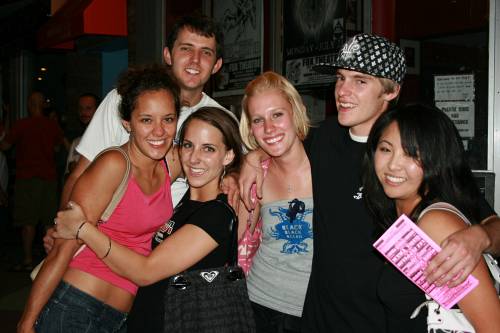 When Lez Zeppelin played Zeppelin II, they played it not as it was recorded, but more appropriately how Led Zeppelin would have played it (and did play it in their time) in front of a live audience. I may have missed the real thing, but the Internet has provided me with abundant opportunities to retrieve information from days past, and I have a healthy collection of live Zeppelin bootlegs stored on the hard drive of my computer. As a student, of sorts, of Led Zeppelin's live sound, I was able to recognize the same sorts of improvisational guitar, organ, percussion and voice fills that Zeppelin used in concert, the Celtic/folk (sound kind of like "Greensleeves") riff regularly stuck in the middle of "Heartbreaker," for example, as well as the organ solo introducing "Thank You," or expansions on the drum solo that comprises the majority of "Moby Dick" (anyone who has listened to live Zeppelin will hopefully know what I'm talking about). Attention to detail on this scale is what makes Lez Zeppelin an exciting act, and is what turns a cover band into a somewhat more unique entity, a so-called tribute band, exciting in its own right due to the energy and talent of the performers, and not simply because of the material they choose to cover.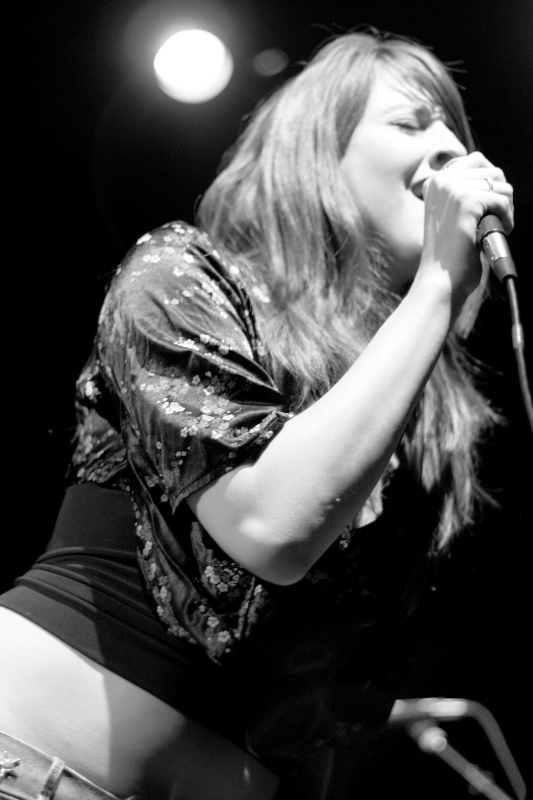 After the towering conclusion of Zeppelin II, the girls encored with a handful of other songs, including raging renditions of "Kashmir" and "Rock 'n' Roll." The crowd was exuberant, and energy was extremely high. As all four women came out to take a bow, men at the stage's edge called out the sort of infatuous words of lust that certain women use to yell at the Beatles back when they still wore their suits to perform on the television stage. There is an inherent sex appeal to rock and roll after all, and an all-girl band shredding their way through Zeppelin songs certainly benefits from such. One man had to be warned not the pound the vocal monitor against the stage as his means of insistence that the band return to the play a few more. The energy spilled into the street, and outside the theatre two men engaged in a miniature riot, in which the two wrestled violently, but in good spirits, on the pavement underneath the marquee, striking yours truly in the shoulder as they tumbled to the ground.
Zeppelin fans young and old appreciate the visceral experience that is the next best thing to the original, Zeppelin reincarnated with an extra Z and a sex change. A Lez Zeppelin show is truly something to behold, and I would encourage Zeppelin fans of all ages and eras to get out and see this act while you can. The band is currently on tour, and tour dates can be found on the band's MySpace page. And remember, see a cover band for the novelty; see a tribute band for the thrill of the experience.
Oh, and for the record, I used the word "Zeppelin" 29 times in this article.
…Zeppelin (30).
To see more photos, including yours if I took your picture at the show, please visit the Gallery.