Night Moves | 'Colored Emotions' | Review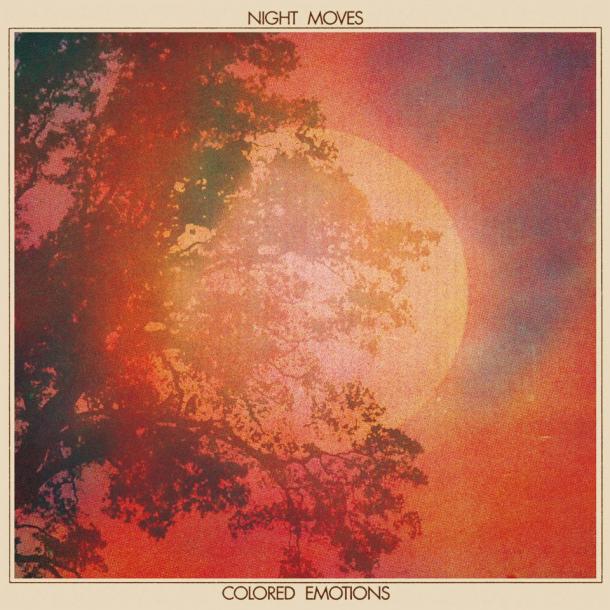 Minneapolis-based band Night Moves is drawing fans in for a number of reasons, whether it's the addicting, breezy hooks that pepper their debut album Colored Emotions; singer John Pelant's distinct, gritty warble; or even their ode to Bob Seger. Hot off a tour with Django Django, Night Moves is showing no sign of standing still anytime soon. They're gearing up to start a West Coast tour with fellow Minneapolis natives Poliça this Friday, this time with a few lessons under their belt (including the tour-mandatory "you have to be up for anything," and the more painful "tequila before beer" that we all must re-learn a few times throughout our lives).
Although they've been friends since high school, instrumental catchall Pelant, multi-instrumentalist Mark Ritsema, and bassist Micky Alfano didn't form Night Moves until 2009. They spent the next year and a half in a little shack, recording what would become Colored Emotions. (Shortly after the studio closed, Ritsema and Pelant moved into the basement, only to be forced out by black mold and spiders.) With the help of drummer Josh Evert, Night Moves released their album for free on Bandcamp in May 2011. After a few months and increasing word-of-mouth buzz, the band took their debut album down. In December 2011, Domino Records signed them and paired them with esteemed producer Thom Monahan (whose past collaborators include Devendra Banhart, Vetiver, and Beachwood Sparks, among others).
Many months after its inception, with a new title track and some fresh drum overdubs by Jared Isabella, Colored Emotions was officially released in October 2012. The final product is a delicate, decades-straddling arrangement that defies typical album elements. The album is broken up by a few would-be interludes that stand out too strongly to not be considered individually. Each snippet is meant to segue into the next song, but Night Moves doesn't need any help doing so smoothly. The 10 tracks bleed into each other seamlessly, under- and overlapping, giving the impression of one 33-minute long epic. Laced with hints of funk, psych rock, and Minneapolis twang, Colored Emotions often forgoes standard song structure as well, opting instead for looser, free form compositions that demand an intent listener to follow and understand but simply a present listener to enjoy.
Some bands take years to come into their own true sound, but Night Moves wastes no time. Although each song rolls effortlessly into the next, the beginning of each number is striking. Often, there is hardly even a note before Pelant launches into his lyrics with a gumption most vocalists should envy ("Country Queen" and "Family Tongues"). His voice possesses an earnest, endearing quality that begs you to hold on until the end. The few songs that aren't ushered in by Pelant offer commanding notes and brief build-ups with little hesitation, guaranteeing that the first second of the song is equally as important as every single one that follows. There is little preparation and no bullshit—this band knows what they want and they put it all on the table up front.
"Colored Emotions" is an exception to their opposition to build-ups, familiarizing the listener with their funkiest tune yet before Pelant drips onto the track more than a minute in. Influenced by Todd Rundgren, The Ronettes, and Mad Cliff during the making of Colored Emotions, Night Moves absorbed and lovingly reinterpreted the most striking features of their `70s idols. They employ staples of those who paved the way—an assortment of strings and keys, pulsing drumbeats, and even harmonica—but they put their own spin on an ancient sound by layering these staples with endless synth and autoharp, while Pelant's entrancing yowl slithers between genres as though they don't exist. In a sea of wannabe-Mumfords, Night Moves' Colored Emotions brings a refreshing brazenness that the music scene needs right now.
Catch Night Moves in a city near you, on tour now with Poliça.