Pearl Jam Launches "Instant Classic" Bootleg Series
Submitted by Pearl Jam on Thu, 11/08/2012 - 18:15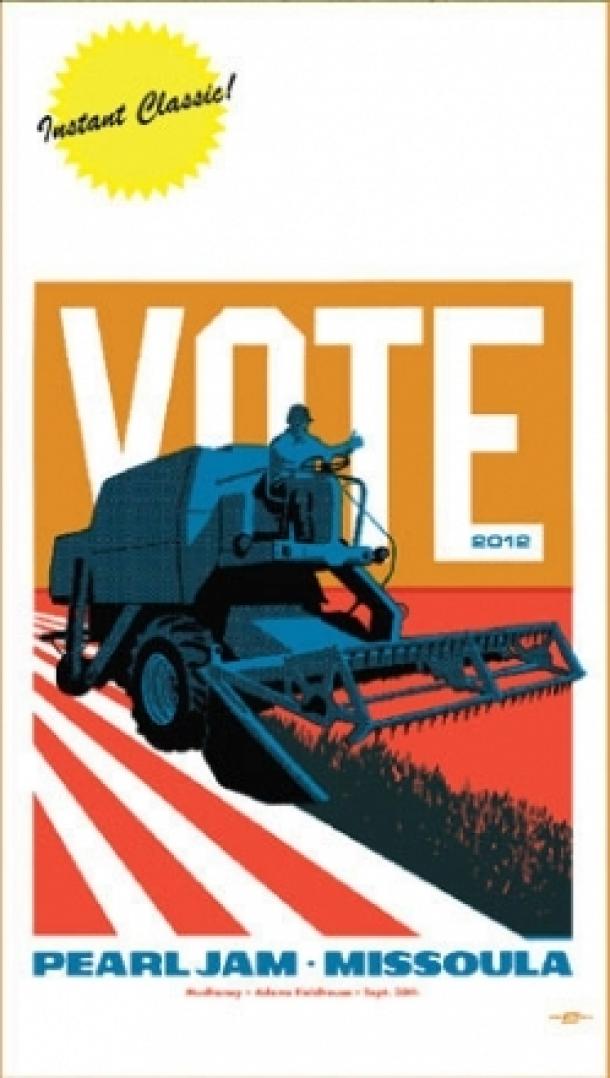 On September 30th, Pearl Jam returned for the first time in seven years to Missoula, MT to play a show. This energetic performance was in support of long-time friend Senator Jon Tester and was greeted with great enthusiasm by the Adams Center's sell-out crowd. Shortly after finishing the show, the band declared it an "Instant Classic" and asked that it be made available quickly to the fans and for a limited time at a special price.
Starting on November 6th and ending November 13th,  Pearl Jam's 2012 Missoula bootleg will be available for sale in MP3 format only for $4.99 here (normally $9.99).  During this same timeframe, the proceeds of sales of this show will be donated to The Poverello Center in Missoula.
After November 13th, all formats (MP3, Flac, FLAC-HD and CD) will be available at normal prices.
Every so often, performances like this stand out immediately as "one for the books" in the band's eyes. When they do, these "Instant Classics" will continue to be made available with this special offer.
As always, stay tuned to Ten Club for the latest.
Set List- Created by Montana native, PJ Bassist Jeff Ament.
Features:
Seated "Mini-Set" during the first part of the encore featuring Ament-penned folk tinged songs, "Low Light "and "Nothingman". Eddie keeps it going by asking the crowd "you guys okay if we stay in 'campfire' mode for just a little bit?"
Rare version of "Ghost"
Mark Arm and Steve Turner of Mudhoney join PJ during the encore for the MC5's classic "Kick Out The Jams". Ed introduces the song with "this is gonna be a hell of bootleg and wouldn't be complete with Mark Arm and Steve Turner from Mudhoney coming up here and playing with us".
Here's a video of"Kick Out The Jams" from that night featuring Mark and Steve from Mudhoney.