Phish Phamily NYE After Party w/Dumpstaphunk & Jen Hartswick
Submitted by

Anonymous (not verified)

on Mon, 11/26/2012 - 11:11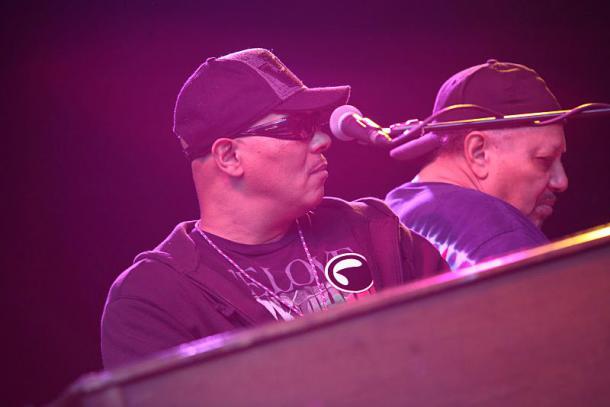 New Year's Eve with Phish at Madison Square Garden has become it's own cult holiday in the Big Apple, as are the notorious after-parties. The jamband bliss will rage long after the ball has dropped this year, when Ivan Neville's Dumpstaphunk and the Jennifer Hartswick Band host a post-Phish afterparty just a few blocks up from MSG at Stage 48. A poignant pairing, Dumpstaphunk bassist Tony Hall and trumpeter Jennifer Hartswick both toured together as members of the Trey Anastasio Band.
Anastasio and Hall first met in 2003 while Hall was recording on the Dave Matthews Band album, Some Devil. Replacing bassist Peter Chwazik in 2005, Hall toured for the next year and a half with the Trey Anastasio Band, balancing dates with Dumpstaphunk. "I had a good time playing with Trey because it was challenging," Hall said. "We rehearsed like 90 songs, and the show was always changing so musically we did a lot of different things together." Hall recalls once jetsetting from a show in Philadelphia with the Trey Anastasio Band straight to a late night Dumpstaphunk show in New York City, with Trey joining him for an unexpected Dumpstaphunk sit in that night.
No strangers to collaborations, fans at the Stage 48 rage can expect members of the Jennifer Hartswick Band, including Hartswick and trombonist Natalie Cressman, to join Dumpstaphunk on stage for a Mardi Gras style funk-for-all. "We love Jen. She plays her ass of and sings her ass off, it's gonna be a family thing," Hall said. The New Years Eve show will kick off shorty after 1 a.m. and carry into the early morning hours, with Dumpstaphunk showcasing new material from their forthcoming album, Dirty Word.
Set to drop on Fat Tuesday 2013, Dirty Word will be Dumpstaphunk's first album with new bandmate Nikki Glaspie, formerly Beyonce Knowles' drummer, on drums and vocals. The album offers 12 unmistakable tracks inspired by a barrage of old school funk, traditional New Orleans and progressive influences. The band's unshakeable charisma and monster stage presence attracted some major talent to the Dirty Word sessions, such Ani Di Franco on the album's title track, New Orleans heavyweights Trombone Shorty, Rebirth Brass Band and the Meters' Art Neville on "Raise the House" and a blistering cover of Betty Davis' "If I Were In Luck" that features Flea of the Red Hot Chili Peppers ripping the triple-bass attack.  "We can funk it out with the best of them, but we have a ton of influences," said bandleader and keyboardist Ivan Neville. "When you put 'funk' in your band's name it can limit what people think you're capable of, but this band draws from all kinds of genres. Our new record goes against type to showcase not just the funky stuff but show how all sorts of music can come together and push the boundaries of what funk music is. It's an exciting time for us, and we can't wait for everyone to hear it."
CONCERT DETAILS
Headliner: Ivan Neville's Dumpstaphunk
Opener: Jennifer Hartswick Band
When: Monday, Dec. 31 (New Year's Eve), 1:30 a.m.
Where: Stage 48, 605 West 48th Street, (212) 957-1800
Tickets: $27