Preview: Edward Sharpe & the Magnetic Zeros @ the Greek Theatre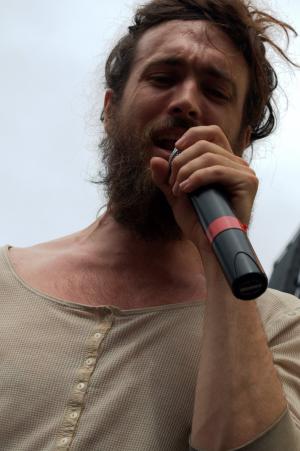 Edward Sharpe and the Magnetic Zeros struck gold with their hit "Home" from their debut album Up From Below. You couldn't turn the TV on or walk down the street without hearing the familiar melody being whistled. They recently released their second album, Here, and while one particular ditty doesn't jump out over another, it's filled with songs that will embed themselves into your brain and stay with you for weeks, through movies and meals and even other artists' albums.
Strangely enough, even though the album starts off with lead singer Alex Ebert claiming, "I'm a man on fire / runnin' through your street," there is a definite urgency missing from his voice that was present on Up From Below. He sounds more mature, more relaxed (especially in the tranquil, aquatic "Mayla"). Ebert takes a backseat on Here and lets velvety vocalist Jade Castrinos step further into the spotlight. Castrinos has a voice fresh out of Old Hollywood, with an edge no female singer can match (particularly on "Fiya Wata"). She adopts Ebert's urgent manner on Here, and coupled with Ebert's soft, knowing intonations, guides you effortlessly through an earthly, peaceful album.
Edward Sharpe and the Magnetic Zeros have nailed the modern sound of the `60s. The 10-member group combines a little percussion, uplifting lyrics about love, and a clear home-produced sound to take you back. I close my eyes when listening to "One Love to Another" and I can see crowds filling Haight Street, chanting, "One love to another / More love to discover." They keep the old school folk sound with clipped guitar and a fast-paced beat in "I Don't Wanna Pray." Carrying a similar tune but as more of a folk sing-a-long is "That's What's Up," a nod to modern day slang, heavy with adorable affection one would expect from the `60s ("You be the bird, I'll be the feather / We'll be the best of friends forever"). While in general much dreamier and less charged than Up From Below, Edward Sharpe's second album showcases every member equally. Here reminds me of an album the Manson Family could have made if they'd focused their talents in the right areas. It's the gentlest, most pleasant acid trip you have ever been on.
Edward Sharpe and the Magnetic Zeros have hit every festival and city you can imagine since they formed in 2007. Those who live in the Bay Area have the luxury of catching them at The Greek Theatre at UC Berkeley on September 7, with indie dance-rockers Clap Your Hands Say Yeah opening up the show. The Greek Theatre is an entirely outdoor venue, historic to the point of stone pillars, real stone seats, and a "sit where you want" philosophy. On clear summer nights (although I have yet to experience such a night in San Francisco), I'm told you get a stunning view of the bay and its two beautiful bridges.
Bottom line? This is a show not to be missed. Get your tickets now!