Psychedelphia: "Your listening pleasure is our pleasure"
Submitted by mike on Sat, 03/28/2009 - 05:20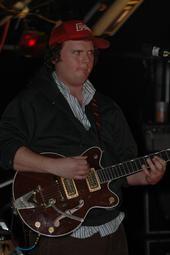 People who are familiar with Psychedelphia know to not have any preconceived notions about a show. Anything and everything can happen on any given night. From the moment the Philly based quintet takes the stage, they entrance the crowd with funky, melodic grooves that hit new heights once everyone's improvisational skills are unleashed. Kenn Mogel's guitar acrobatics provide tasty leads over the diverse array of grooves held down by Alden Parker's funky Southern Fried rhythm guitar, John Olsen's innovative bass lines, and Adam Pasqueal's masterful beats. The finished product is a combination of tight grooves spliced with free flowing interplay that is always dancer-friendly.
While on stage, Psychedelphia exercises each song to its fullest potential, stretching some to twenty minutes or more, and often ending up in a place completely unforeseen. While many bands find it difficult to accurately capture their jamcentric tendencies in the Studio, Psychedelphia, in recording their In with the New EP, has effectively reigned in the length of solo sections to create highly-arranged and tightly-crafted versions of their live staples that retain every bit of the fun and danceability of their live counterparts. The final product is nothing less than a complete group effort, with each member bringing forth equal contribution to each composition. All of the writing is done with the full 4 members in mind, which allows for each member to draw from their diverse musical backgrounds to create a synthetic amalgamation of sounds. Each song is a veritable myriad of musical genres with seamless transitions into and out of each one.
Although many people would describe Psychedelphia as a jam band, it doesn't do the complexity of the music full justice to sum them up so concisely. The music of the jam band is centered around one aspect---improvisation. Psychedelphia certainly employs improvisation into their compositions, but they effectively transcend the jam band label while adhering to the philosophy of it. By incorporating elements of funk, fusion, electronica, dance, reggae, Latin, rock, and others, Psychedelphia can, at times, be labeled as any or all of those.
While they have only been together for about 6 months, Psychedelphia has wasted no time in making a name for themselves in the Philly area. Having played late night sets at many area parties and festivals, Psychedelphia always gets the crowd onto their feet and out on the dance floor. They are currently building a catalog of original material in anticipation of a nation-wide tour in the summer and fall of 2009.