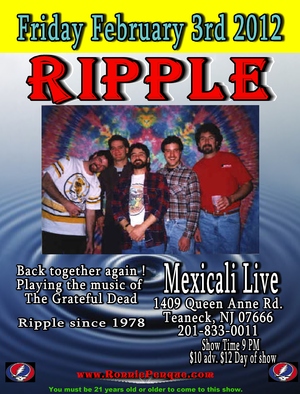 New York/New Jersey based Grateful Dead tribute band, Ripple, is set to reunite on February 3rd at Mexicali Live in Teaneck, New Jersey.
Ripple, featuring Ronnie Penque (bass and vocals), Clay Cassell (drums and vocals), James Saluzzi (guitar and vocals), Pete Nardone (keys and vocals), and Chris Penque (guitar and vocals), have been playing dead tunes in the NY/NJ area since 1978.
The New Jersey based Grateful Dead tribute band Ripple will reunite on Friday, February 3rd 2012 for a "one night only" concert at Mexicali Live. Ripple has been know for decades as one of the premier Grateful Dead cover bands in the New York tri-state area. Since 1978 Ripple has brought the live excitement of an authentic Grateful Dead show to its fans like no other. In 2003 Ripple disbanded and called it quits after 25 years.

In November of 2011 Ripple reunited for the first time in eight years for a private party in Tappan New York. 200 plus people packed into the tiny venue to witness this show. Many fans were not able to get inside and see the show. Fans are looking forward to the reunion of Ripple at Mexicali Live on February 3, 2012.