Seven Eurobar: Sophistication Without Pretension
A crowd of people fills the floor and tables of Seven Eurobar on Pearl Street.  Open since May, Seven Eurobar is already one of Boulder's popular hang-out spots.  The cuisine is Mediterranean including French, Spanish and Italian dishes.  It is a taste of Europe in the heart of Boulder.  Seven Eurobar, with its authentic fare and relaxed atmosphere, embodies sophistication without pretension.
"Sharing cuisine and culture" is Seven Eurobar's motto.  General Manager Jason Nolley, said he wants the place to be "comfortable for people from all walks of life."  The founders of Seven Eurobar have achieved this as the environment, food and wine are a cut above, and there is also a wide screen television on one of the walls.  The decorating consists of a lot of wood, brick walls, and warm orange hues.
The name, Seven Eurobar was chosen by Belgian Head Chef and Owner Michel Wahaltere because of the significance of the number seven.  "Seven is a lucky number, there are seven continents, seven seas, seven wonders of the world.  This is the seventh restaurant I have opened in Colorado."  The number seven also has special significance from Wahaltere's childhood.  Wahaltere was born and raised in Belgium.  As a child his family used to take vacations in the south of France where they owned a home.  Route 7 was the name of the highway the led south through France to the Mediterranean.
The menu, designed by Chef Wahaltere, is composed of a variety of appetizers, divided into three categories: vegetables, fish and meats. I sampled food from all three categories and all three countries.
From the vegetable category of the menu I had the Espinacas a la Catalana, a Spanish dish comprised of "sautéed spinach with pine nuts, garlic, green olives, and golden raisins."  I also ate the Alcachofas a la Plancha, also a Spanish dish, and my favorite dish of the evening, comprised of "aged manchego crusted artichoke hearts served with tarragon aioli." I sampled the fish portion of the menu and had a taste of France in the form of Gnocchi aux Crevettes – "potato dumplings with sautéed rock shrimp and lemon tarragon beurre blanc."  From the meat category, I ordered the Polpetine della Nonna, an Italian dish consisting of "classic Italian meatballs cooked in a delicate tomato ragu sauce."  It was an eclectic dinner and everything tasted great.  The four dishes together were more than enough for a satisfying meal.  Prices for these dishes are reasonable, ranging from five to nine dollars per dish.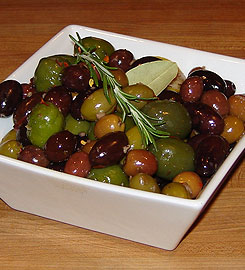 The server recommended a glass of Laboure-Roi Pouilly-Fuisse 2004 to accompany the dinner.  And, it was a perfect recommendation, and is just one of an impressive wine list to matching the diverse menu.  The wine is also reasonably priced as a glass of the Laboure-Roi Pouilly-Fuisse is five dollars.  Nolley would like Seven Eurobar's wine program to be as well-known as its cuisine.
For dessert, I had the Mousse au Chocolat, which is Chef Wahaltere's mother's recipe.  The delicious dessert arrived as three scoops of mousse served in three different ways.  One scoop was served the Spanish way with olive oil and salt, one scoop was served with fruit as in France, and one scoop was served with nuts as in Italy.  Ergo, all three Mediterranean countries are represented in this one dessert, which costs six dollars.  A glass Chateau Grillou Souternes, a French dessert wine, complemented the mousse well.
Seven Eurobar fills a void that used to exist in Boulder.  The food is gourmet, satisfying and priced fairly.  It is a great place for a couple or a group of friends to go if they are tired of sushi, tacos and pizza.  Once you go, you will want to go back repeatedly to try everything on the menu!