Snowlive ft. Soulive & JJ Grey w/ The Hartwick Horns @ Fox Theater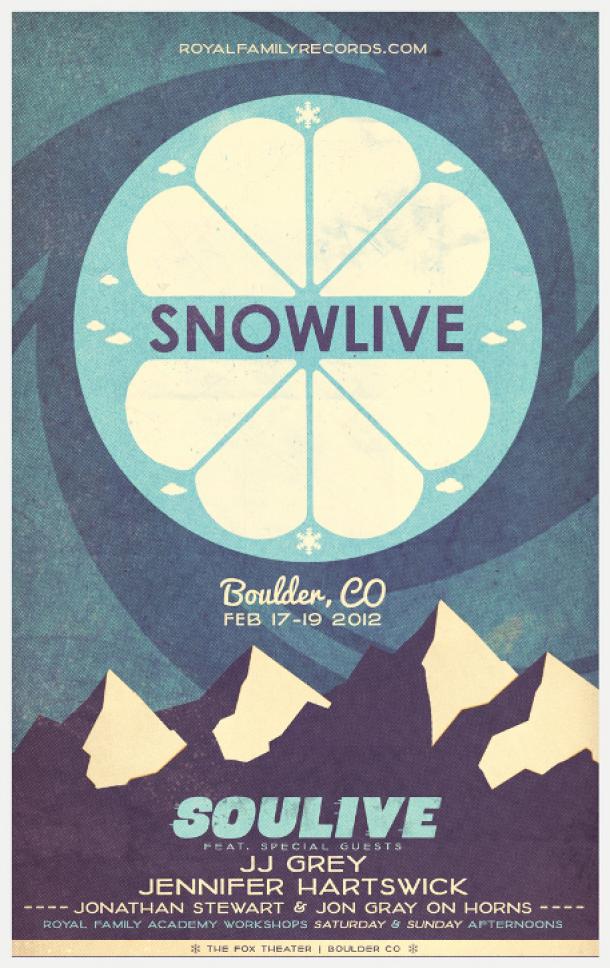 KUNC & KGNU are proud to present Snowlive ft. Soulive & JJ Grey with The Hartswick Horns (Jennifer Hartswick, Jon Stewart & Jon Gray) at the Fox Theatre on Friday, February 17th.  Tickets go on sale Friday, December 23rd for $23.00 in advance and $26.00 day of show.  Snowlive Full Pass (3 Shows, 4 Workshops & Commemorative Poster for $250.
1pm Saturday  Songwriting & Music Composition with Neal Evans
A look into various methods and applied practices Neal uses when writing and composing music. This will be demonstrated through the dissection of many of Neal's works including music written for Soulive/ Film/ Commercial work/ his new solo album/ and collaborations with other artists. This workshop explores the role of inspiration and other driving forces behind composition/writing including Neal's unique approach of left hand bass.
4pm Saturday Expanding Your Musical Vocabulary & Improv Techniques with Eric Krasno
Get an inside look at Eric Krasno's signature improvisational techniques, improve your chord & scale vocabulary, and pick up songwriting tips from one of the most critically acclaimed guitarists alive today. During this session, Krasno will explore general music theory as well as guitar specific topics, including developing a unique tone and a full walk thru of his gear/setup used on the road with Soulive.
1pm Sunday  Audio Engineering & Music Technology with Alan Evans
Ever want to know how Soulive transforms raw tunes into finished songs in the studio? Dig into the producer & sound engineer skills of Alan Evans, as he walks through a variety of topics from studio set up and equipment choice, miking and mixing techniques, Pro Tools tricks and more. This tutorial will feature demos and sample recordings to help you create that new school/old school sound.
4pm Sunday  Soulive --- the art of being a band on stage and off the stage
Soulive discusses what makes their particular blend of music unique. They break down the musical elements of the organ trio and discuss how a band of only 3 members can create so much sound and excitement. They tip their hat to their musical influences.  Soulive also discusses the keys to longevity and creative growth over a career.