"The show is tonight, not tomorrow." A statement like this one can upend your day and, for me, it did. Mere inches away from walking onto the ferry that would take me back to New York; I fielded a call from my incredibly observant wife. "Sonya Kitchell and The Slip are playing tonight at The Higher Ground, not tomorrow." With a little coercing, I talked the ferry attendant into shuttling my ticket, rather than me, to the opposite shore of Lake Champlain and, an hour later, Laura hopped in the car and we were off to an unexpected night of music. Well, at least that night it was unexpected.
After a hearty meal of gravy fries from nearby Al's Hamburger's (Nectar's eat your heart out) we made our way over to the venue for the early start. Apparently not too many people had the wherewithal to look at the nights set time because, when we arrived, the venue was at 1.6% capacity. Had everyone made the same gaff that Laura and I nearly made? Would Bassnectar have a huge crowd on Thursday of people who were expecting to see Sonya and The Slip? At this point in the night, I would have answered yes, but it was early.
The Showcase Ballroom at The Higher Ground shares many of the same comforts as its big brother next door at a scaled down, more intimate level. Curtains and old concert photos swathe the walls, a single bar stands straight away from the stage and a decrepit chandelier hangs from the center of the ceiling. Just as in the larger room, the sound is excellent, but this side has simpler lights, perfect for photographing and scribbling notes throughout the night.
In 1998, I was done with college. I hadn't graduated. Just done. I moved to Colorado and, the musical void created a few years earlier from the end of The Grateful Dead and the end of the good years of Phish was ready to be filled. Two or three nights a week I found myself in basement bars searching for a sound that inspired me. It was at this time that I discovered The Slip. True, the sound they created in those days is far from the polished electronic product they perform these days, but the seed was planted way back when. I have checked in with an annual show since and watched their progress. The 2008 check in was upon me.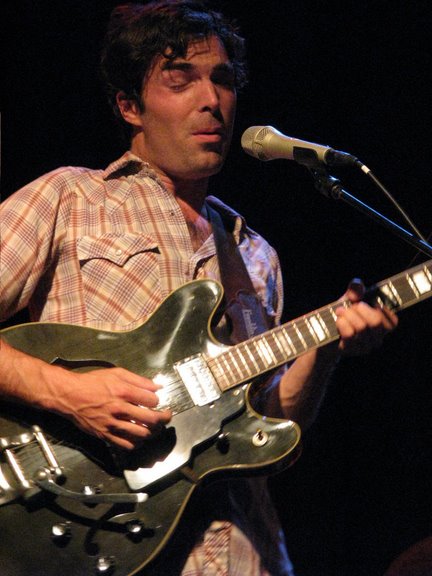 When Brad Barr began his solo set, it was just the well-manicured man and his electric guitar. The guitar and his presence on stage helped to secure that he was in the right place. Put him behind a counter at an off-the-beaten-path bookstore and he may have looked more natural, but looks can be deceiving. Brad confirmed that as he began to play.
Sound began to creep like a thunderstorm in the valley, Brad's foot calmly, yet deftly moving from pedal to pedal, creating subtle loops, space and reverb. The set built steam, going from flamenco sound to classical to slow moving country. Brad alternated between his acoustic and his electric guitars, poetic lyrics and slow pounding instrumentals.
Now, I don't know that much about guitars. Brad Barr does. As a matter of fact, I would venture to say that Brad is a true student not just of technique, but the physics of the instrument. Just imagine a sound emitted form a guitar, where the guitarist is playing notes with his left hand on the neck, but rather than strumming, he is creating a vibration by pulling a finely woven string off of each of the guitar strings! I shit you not.
Let me try to explain Brad's place in the musical world with a bit of fiction. In 1977, when Eric Clapton was finished recording "Blues You Can't Loose', he wanted to celebrate. He called his buddy Bruce Springsteen, who was working on the album 'Nebraska' and they got together for a night of debauchery. As the night wore on, the Guitar Gods were visited by an angel. This vision bestowed upon them a great honor- a son would be born to them drawing qualities from both fathers, yet moving in his own direction. This occurrence of Immaculate Conception was the birth of Brad Barr.
Truthfully, trying to explain the sound that Brad was emitting on this opening night of the tour is trying to find a pattern in the paintings of Jackson Pollock. It would drive you insane with its multiple directions and you're still only offering one interpretation. Yet, isn't that the effect that all artists are trying to create? An effect when each member of their audience leaves with their own take on what they saw or heard? This evening Brad Barr definitively asserted that, yes, he is an artist. This solo set was art. It felt like one of those occurrences that you really are glad to have been a part of. In twenty years, fans of Brad Barr will still be talking about the direction the artist went during his solo sets on tour with Sonya Kitchell and I can say "I was there, man."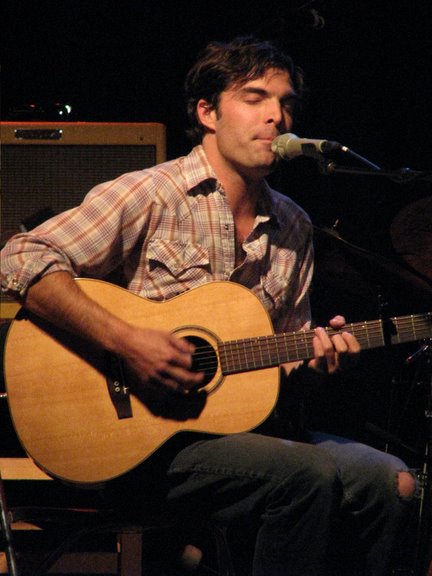 As I said earlier, members of The Slip have served as pioneers for their entire musical career, always pushing the envelope. As such, they have often existed in a musical space that few could understand, but all were trying to achieve. This night, playing with Sonya Kitchell, the power trio was able to take their foot off of the accelerator and coast in the space that they have worked so hard to mold. It was not a night for intellectual challenging music when these artists took the stage together. Instead, jam infused rock was on tonight's menu. The quartet moved through many of the tracks off of Sonya's new album 'The Storm', on which, by no coincidence, she is joined by The Slip. Backing Sonya during her catchy originals, The Slip played like animals in the zoo. Sure, they are totally at home in their provided surroundings, but you always have respect for the fact that they could attack and you wouldn't even know they were coming. Lions have that strength. So does The Slip.
While tuning between songs, Sonya mentioned her last time playing at The Higher Ground, and how Dark Star Orchestra was playing in the Ballroom the same night. This mentioning got me thinking. Truth be told, I am a deadhead. Perhaps the name of the sight in your little browser window had given this away, but I am not of single mind. I did go to see The Grateful Dead in my formative, music appreciation years, but as I said before, they launched me into the world that I am a part of, rather than closing me off to new and different music. And yet, on this night, I saw that The Slip had, ironically, brought me full circle. In the charts penned by this teenage phenomenon- catchy rock and roll choruses, slightly askew harmonies, and jazz infused solos- a direct connection between The Grateful Dead and Sonya Kitchell with The Slip was formed.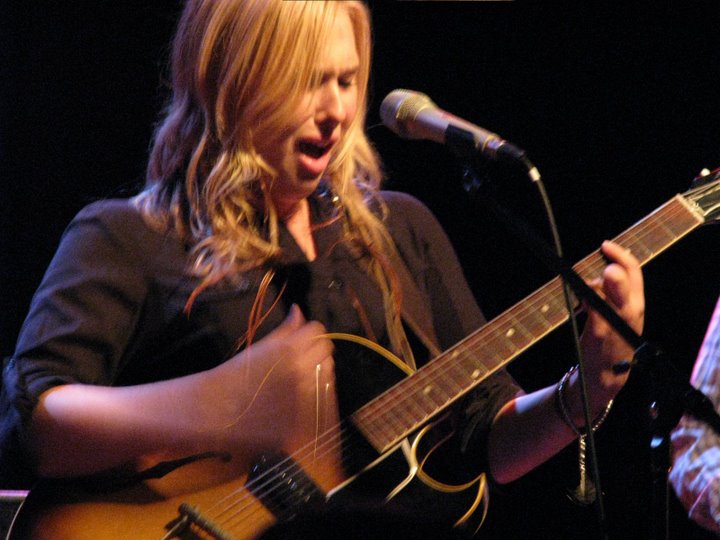 The set continued with a beautiful segue from one of Sonya's originals into one of The Slip's own off of 'Eisenhower'. Upbeat, assertive rock, living somewhere between Susan Tedeschi and Brandi Carlisle was the groove and Sonya was comfortable on stage and comfortable with her seasoned backing band. The pocket was established. A four part vocal breakdown with rim shots a-plenty followed quickly by a straight ahead driving beat signaled the end was near. After a quick and awkward trip off of the stage, and raucous applause from the sparse crowd, the band returned for a bluesy rendition of 'Highway 61' and the night drew to a close.
I will continue to check in with The Slip on an annual basis to see what direction they are leading the scene that they have created. And with any luck, I will be fortunate enough to catch another rising star like Sonya Kitchell along for the ride.